Anthony Oluwafemi Olaseni Joshua, or 'AJ,' as fans affectionately refer to him, has risen to prominence in the heavyweight division. Since his professional debut in July 2013, the two-time unified heavyweight champion has had an immense amount of success.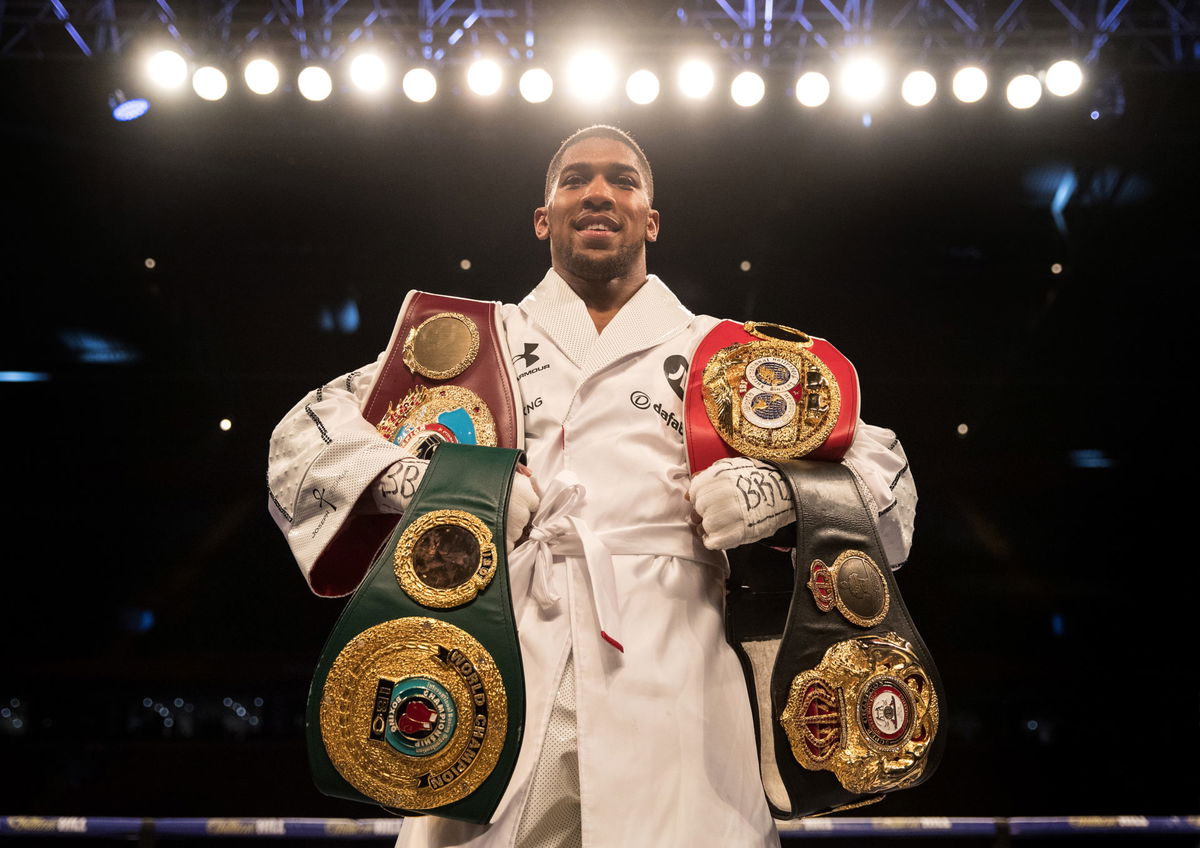 Other than the legendary heavyweight juggernauts like Mohammed Ali and Mike Tyson, only a few have enjoyed more success and dominated the worldwide boxing scene than the Englishman.
Over the course of his career, he has amassed a number of honours. From 2014 to 2016, 'AJ' won the IBF championship in 2016, the WBA (Super) championship in 2017, the WBO championship in March 2018, the IBO title in 2017, and the British and Commonwealth titles at the regional level.
AJ's strength has always been athletics, from soccer to track and field. He was a child prodigy. Joshua tried boxing for the first time at the age of 18 after adopting his cousin's advice.
Achievements
Joshua debuted on the professional boxing scene in 2013 under the promotional banner of Matchroom Boxing. At the O2 Arena in London, he faced Emanuele Leo and defeated him in the first round.
Only a year after making his professional boxing debut, Ring Magazine awarded Joshua the Prospect of the Year.
Joshua won silver in the World Championships in 2011, which sparked his career. However, he rose to prominence after winning the Gold Medal at the 2012 London Olympics against previous World Champion Roberto Cammarelle.
Joshua suffered the sole defeat of his career at the hands of Andy Ruiz Jr. He was aggressively stripped of all of his titles as a result of his defeat. However, AJ defeated Ruiz in a rematch in 2019.
He improved his record to 24-1-0 coming into 2021 after defeating Kubrat Pulev.
Net Worth
Joshua is well-known as a marketing powerhouse, having signed sponsorship deals with several companies. Anthony Joshua's net worth is estimated to be $80 million by Celebrity Net Worth.
According to Forbes, 'AJ' has a total of $11 million in sponsorships alone. Furthermore, his salary and winnings total a stunning $36 million.
With a reported two-fight deal with fellow heavyweight champion Tyson Fury, he is expected to earn a lot more money in 2021.
The British tycoon is well-known for his charity work. AJ had raised a considerable sum of money for a charity called Key4Life.
They earned this amount through an eBay sale, which was later donated to the charity. The winner of the auction received ring-side seats to an Anthony Joshua fight.
Endorsements
Joshua has endorsements from Under Armour, Jaguar, StubHub, Sky Sports, Beats by Dre, AJ Elite Series, Lynx, BXR Gym, DAZN, Audemars Piguet, Electronic Arts, and Hugo Boss.
In 2018, AJ left Showtime and signed a $1 billion agreement with his promoter, Matchroom Sport, and streaming provider DAZN.
Popular Post:
Mike Tyson Record | Conor mcgregor Record | Khabib Record | Anthony Joshua Record | Floyd Mayweather Record |Ben Askren Record |Darren till Record |Roy Jones Jr Record | Ryan Garcia Record | Israel Adesanya Record | Manny Pacquiao Record | Mayweather Record | Dustin Poirier Record | Francis Ngannou Record |Nate Diaz Record | Anderson Silva Record | Canelo Record | Tony Ferguson Record | Mcgregor Record
Formula 1 Popular Post:
Lewis Hamilton Net Worth | Michael Schumacher Net Worth | Max Verstappen Net Worth | Lando Norris Net Worth | Sebastian Vettel Net Worth | Claire Williams Net Worth | Nico Rosberg Net Worth | Sergio Perez Net Worth | Romain Grosjean Net Worth | Toto Wolff Net Worth | Hamilton Net Worth | Fernando Alonso Net Worth | Frank Williams Net Worth | Niki Lauda Net Worth | Michael Latifi Net Worth | Kimi Raikkonen Net Worth | Ron Dennis Net Worth | Martin Brundle Net Worth | Angela Cullen Net Worth
Read more: Andy Ruiz net worth: How much does the Mexican earn and where does he invest his money?