We all love a Cinderella story in football.
We were stoked when Wigan Athletic won the FA Cup at the last minute. We stood up and applauded when Ajax got to the semi-finals of the Champions League. We celebrated like mad when Leicester City won the league.
Unfortunately, while underdog stories are still present in football, they are becoming rarer with each passing season. The sheer financial and quality gap between the big and small club is increasing every year.
Football has gotten to a position where even if you can enjoy one or two upsets, over the course of a season, the bigger teams will prevail.
However, the Premier League is currently seeing an absolute masterclass of a Cinderella story. West Ham United are a solid team, but their current standing of third place warrants a (positive) double take.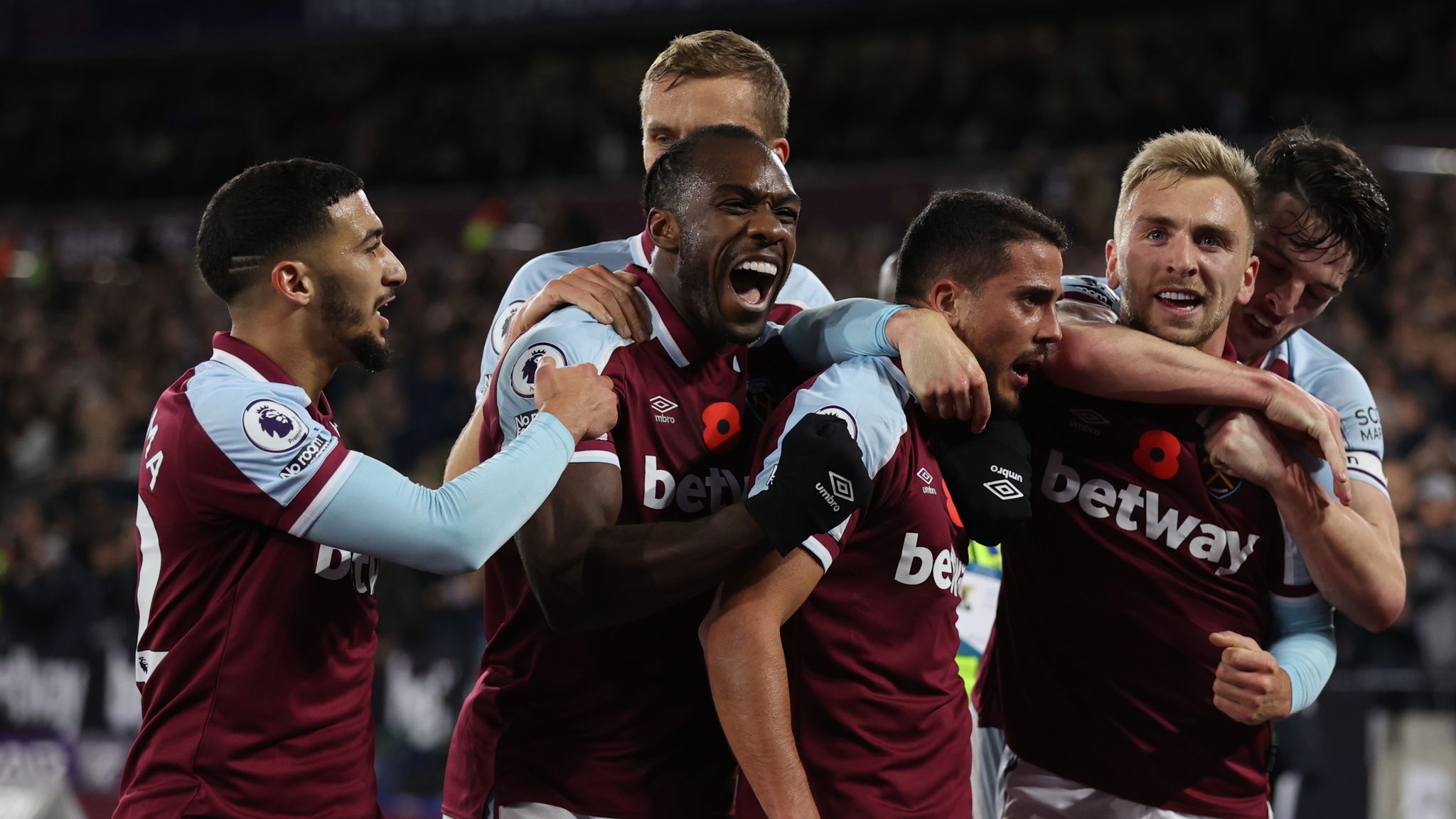 Point-blank
The fact that they are level on points with Manchester City (with goal difference in the Cityzens' favour) and are just three points behind league leaders Chelsea is mighty impressive. More impressive is the fact that they are doing it with a squad that is nowhere as stacked as the aforementioned teams.
However, thanks to some exceptional scouting and a well-drilled approach, West Ham are flying this season. Third in the league is exceptional on its own, but their Europa League campaign has been stellar as well. With smart rotation and clever tactics, the Hammers are beating teams in England and from across the world.
The best thing about West Ham is that there is no proper star power in that team, but the sheer cohesiveness of the players makes them a XI no one wants to play against. Each and every position has a player or two that has been outstanding.
Michail Antonio has been a defender's nightmare. Said Benrahma has been a revelation.  Declan Rice may actually be an English player that lives up to his price tag. Even Aaron Cresswell remains as influential as ever.
This is not even a quarter of their standout players, and yet these names, if you watch the Premier League, are enough to make you nod your head in appreciation.
Across all competitions this season, they have beaten Liverpool, City, Manchester United, Tottenham Hotspur and Leicester City. Those teams were favoured more than West Ham at the start of the season.
While there is still a long way to go, the fact that West Ham could actually manage a top 4 finish is simply amazing.
Moyessiah
Written off as a joke at Manchester United, there have been few managerial redemption arcs as sweet as David Moyes'. The Scot has overseen a period of smart decisions and attractive football, and in his time at the club has completely transformed the culture of the team.
Many West Ham fans will agree if you say that this team is the best team the club has ever assembled. It's like a sidequest you want to pursue in FIFA Career Mode for the heck of it, where you fill a team with underrated gems. In this case, it is done with great research and scouting, and at the heart of it is Moyes.
If nothing else, the fact that Moyes brought Jesse Lingard from former club Man United to play for them should tell you that West Ham are not messing about. We all know what happened when Lingardinho wore the brown jersey.
To cut a long story short, memes were made redundant and Fantasy PL players rushed to get United's 'young talent'.
Speaking of United, they must be wishing they gave Moyes more time. I am kidding, he was dreadful there.
But there is no doubt that his West Ham tenure has silenced all haters. Last season, West Ham qualified for the Europa League, a competition they are doing good in.
Should Moyes lead this team to a Europa League final and actually win it, everyone will be celebrating. West Ham in the Champions League? Take our money.
But can they actually do that?
Road to glory
There are two ways of reaching a place West Ham fans would have bitten you hand off a few years ago, and that is the Champions League. They could finish in the top four and accomplish that goal, but it will not be easy.
Although it looks possible now, as mentioned earlier, the bigger teams thrive in marathons. Over the season, their superior squads and ability to rotate extensively will ensure fresh legs and important results. West Ham have the quality to beat any team on their day, but that only applies to their starting XI and a few others.
Moreover, playing in the Europa League is also a curse sometimes, as fatigue from those games will be a factor. Should the team go far in that competition, they will be forced to use their best players there more often.
That would compromise the league, something that will prove costly if they make one mistake in Europe.
The other way they can reach the promise land is by outright winning the Europa League. This is a tricky one, because although they are one of the better teams in the competition, the knockout format means all it takes for that dream to shatter is one bad day.
The league allows room for error, but the European competition does not.
West Ham will therefore have to choose how many eggs to place in each basket. Should they continue to play how they are doing, we may end up seeing them on Tuesday nights.
That would be a Cinderella story indeed, and one even the fairy godmother would approve of. All they have to do is not leave the glass slipper behind, because this is football, and there are no do-overs here.
Read more: Why CR7 is not the solution for Manchester United returning to and staying at the top