Claire Williams OBE is a former Williams Formula One racing team Deputy Team Principal. She resigned on September 7, 2020.
Early life
Claire Harris Williams was born in Windsor, Berkshire, in 1976. She is the daughter of late Virginia, Lady Williams and Sir Frank Williams. Claire Williams earned a bachelor's degree in politics from Newcastle University in 1999.
Career
Claire Williams went on to work as a publicity officer for the Silverstone racing track after graduating. She joined the Williams F1 team as a communications officer in 2002. She took over as the team's communications director in 2010. Williams appointed her to director of marketing and communications in 2011.
Claire became the Williams family representation on the board after Frank Williams stepped down from the Williams board in March 2012. She was named deputy team principal of the Williams F1 racing team in March 2013. She was still in charge of marketing, communications, and the commercial parts of the team's business in this role.
In the 2016 Birthday Honours, Williams was named an Officer of the Order of the British Empire (OBE) for his contributions to Formula One racing.
Williams stated on September 3, 2020, that she would quit as deputy team principal of the Williams team on September 7, 2020, following the 2020 Italian Grand Prix. Before the race, she was given the front wing of a Williams FW36 as a souvenir at the Williams motorhome.
Step Down from Williams F1
After more than 40 years of overseeing one of Formula One's most iconic teams, the Williams family is stepped down so that the team's new owners can have a clear shot at resurrecting its fortunes. Claire Williams, whose father co-founded the Williams F1 team, stood down as deputy team principal following the Italian Grand Prix.
Following the recent ownership change to American-based investment firm Dorilton Capital, the legendary F1 family had cut connections after 43 years and roughly 750 races.
"We have been in this sport for more than four decades. We are incredibly proud of our track record and the legacy we leave behind," Claire Williams said. "We have always been in it for the love of it, for the pure pleasure of going motor racing."
"We are greatly appreciative of Dorilton's encouragement to continue, but in them, we know the team will be in good hands and the Williams name will live on," she said. "This may be the end of an era for Williams as a family-run team, but it is the beginning of a new era for Williams Racing and we wish them much success in the future."
Dorilton Capital chairman Matthew Savage thanked her for carrying on her father's tradition as well as her attempts to assist women to play a larger role and gain more exposure in a male-dominated series.
"Claire's achievement in sustaining Williams Racing's heritage, relevance and commitment to innovation in a difficult environment since taking charge in 2013 has been nothing short of monumental," he said. "She has also been hugely instrumental in shaping a more level technical and financial playing field for F1."
The team received numerous proposals, but the family and board chose the private investment firm Dorilton Capital since their offer met all of the criteria.
"They are undeniably enthusiastic about the team," Claire explains. "They certainly have the financial firepower that this team requires to return to the front of the grid, and that is all we want for our team as a family. I believe we have protected our staff and our reputation in F1, and this is the right move for us."
Why Did Claire Williams Leave F1?
The Grove-based outfit was no longer what it used to be. Claire took over a struggling team that was fighting to make ends meet both on and off the grid. Her team only earned 5 points in her first season as Deputy Team Principal. However, there was a brief comeback when she was in charge. The British team finished third consecutively and fifth twice in the following four seasons.
But then came the years of toil once more. From 2018 to the present, the team has only won 8 points! Furthermore, their financial situation suffered a severe setback.
They lost more than $23 million in 2018, and despite major financial support from sponsors in 2019, they lost $18 million. When the epidemic struck, things took a turn for the worst, leaving the historic team in deeper water.
This was a big factor in Claire's decision to call it quits. "We have always put our team first," she explained. That's something we've always done in the four decades we've been competing in this sport. This crew has always been near and dear to our hearts, the beating heart of our family.
The former deputy team manager also stated that despite selling her team, the new owners were eager to retain her on board. She, however, turned down this offer.
"It was absolutely my decision, and I'd like to make that clear," she explained. "Dorilton asked me to carry on. They inquired both before and after the sale was completed. However, I believe that a clean break is generally best for everyone."
Personal life
Williams' team revealed on April 5, 2017, that she would give birth to her first child, a boy, in October. On October 10, 2017, she gave birth to a baby boy.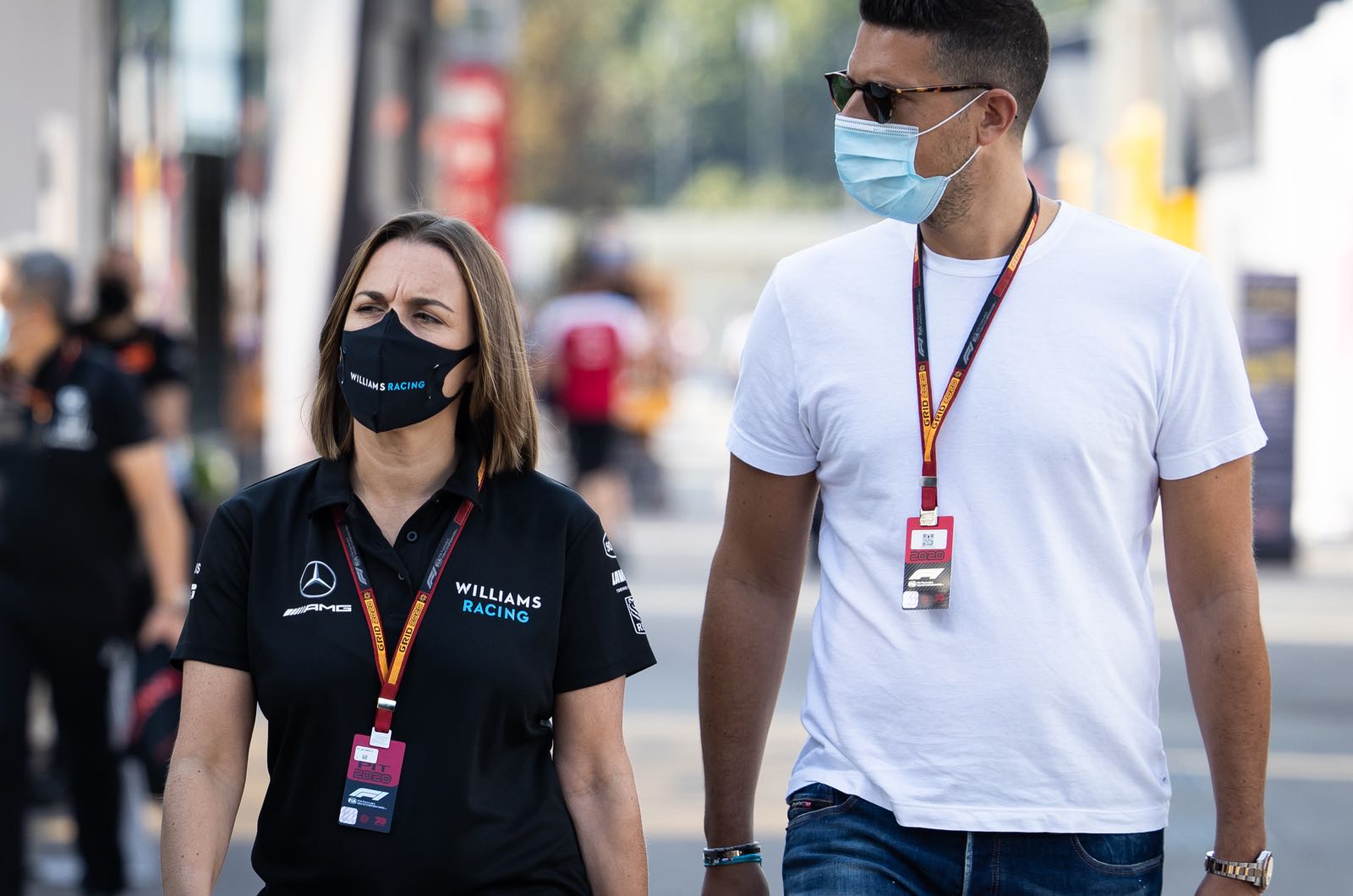 Williams' marriage to Marc Harris was announced in January 2018.
Rеаl Nаmе/Full Nаmе
Claire Harris Williams
Nісk Nаmе/Сеlеbrаtеd Nаmе
Claire Williams
Віrth Рlасе
Windsor, Berkshire, England
Dаtе оf Віrth/Віrthdау
21 July 1976
Аgе/Ноw Оld
44 уеаrѕ оld
Неіght/Ноw Таll
In centimeters- 186 cm in meters- 1.86 m
In Feet Inches- 6′ 1"
Wеіght
In Kilograms- 78 kg
In Pounds- 171.96 lbs
Раrеntѕ Nаmе
Fаthеr –Sir Frank Williams
Моthеr –Late Virginia, Lady Williams
Ѕіblіngѕ
Jonathan Jamie and Claire Williams
Nаtіоnаlіtу
British
Маrіtаl Ѕtаtuѕ
Married
Husband
Marc Harris
Кіdѕ/Сhіldrеn Nаmе
Nathaniel Louis Harris
Рrоfеѕѕіоn
Businessperson, PR Executive.
Nеt Wоrth
$20 million
Lаѕt Uрdаtеd
Јuly 2021
Charity and foundations
Claire, Williams' Deputy Team Principal, is the Vice President of the Spinal Injuries Association, the organization's official charitable partner. After Claire's father, Williams founder and team head Sir Frank Williams, sustained a spinal cord injury in a vehicle accident in 1986, the Spinal Injuries Association helped him.
Williams has since assisted in raising funds and raising awareness for the organisation.
Popular Post:
Mike Tyson Record | Conor mcgregor Record | Khabib Record | Anthony Joshua Record | Floyd Mayweather Record |Ben Askren Record |Darren till Record |Roy Jones Jr Record | Ryan Garcia Record | Israel Adesanya Record | Manny Pacquiao Record | Mayweather Record | Dustin Poirier Record | Francis Ngannou Record |Nate Diaz Record | Anderson Silva Record | Canelo Record | Tony Ferguson Record | Mcgregor Record
Formula 1 Popular Post:
Lewis Hamilton Net Worth | Michael Schumacher Net Worth | Max Verstappen Net Worth | Lando Norris Net Worth | Sebastian Vettel Net Worth | Claire Williams Net Worth | Nico Rosberg Net Worth | Sergio Perez Net Worth | Romain Grosjean Net Worth | Toto Wolff Net Worth | Hamilton Net Worth | Fernando Alonso Net Worth | Frank Williams Net Worth | Niki Lauda Net Worth | Michael Latifi Net Worth | Kimi Raikkonen Net Worth | Ron Dennis Net Worth | Martin Brundle Net Worth | Angela Cullen Net Worth
Read more: Claire Williams net worth: Did she live up to her family's legacy?