Daniel Ricciardo was born on July 1, 1989, is an Italian-Australian racing driver who now competes for McLaren in Formula One under the Australian flag.
He debuted with the HRT team at the 2011 British Grand Prix as part of a partnership with Red Bull Racing, for whom he was testing under the Scuderia Toro Rosso banner. Ricciardo has the number 3 as his driver number.
In Formula One, he has won eight Grand Prix races.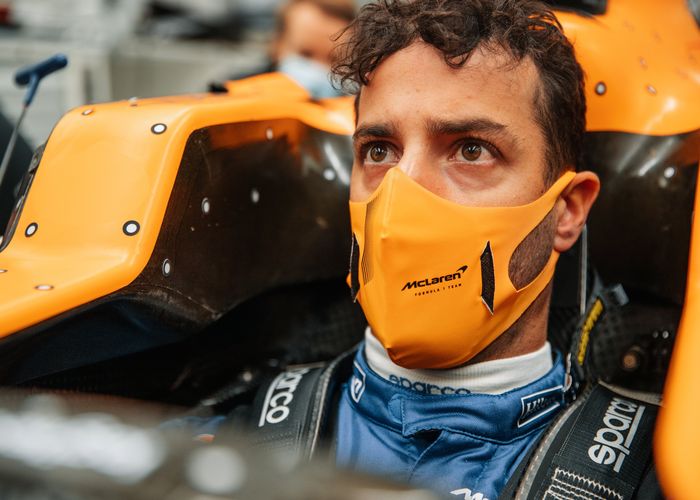 Ricciardo finished third in the championship in his maiden season with Red Bull under Renault power, winning his first three Formula One races in Canada, Hungary, and Belgium.
He returned to the top of the podium after a two-year absence at the 2016 Malaysian Grand Prix, finishing third in the championship for the second time in three years at the 2016 Mexican Grand Prix.
Overview
Daniel Ricciardo, one of the best overtakers in the sport, debuted in Formula One with HRT in 2011. He joined Toro Rosso alongside Jean-Eric Vergne a year later.
He moved to Red Bull to join Sebastian Vettel after two years with the Faenza-based outfit. After Vettel's departure in 2015, he remained with the team, this time partnering with Daniil Kvyat. They raced together until Kvyat was demoted to Toro Rosso and replaced by Max Verstappen in mid-2016.
Daniel Ricciardo confirmed his resignation from Red Bull in mid-2018, after a five-year relationship. In 2019, Ricciardo joined Renault as a teammate of Nico Hulkenberg. Ricciardo, on the other hand, will not be renewing his Renault contract in 2021.
The Australian had discussions with Ferrari, but they never progressed to a serious level. Carlos Sainz of McLaren beat him to a spot at the Scuderia.
Daniel announced his move to McLaren for the 2021 season after a relatively disastrous spell with Renault. During his first stint, Ricciardo partnered up with Lando Norris. Despite trailing the Briton for the majority of the race, Ricciardo was able to break free at the Italian Grand Prix, winning his first Formula One race since the 2018 Monaco Grand Prix.
Ricciardo scored his first points in Australia in 2012 with a ninth-place finish. In 2014, he finished third in the Spanish GP, which was his first podium. He finished third in Monaco the following year. At the 2014 Canadian Grand Prix, the Perth native claimed his first victory. Ricciardo went on to win two more races in Hungary and Belgium later that year.
He went on to win five more races for the rest of his career. They won in Malaysia in 2016, Azerbaijan in 2017, China in 2018, Monaco in 2018, and Monza in 2021. In 2014 and 2016, his best finish in the Drivers' Championship was third.
Ricciardo has competed in 202 Grand Prix weekends throughout the course of his career, winning eight races and claiming 32 podiums. In his F1 career, the Australian has accumulated 1242 points.
Daniel Ricciardo early career in F1
In 2011, Ricciardo was granted the opportunity to make his Formula One debut with struggling back-of-the-grid team HRT in the British Grand Prix. In their race line-up, he replaced Narain Karthikeyan.
Ricciardo stayed with the squad for the rest of the season, gradually improving and outperforming his more experienced teammates. As a result, he was promoted to Toro Rosso's race squad in 2012.
When Mark Webber announced his retirement from Formula One in 2014, Red Bull chose Ricciardo to take his position.
Ricciardo's charge to second place in Australia was rewarded only with disqualification for a technical infraction, thus the season had started on a negative note. However, in Canada, both Mercedes broke down, and Ricciardo took advantage, masterfully passing Sergio Perez's Force India on his way to his first victory.
Ricciardo followed up his notable victories with a string of solid points finishes, finishing the year in third place. With Vettel's departure for Ferrari, he became the de facto team leader for Red Bull.
Ricciardo faced the brunt of the team's misfortunes in 2015, and being the only driver to run their improved engine late in the season was no advantage: it earned him another grid penalty in exchange for an engine that produced limited performance gains.
In 2016, when Red Bull was once again in race-winning form, there were more squandered opportunities. One happened in Spain, where after leading in the early stages, Ricciardo was knocked off the podium due to a questionable strategy decision.
In 2017, Ferrari improved their game, relegating Red Bull to third place once more, therefore Ricciardo's fifth-place finish in the standings was really the best result available. With four races remaining, he was a solid fourth in the standings, but three technical failures in the final four rounds allowed Raikkonen to pass him for fourth.
While Verstappen had a good finish to the year, winning two of the final six races, Ricciardo was a consistent podium contender. Despite sliding as low as 17th place at one stage in the race, he won in a spectacular race on the streets of Baku.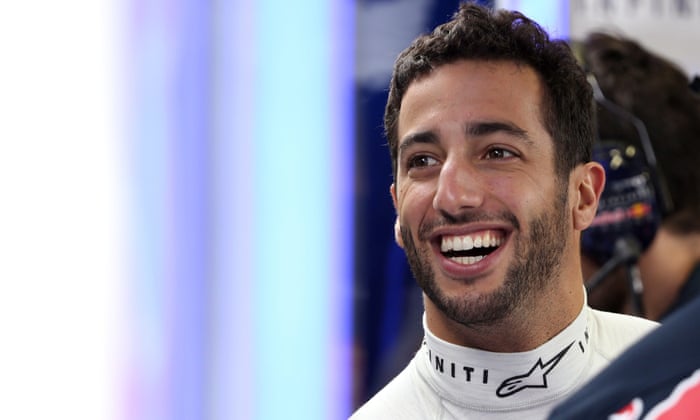 First Grand Prix win in 2018
While Verstappen had a rocky start to his second full season with Red Bull, Ricciardo was on fire. He won two of the first six races and he appeared to be a title candidate.
It didn't last, though, as a collision with Verstappen in Azerbaijan. He thought the team did too little to prevent, shattered his faith in the team. Verstappen's contract had already been extended to keep him with the club, but Ricciardo's future remained uncertain.
After a three-place penalty for speeding under red flag conditions, Ricciardo started the season in fourth place in Australia, up from eighth on the grid. Due to an electrical failure on the second lap in Bahrain, he was declared a non-finisher. After starting sixth on the grid, he took a dominant victory in the 2018 Chinese Grand Prix.
In the second half of the 2018 Azerbaijan Grand Prix, Ricciardo was fighting for fourth with teammate Max Verstappen. His front wing collided with his teammate's rear, forcing both drivers to retire as a result of the incident. Despite spinning under the virtual safety car during the 2018 Spanish Grand Prix, Ricciardo finished sixth and set the track record.
Ricciardo and Verstappen were considered favourites to win the 2018 Monaco Grand Prix because of their vehicles' stronger chassis and downforce. Before qualifying, Ricciardo won all three practice sessions, smashing the lap record in each one. Ricciardo won his second pole of the season in Monaco, winning every qualifying session and setting a new lap record in the process.
Despite having to manage a loss of power owing to an MGU-K power output issue during the race, Ricciardo managed to hold off Sebastian Vettel's Ferrari to win his maiden Monaco Grand Prix and his first Grand Prix win from pole position. He tied for the most retirements in the 2018 season later in the season, with a total of eight. In Australia, China, Spain, and Hungary, he set four fastest laps during the season, finishing sixth in the World Drivers' Championship with 170 points.
Daniel Ricciardo net worth in 2021
According to reports on Forbes, Ricciardo earned $29 million per year in 2020 and had a net worth of $50 million. Daniel Ricciardo signed a two-year contract with Renault in August 2018, at an incredible $35 million per year.
He was making $6 million per year on his prior contract with Red Bull. With McLaren, Ricciardo is expected to be the seventh highest-paid F1 driver in 2021, with a salary of up to $10 million. Daniel spent $13 million on a Beverly Hills mansion in November 2018.
Go Pro, Blue Coast, Puma, and other companies have sponsored the Australian driver. He is estimated to be valued at around $50 million in 2021, with a $17 million annual salary.
Ricciardo is also supported by carsales.com, a website that specializes in automotive classified ads. Ricciardo's contract with vehicle sales was just renewed for another two years. Since 2017, Ricciardo has collaborated with Melin, a premium hat business, to develop a range of hats inspired by Daniel and Melin's cooperation.
Ricciardo is an ambassador for the Wings for Life foundation, which is supported by Red Bull. His Aston Martin V8 Vantage was even auctioned off for charity. The money raised goes to the MNDi Racing Foundation. The Racing for MNDi Foundation raises money for research into the hereditary type of MND (MND).
Read More: Ricciardo blames Verstappen's pent-up anger towards Hamilton led to crash