Eddie Hearn is the Chairman of Matchroom Sport and the Professional Darts Corporation, as well as a British sports promoter. Hearn is the son of Matchroom Sport founder and promoter Barry Hearn OBE.
Eddie Hearn is a very prominent name in the boxing world today.
Early life
Edward John Hearn was born on 8 June 1979 attended Brentwood School in Essex. He was unable to enter sixth form at Brentwood School because he failed his GCSEs. Hearn played decent cricket and football because of which his father, Barry, petitioned the school to allow him to stay for his athletic record. However, the school refused.
Career
Early Career
Eddie Hearn began his career in the West End at a sports management company representing golfers before moving on to promote online poker with Matchroom, with events broadcast worldwide.
He met Audley Harrison at a poker game and agreed to help him rebuild his career, eventually getting Harrison a fight with heavyweight champion David Haye for his WBA title, signalling Matchroom Boxing's growth.
Success
Hearn signed an exclusive televised boxing deal with Sky Sports in 2015, with the UK broadcaster airing up to 20 shows per year. The agreement was in place for six years and would expire in 2021.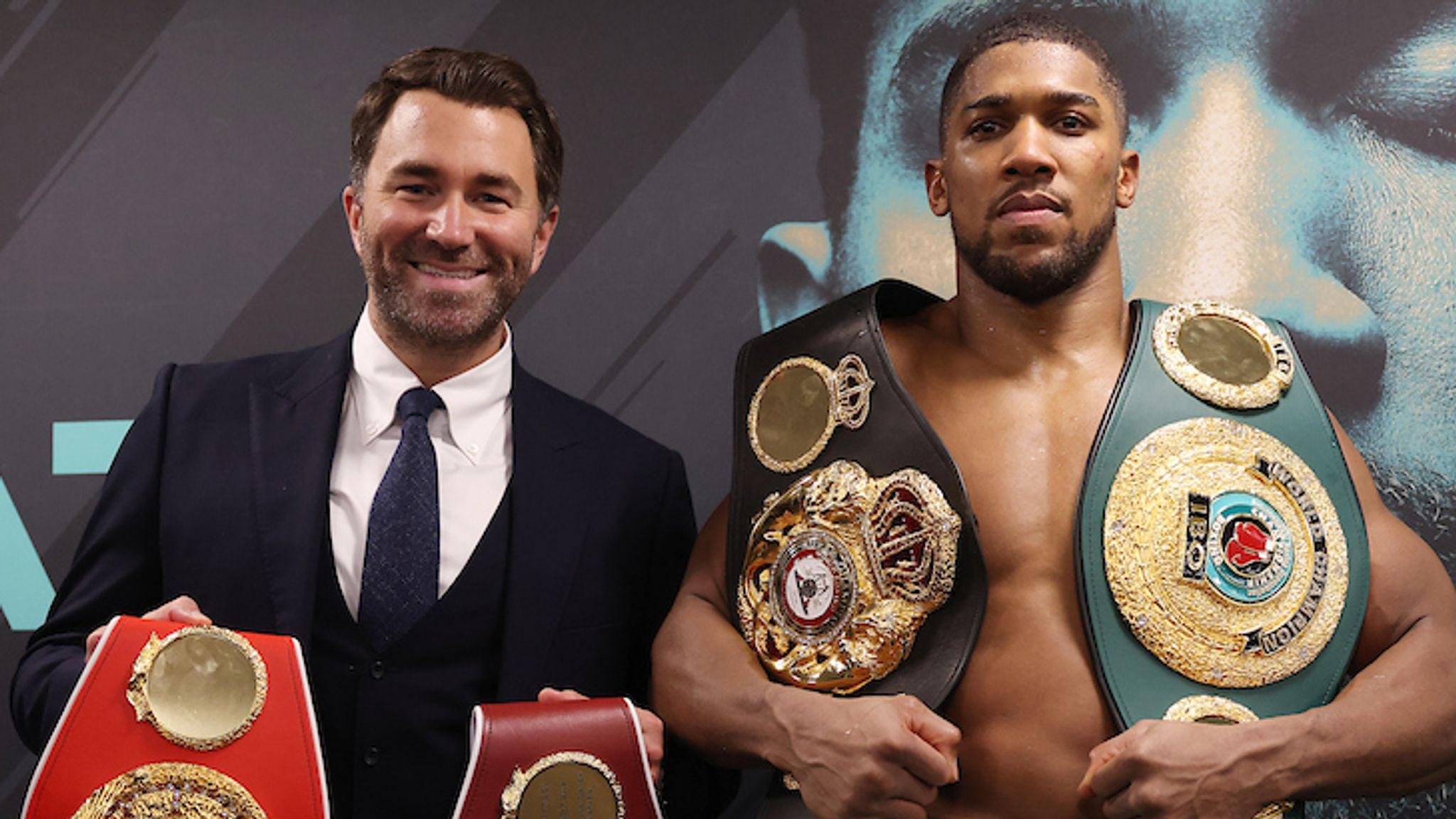 Since joining Matchroom Sport, Hearn has promoted many world champions, including Anthony Joshua, Canelo Alvarez, Gennady Golovkin, Oleksandr Usyk, Vasyl Lomachenko, and many others. He also co-promotes WBC lightweight champion Devin Haney and Gennady Golovkin.
Hearn has promoted several large events in recent years, including Carl Froch vs. George Groves II in 2014 and Anthony Joshua vs. Wladimir Klitschko in 2017, both of which drew 80,000 and 90,000 fans, respectively, to Wembley Stadium.
Hearn revealed boxing's first $1 billion boxing deal (£750 million) in May 2018, when Matchroom and streaming service DAZN agreed to stream shows across the United States. At the heart of the agreement, Hearn and Matchroom Boxing would stage 16 shows in America, which would be streamed exclusively on DAZN in the United States, as well as 16 of his UK shows.
In April 2021, Hearn's father relinquished his position as Chairman to become President of the Group in an advisory capacity, paving the way for Eddie Hearn to become Chairman of the Matchroom Sport Group of Companies.
On 3 June 2021, Hearn announced that he had signed a 5-year deal to bring his entire stable of Matchroom fighters to streaming service DAZN, effectively ending Matchroom's previous partnership with Sky Sports in the United Kingdom and Ireland.
As part of the agreement, all Matchroom events will be shown exclusively on DAZN worldwide, and "at least 16 Matchroom UK fights [will] be available exclusively to DAZN subscribers in the UK and Ireland for the first time, beginning in July 2021."
Notable Matches
KSI vs Logan Paul
Hearn agreed to promote a professional boxing match between YouTube personalities KSI and Logan Paul in 2019, which took place on November 9, 2019 at the Staples Center in Los Angeles. This match was heavily criticised by boxing fans all over the world, who claimed KSI and Paul were unsuitable for Hearn's promotion due to their lack of experience.
The fight was billed as the "largest internet event in history" and the "largest amateur boxing match in history." A rematch was held on November 9, 2019, at the Staples Center in Los Angeles, as a professional boxing match.
Andy Ruiz Jr. vs. Anthony Joshua II
Hearn was chastised in the same year for staging Andy Ruiz Jr. vs. Anthony Joshua II in Saudi Arabia, owing to the country's poor human rights record. He justified the decision by claiming that Saudi Arabia wanted to improve its image and that his job was to "provide the best opportunities for our fighters."
Canelo Álvarez vs. Billy Joe Saunders
Hearn promoted Canelo lvarez vs. Billy Joe Saunders in front of 73,126 fans at the AT&T Stadium in Arlington, Texas, on May 8, 2021, breaking the all-time attendance record for an indoor boxing event in the United States.
Later that month, Hearn clashed with rival promoters Bob Arum of Top Rank and Frank Warren of Queensbury Promotions over the failure of a deal for a proposed Tyson Fury vs. Anthony Joshua fight to materialise, accusing them of making "absolutely zero attempt to try and save the Anthony Joshua fight."
Hearn is also working on a deal with free agent and pound-for-pound king Saul Canelo Alvarez, which could be a huge coup for Matchroom.
Hearn recently announced that Anthony Joshua will defend his world titles against WBO mandatory challenger Oleksandr Usyk on September 25th. The fight is still not finalised, but Hearn stated on Instagram Live that a date has been set. This fight will certainly warm Hearn's pockets to a great extent.
Personal life
Hearn lives in Essex with his wife Chloe and their two daughters near Billericay. He generally gets along well with his fighters and is close to former WBC cruiserweight champion Tony Bellew and Anthony Joshua.
Hearn has an estimated net worth of $60 million as of 2021.
| | |
| --- | --- |
| Nісk Nаmе: | Eddie Hearn |
| Gеndеr: | Male |
| Аgе: | 42 years old |
| Віrth Dаtе/Віrthdау: | 08-Jun-79 |
| Віrth Рlасе: | Dagenham, United Kingdom |
| Nаtіоnаlіtу: | English |
| Неіght/Ноw Таll: | 1.96 m |
| Wеіght: | 224 lbs |
| Маrіtаl Ѕtаtuѕ: | Married |
| Нuѕbаnd/Ѕроuѕе: | Chloe Hearn |
| Сhіldrеn/Кіdѕ: | Isabella Hearn, Sophia Hearn |
| | |
| Рrоfеѕѕіоn: | Sports promoter |
| Nеt Wоrth іn 2021: | $ 60 Million |
| Lаѕt Uрdаtеd: | Јunе 2021 |
Charity work
Matchroom has established its own charitable foundation and has used its sporting income to benefit both sports and community charities.
According to their policy, $1.32 from each Matchroom ticket sale will be donated to the foundation. They made a donation to the Jessie May Trust in June to assist them in dealing with the coronavirus crisis that has engulfed the entire world.
He later went to the Yianis Christodoulou Foundation. The initiative was established in order to give back to the community. Hearn assisted in the delivery of food parcels, the assistance of children, among other activities.
Read more: Eddie Hearn net worth: How much does the professional boxer make through salary and deals?