Lando Norris has been summoned to see the stewards after his unlucky pit lane incident at the Russian GP, as reported by the Race.
When it rains, it pours, and for Norris and McLaren, it was free fall once the heavens started to wet the track. Norris, who had been leading the Russian GP until then, made a decision that would painfully cost him his first win in F1, and remind everyone that the lows in F1 are as bad as the highs are good.
Norris' decision to stick with his tyres when Lewis Hamilton, the racer behind him, pitted for intermediates backfired spectacularly. The McLaren driver was struggling to drive properly as Hamilton charged him doing much faster speeds.
Eventually, Norris cracked and spun off, handing Hamilton the battle and the win, his hundredth in the sport.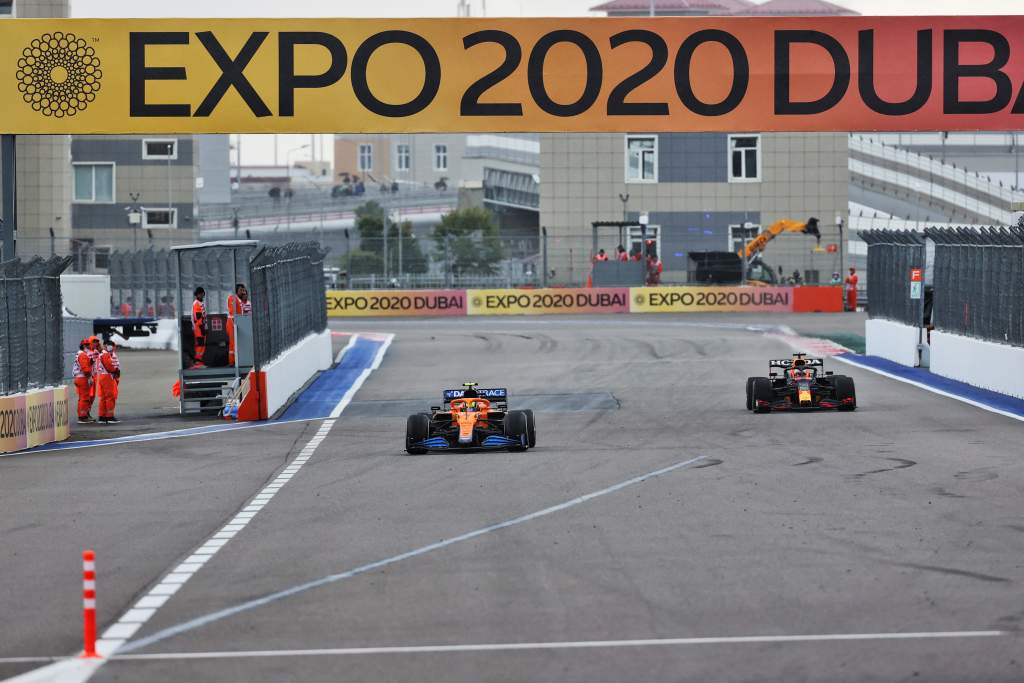 Unfortunately, it was only the beginning of the nightmare for Norris. Having spun off, he accidentally crossed the pitlane entry line while losing control over his car. This meant that he had unwittingly violated the pitlane entry rules.
As a result, Norris was summoned to see the stewards after his unlucky pit lane incident.
This means that there is a real risk of him losing his eventual P7 finish. The penalty that might be issued will send him tumbling down, but he will finish in the points. It has already been a shambolic end to a phenomenal weekend, and if he gets hit with a penalty, it would be salt in the wounds.
Bad to worse
Norris finished in seventh place ahead of Alfa Romeo's Kimi Raikkonen, who made his return after being sidelined due to COVID-19. If Norris gets hit with the penalty, that would see the former world champion take his place, ensuring his best ever finish this season.
The statement issued by the stewards came out minutes after the race. It described Norris' offence as a "failure to follow Race Director's Event Notes Item 20, pit entry."
Read more: Norris doubtful regarding repeat of Monza heroics – "It was a bit of a shock for everyone"