Lando Norris explained his defending against Lewis Hamilton at the Italian GP.
Norris vs Hamilton was one of the standout duels of the race at Monza. After a back-and-forth exchange, Norris momentarily got the advantage before Hamilton and Max Verstappen collided and crashed. Meanwhile, the duel started all the way back from sprint qualifying itself.
There, Hamilton got a terrible start, and plummeted down the grid behind both McLarens. Norris held the seven-time world champion off until the finish line. On Sunday, however, Hamilton seemed much quicker, and took the fight to his countryman.
Hamilton breezed past Norris when the lights went out, but his stop cost him valuable time. The overcut worked for McLaren, as Norris slotted in ahead of the British Knight.
Norris talked about the duel, and explained his defending against Hamilton.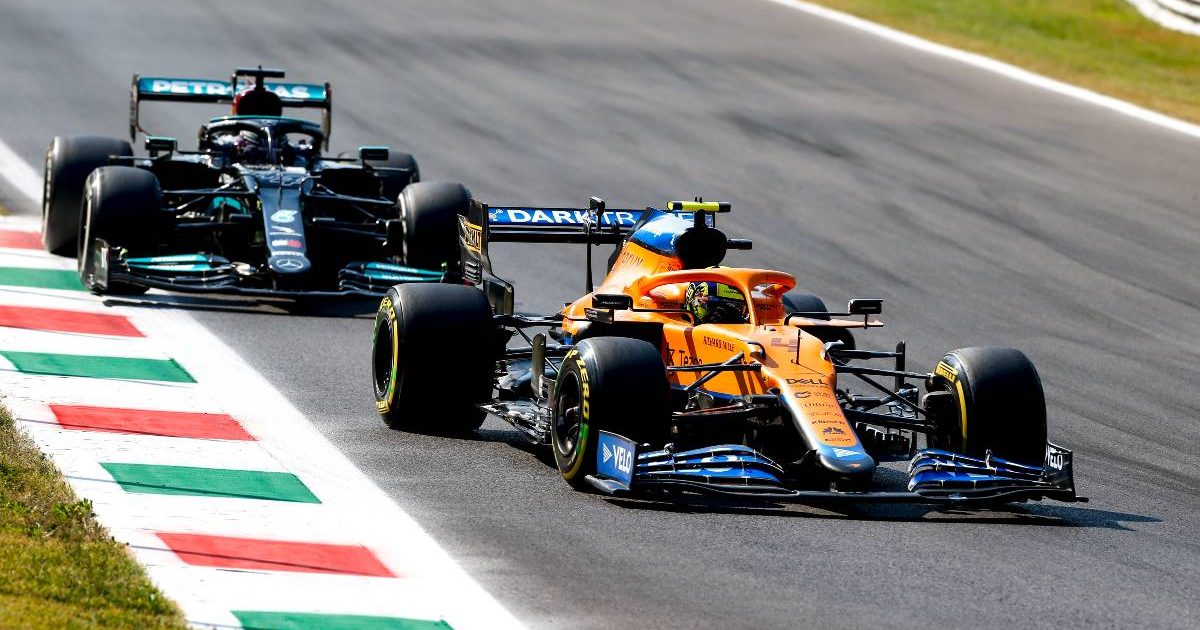 "I think I had a good warm-up for that on Saturday with eighteen laps trying to defend from him," Norris said, as reported by Planet F1.
"I could figure him out quite quickly, where he was going to be strong and weak and so on, and he was on the hard tyre, so for the majority of it, I could hold him off reasonably easily.
"But the last two or three laps of the stint, the hard tyre started to come back to him quite a bit – or the mediums started to drop away – so he actually got past me. He then boxed and we overcut him straight away."
Abrupt end
Hamilton looked like he might have had the pace, and very well could have were it not for Verstappen. Norris, with no one hunting him down, finished P2, completing the historic McLaren 1-2. Norris spoke about how focused he had to be, because the race didn't allow him to rest easy for a second.
"Just the whole race was stressful, I'm not going to lie, there was not one moment where I thought I could relax and just chill out a little bit," Norris said.
"But it still wasn't easy with what happened and it still wasn't easy from that point on. We still had to work quite hard for it."
Read more: Lando Norris continues to claim Max Verstappen fans after Orange Army coup