Jolyon Palmer has insisted that Lando Norris "was a match for Lewis Hamilton" at the Russian GP.
Norris was having an absolute flyer after his amazing P2 at the Italian GP, grabbing pole position and leading most of the race at Sochi. Unfortunately, a maiden race win wasn't meant to be for the youngster, as a downpour rained on his parade, quite literally.
The rain saw Norris spin off and hand the lead to his countryman Hamilton, who went on to win the race. Norris managed to salvage seventh place, which was a horrible end to his stellar weekend.
Former Renault F1 racer Palmer felt sorry for Norris, and defended him and his decisions. Palmer insisted that Norris "was a match for Hamilton" at the Russian GP, and said that a team decision was the difference between the two.
"We all know how strong Hamilton is at driving in wet conditions – more often than not he ends up as the winner," Palmer wrote, as quoted by crash.net.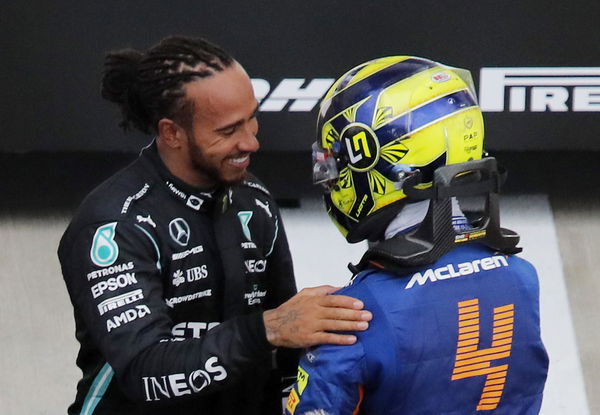 "That ended up being the case once more at a slippery Sochi, but it was only a result of Norris not pitting for the intermediate tyres.
"Like for like in the conditions, Norris proved he was a match for Hamilton in a battle of wits out front, which is enormously impressive from a driver seeking that first win.
"Clearly it was the pit stop which made the difference, and between the top two this was a team decision, rather than a driver decision, which won the race."
Norris did alright
"There has been some criticism of Norris for being inexperienced or even arrogant in the way he dealt with the final laps – but actually, I think Lando drove the optimum race with the information he had available to him," Palmer said.
"It's a time where drivers need important but concise information from their engineers as they scrabble around with limited grip on the edge of disaster.
"It seemed fundamentally that McLaren didn't see the weather worsening, and if they did then they had to take control of the situation and order Norris in, even if like Hamilton, it was against his natural instinct from the cockpit," he concluded.
Read more: Norris suggests McLaren was to blame for Russian GP heartbreak – "No way of me knowing unless they tell me"