Toto Wolff has turned meme after his sarcastic wave to the FIA race director at the Brazilian GP.
The 2021 edition of the race will be remembered for an absolute masterclass of a win from Lewis Hamilton, but it will also be talked about for the infinite sarcasm flowing between teams and the FIA.
The incident between Hamilton and Max Verstappen that saw the latter run the former off-track. Red Bull told the FIA that it was all about letting them race, while Mercedes fumed at them not handing Verstappen an obvious penalty.
Eventually, Hamilton overtook Verstappen to bypass the FIA's controversial call. However, the folks at Mercedes weren't done with them, with the boss himself doing something that made social media explode.
Wolff turned meme after his hilarious and sarcastic wave to the race director after Hamilton overtook Verstappen, with social media erupting to his reaction.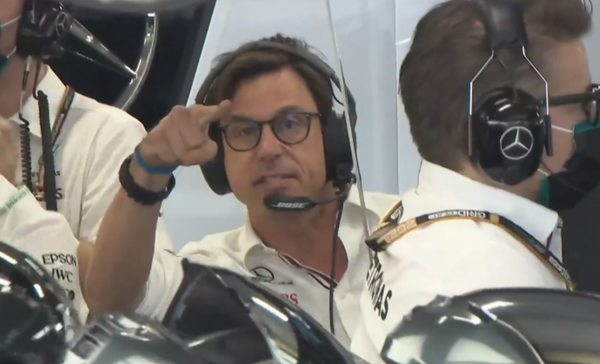 Middle finger
The FIA did not cover itself in glory for ignoring the blatant penalty. Therefore, it is safe to assume that Wolff's reaction was more of a giant 'f**k you' than a passionate cheer.
While everyone had a blast memeing it, it was a serious response from Wolff. He was obviously fuming at what had happened, and he must have been elated with Hamilton's win. Justice jam on toast, if you will.
Even during the podium celebration, the Austrian was buzzing. The tensions and annoyances of the day must have gotten to him, as he simply said, "F**k the mask."
With both championships in sight, Mercedes will be gunning for them with everything they have got. Three races separate them from the end of the season, and they will be aware that everything is there to play for.
Hopefully, we can see more such reactions from the Team Principal.
Read more: Helmut Marko pours cold ice on Toto Wolff's blazing legal threats