Overview
After five years, Mercedes-AMG Petronas F1 team will shake up their driver line-up. Valtteri Bottas will be leaving after a successful spell with the German team, helping them win the Constructors' Championship every year he was there.
Mercedes will retain seven-time world champion Lewis Hamilton on a two-year deal. He will be gunning for more world championships and also trying his best to help Mercedes add to their already stacked trophy cabinet.
But that would mean that he needs a partner from the 2022 season onwards. There were some names linked with the seat, but it has gone to current Williams driver and exciting youngster George Russell. It's now not a bad shout to suggest or wish that Russell could challenge Hamilton in 2022 for the championship title.
George Russell joining F1 in 2022
It's almost like joining F1 again for Russell. Making the jump from Williams to Mercedes is like graduating from Earth to Mars as an astronaut. Mercedes is one of the best in the business, and Russell will finally have a car in which he can demonstrate his full capabilities.
Russell has always been touted as a future world champion. He is an extremely talented driver, and has put in exceptional times and shifts in his Williams car. His peers like Lando Norris, Charles Leclerc and Max Verstappen have all had great cars to proven themselves in. Now it will finally be Russell's turn.
The moment Russell knew he would be a Mercedes driver is a bit of a funny one. He was out for dinner late at night, and was at a place where the music was extremely loud.
The name of Mercedes Team Principal Toto Wolff popped up on his phone, and after he ended the call, he was officially welcomed into the best F1 team on the grid today.
"It had been going for a while and we weren't naive to the fact it was a real possibility, especially after the race in Sakhir last year," Russell told ESPN.
"But equally, until pen was on paper and I had signed on the dotted line, until it was announced, we were just managing expectations."
George Russell teaming up with Lewis Hamilton
As many drivers have found out, being teammates with Hamilton is no easy feat. In fact, he has the ability to make the best driver look average. Such is the calibre of the British Knight, and his countryman in Russell will be the latest one to team up with him.
Russell will be teammates with not just the potential greatest of all time, but his racing idol. When Hamilton made his debut in 2007, Russell was starting in racing with go-karts.
Upon hearing the news that Russell would be his new teammate, Hamilton took to Instagram to welcome him. He posted a picture of himself with 11-year old Russell.
It must be a dream come true for Russell to link up with his boyhood hero and countryman. He shared his thoughts on teaming up with Hamilton, and detailed out his ambitions.
"When you are an 11-year-old kid and you want to be a racing driver and you see a Formula One driver, they are a superhero to you," he said.
"I still remember that day, right now. It just sticks in your memory and it will stick in my memory forever.
"You look up and you think, 'Wow, it's Lewis Hamilton, a Formula One driver.' So I guess it is quite surreal that I will be lining up against him next year.
"But equally, as you grow up and you get inside the paddock, you realise that everybody is a normal person, even if they may be incredibly talented in their given industry. But definitely at that time I thought he was a superstar.
"I'm incredibly excited about going up against Lewis, but equally I am under no illusions of how difficult it is going to be. Lewis, in my opinion, is the greatest driver of all time and to get the opportunity to go against him is massive.
"To be honest, I am going to go in there with an open mind and try to learn from him, because at the end of the day he is a seven-time world champion for a reason and it is not going to be easy."
Lewis Hamilton will probably deny the challenge as Russell can beat him
However, if Russell thinks his time at Mercedes is going to be sunshines and rainbows, he has got another think coming.
Hamilton has dominated every single teammate he has had. Whether it was Fernando Alonso, Nico Rosberg or Valtteri Bottas, Hamilton has come up trumps almost always. Now he will welcome the challenge of Russell, or maybe he just won't.
The thing with Hamilton is that he has got little time left in the sport. The man is one of the oldest drivers on the grid. The 36-year-old will be keen to cement his name as the definitive greatest the sport has ever seen until the day he retires.
Russell, meanwhile, is very young, and has a lot of time left in F1. As such, Mercedes may end up making him an understudy to Hamilton until he hangs up his helmet. After he bows out, Russell could be the main man for many years to come.
Russell insisted that he is in no rush to start challenging Hamilton straightaway. He wants to use his time with Hamilton to learn from him and hone his craft even more. According to the young man, there is nothing better than learning from the best.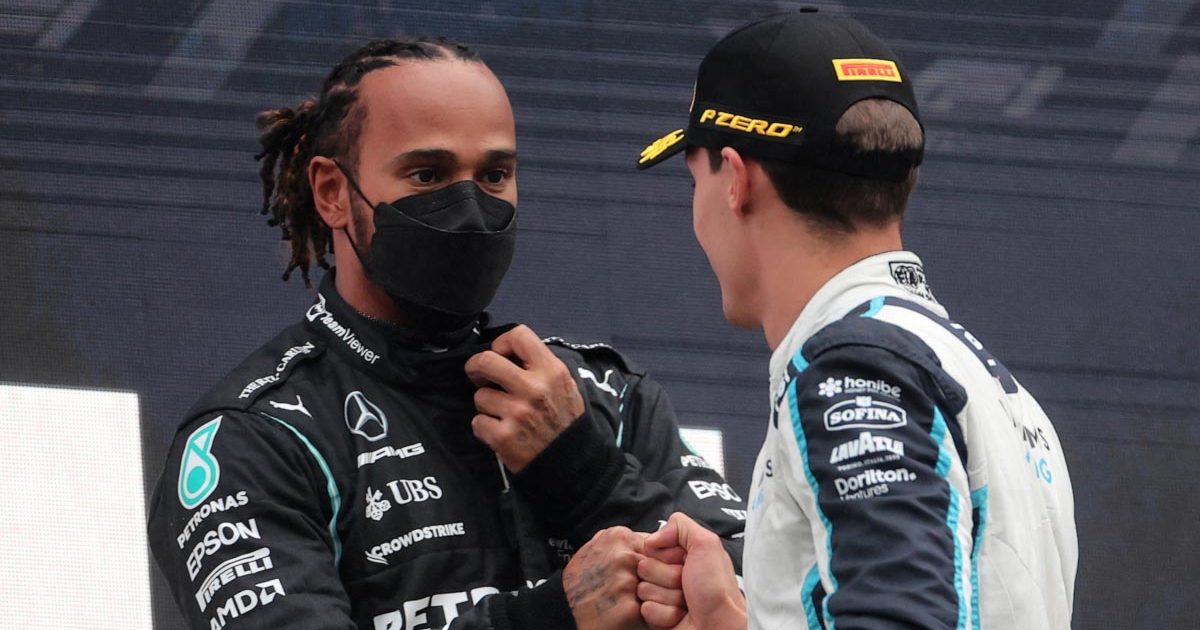 "We have not really had any real dealings over these past few years, but we've always said hello when we passed each other.
"But I'm sure our relationship is going to grow over these years, and to be honest, I just want to learn from him to begin with and help me develop because for me personally, I also see this as a long journey.
"I want to be fighting for victories and championships for the next five, ten or 15 years to come and it's important to keep developing."
Read more: Verstappen raises an eyebrow at Russell hype – "If the car was that bad, he wouldn't get any success"