Overview
The Turkish GP saw many highs and lows, but one of the most definitive highs was seeing the ultimate underdog get his moment under the spotlight. That came in the form of Haas driver Mick Schumacher stunning the entire grid and getting out of Q1 during qualifying.
It's one thing to get out of Q1 under tricky conditions like the one at Istanbul Park. It's a jaw-dropping feat to do it under tricky conditions when you drive a Haas. It is the slowest car on the grid, and Schumacher's performance will be talked about for a while now.
Meanwhile, Haas will be hoping for a repeat of Schumacher's success.
Mick Schumacher finishes with a great score in Istanbul
It was the kind of thing you never thought you would see, but you absolutely wanted to see. The funniest thing was that Schumacher had gotten into Q2 before, but he never got to race because of a problem with his car. At Istanbul Park, there would be no such issue.
Earlier, Schumacher took advantage of drivers fumbling in the conditions and started posting decent lap times. His teammate Nikita Mazepin, by contrast, was the slowest driver on the grid. That is where you usually expect the Haas to be, but Schumacher drove like a man possessed.
Towards the tail end of Q1, Schumacher started his flying lap, but no one really noticed that it was faster than the efforts of some other drivers until his middle sectors. By the time he did, everyone was in disbelief that a Haas had beaten the likes of Daniel Ricciardo's McLaren and gotten into Q2.
The Haas garage erupted as it was revealed that Schumacher had managed a Q2 spot. The driver himself was ecstatic, and even though everyone knew he wouldn't make it into Q3, it was still a landmark achievement for the young man, who pulled it off in his rookie season driving the slowest car on the grid.
Schumacher would inevitably get knocked out in Q2, but nobody batted an eye. His performance meant he would start from 14th on the grid, his best-ever starting position to date in F1.
The race saw Schumacher, Haas and their fans suffer massive heartbreak, as he was caught by Fernando Alonso and sent spinning. It completely ruined his chances of achieving his best race finish in F1. It was simply not meant to be for the German.
He finished the race P19, ahead of Mazepin. However, he left Turkey as a winner in everyone's books. The driver's time will definitely come, and he can look back on this race's qualifying session as the day he announced himself to the world.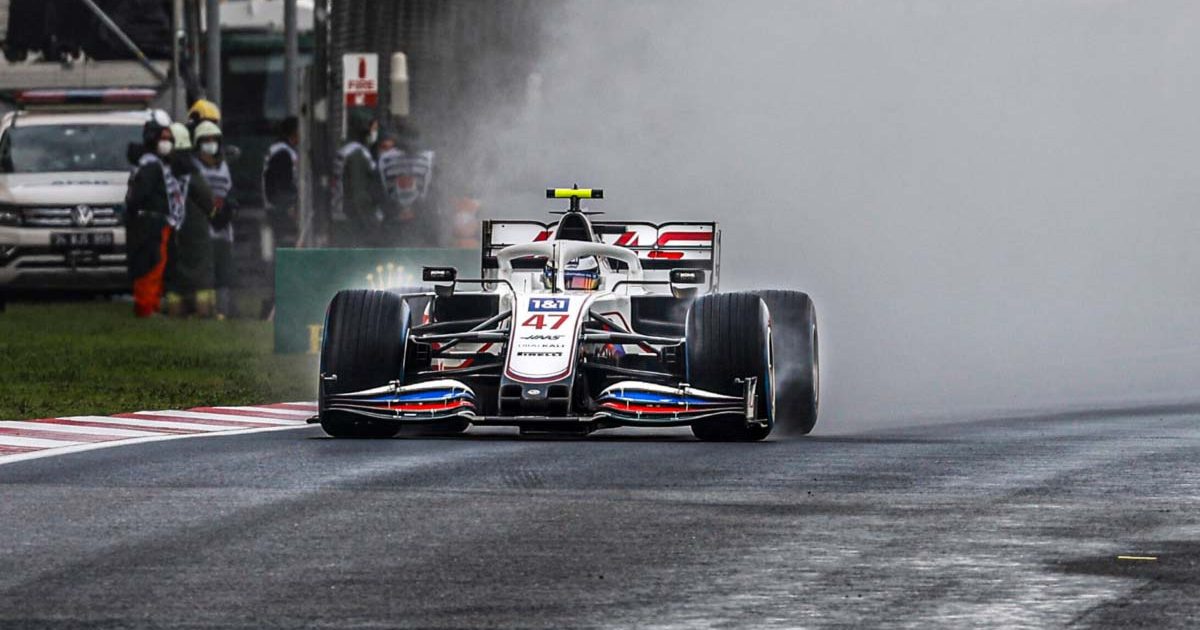 Haas' preparations for the next season
The reason Haas is where they are now is because they already decided at the beginning of this season that it was not a priority for them. Their focus lies on the 2022 season, which will be a major departure from what we are used to seeing.
2022 will see a lot of new regulations being introduced, and Haas is preparing for it a year in advance to get an edge over their competitors. The American outfit is willing to compromise the current season for long-term success.
Haas Team Principal Guenther Steiner has accepted the potential bottom-of-the-grid finish that will come with it, but stated that the team can live with it if it means they will be competitive in 2022.
"Yes, there is a risk that we will finish at the bottom in 2021, but we can live with that," Steiner revealed to Motorsport.com.
"We are looking at the long term. If you only look at the short term, you will be behind in 2022 and you won't be able to catch up. With the restrictions on aerodynamics and the budget cap, it is best to spend as much time as possible on those rules now."
When asked if adopting such an approach could hamper the development of their rookie drivers Schumacher and Mazepin, Steiner replied, "We are preparing ourselves for that.
"We have to limit the damage. It would be a success for me if we can prepare two drivers for the future so that in '22, we don't have any more problems. They (Schumacher and Mazepin) will learn from this and it is also a good opportunity for them, because with a bad car, the expectations are lower than with a good one."
It is worth noting that Haas' plans for the future involve the two drivers they have at the moment. Schumacher and Mazepin have both been retained by the team, and they will have another season with Haas to further their development in F1.
All said and done, despite the issues surrounding their one-shut-eye approach, retaining both drivers instead of chopping and changing warrant praise.
Haas confirming that Schumacher and Mazepin are worthy opponents
Despite Schumacher universally being considered the better driver over Mazepin, recent races (bar the Turkish GP qualifying) have seen the two drivers achieve almost similar levels of pace.
Haas seems to think that Schumacher and Mazepin are worthy opponents, and backed the latter with a new chassis at this request before the Belgian GP. Since then, he has started to get closer to his teammate in terms of pace, and is happy about it.
"I think our one-lap pace has massively improved ever since I drive from FP1 in Belgium," Mazepin said.
"I think we all know what was the change in FP1 in Belgium. So it's good to know that I can trust my feelings. The good thing is that the pace is here now, and we have a long season ahead of us.
"So I'm sure that it's only going to get better, because the confidence that I have lost in the beginning of the year, when the car wasn't doing what it was supposed to do, now it's coming to the truth."
"Obviously, we have only so much downforce that we use in this team, and the more weight you have in the corner, the more sliding you have.
"So the less weight from the car, the more speed I can carry with being in the same position as my teammate. I've been fighting for an equal position to be in for quite long, and I'm very happy to be in it," he concluded.
Read more: Mazepin makes hilarious statement regarding Mick Schumacher