It is the end of an era, as clinical sharpshooter (no, not with a gun) JJ Redick announced his retirement from the NBA. This announcement drew the curtains on an illustrious 15-year career in basketball.
Overview
The 37-year old retires having played last season with the Pelicans and the Mavericks, playing 44 games. He announced his retirement on Instagram, saying that he treasured his memories in the NBA.
"I started playing basketball 30 years ago in my backyard on an uneven patch of dirt, gravel, and grass," Redick wrote.
"It was on that court that my dreams began to form. Reality has far surpassed my dreams!! So thankful for 15 years in the NBA and all the amazing relationships and memories along the way."
The 2006 NBA draft was the beginning for Redick, who was drafted No. 11 by the Magic. He spent six seasons with Orlando, before making the switch to the Bucks. He later played for Clippers, 76ers and the Pelicans.
The 2015-16 season saw Redick operate on a cosmic level, having led the NBA's three-pointer shooting stat at 47.5%. He shot more than 40% behind the arc a stunning seven times throughout his career.
The beginning of JJ Redrick in NBA
Redick's move to Orlando Magic was hailed as a shrewd scouting move. But even they didn't know how much it would pay off.
Redick was praised for his perimeter shooting and ability to read the game. However, there were doubts regarding his defensive prowess, and his height and athleticism were singled out as potential concerns.
Speaking to Charlotte Observer, Redick has said at the time, "I think I'll be a role player like 80 percent of the players in the league are. I don't expect to be a star, I'll just shoot, be a team player."
Redick's defensive worries proved to be his undoing, as he saw very little playing time. One time, he was pulled from playing altogether due to his lack of defensive contribution. He was unhappy with what was happening, and handed in a formal request for a trade.
In 2008, Redick was quoted as saying, "We want to see what's out there. I want to stay here, but it's been frustrating." In response, his coach Stan Van Gundy said, "Right now it would be very hard to fit him in. I know it's also hard to keep sitting him on the bench.
"Should we be playing him? Right now, we're going good, so we probably won't disrupt things."
The team also stated publicly that Redick would not play any minutes until a potential trade. However, he finally got his chance in the 2008-09 season, which would be regarded as the moment he proved himself.
In the 2008–09 season, Redick averaged six points per game. His contributions saw the Magic make the NBA finals, but they lost to the Lakers. He continued his good string of performances till 2010, when he set personal bests in assists (8), rebounds (7) and minutes on the court (46).
His fantastic performance attracted the attention of other teams, and on July 2010, the Chicago Bulls won the race to sign him. The Bulls announced that they had signed Redick to a three-year deal worth $19 million. The Orlando Magic matched it, and subsequently retained the rights to the player.
Redick placed in Top 15 in the history of NBA
Redick is one of the elite players to step into the spotlights of the NBA, and indeed a basketball court. No player in history has overseen the evolution of the three-pointer more than Redick.
Redick has always been an elite shooter of the ball, he was still considered an average player at the beginning of his career. However, luck smiled on him when he was part of a fresh Magic team that took risks and tried many three-pointers in their matches.
That unlocked something in him, and fans started to see a side of Redick. Suddenly he was scoring more often and displaying more confidence. As Redick entered the prime of his career, he entered world-class territory.
With Los Angeles, he never saw the bench and was a full-time starter for the team. His career took him to various places, and by the time he arrived in Philadelphia, his salary had skyrocketed to $23 million.
The man is a true example of the finest wine, having achieved his career-best scoring season at the ripe age of 34. Everyone knew he was a lethal shooter, but it took many years for fans to see and appreciate it.
Redick is the true definition of workrate in the NBA. Every time he steps onto the court, he runs the most in there. Even when defenders catch up with him, they have to deal with his technique.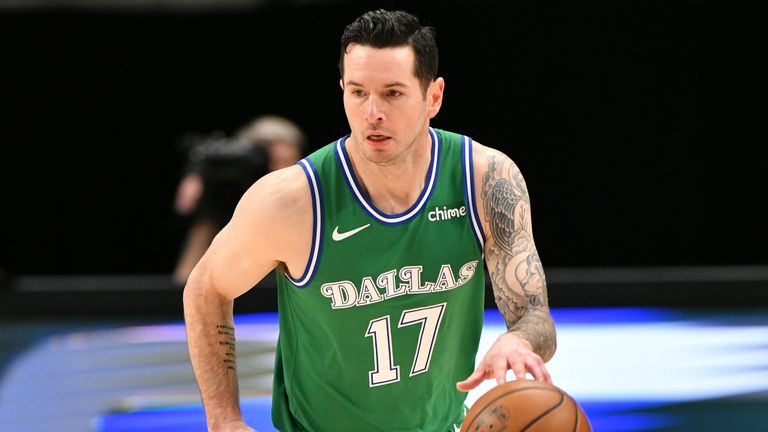 Most shooters in basketball have a fixed style of dribbling and shooting, but what makes Redick stand out is his improvisation. He is chaos in motion, and defenders always have a torrid time predicting his next move.
Not bad for someone who was written off at the start of his career. Those who criticised him are now eating their words. Redick thoroughly deserves his Top 15 ranking in the history of the NBA.
JJ Redrick retiring from NBA to be a dad
On his podcast The Old Man and the Three, Redick reflected upon his career, and stated that he is retiring to focus on his other job, which is being a father to two kids.
"I never could have imagined I would play basketball this long," Redick said.
"Going into last season, I wanted it to be my last year but I wasn't sure how it would play out. I would like to describe last season as a seven-month exercise in coming face to face with my own athletic mortality.
"I have some clarity now. And I know it's time. It's time for me to be a dad. It's time for me to reflect, to pause, and it's time for me to get ready for the next phase of my life," he stated.
Basketball and fans of the sport will definitely miss the marksman. One of the most prolific shooters in the game, Redick will always be remembered.