John McEnroe is a former tennis champion who created a name for himself by reaching the Wimbledon semifinals at the age of 18 in 1977. He went on to win multiple Grand Slam titles, becoming famous for his outstanding skills, rivalry with Björn Borg, and explosive court character. He went on to have a successful second career as a television analyst after retiring in 1992.
Early life
John Patrick McEnroe Jr. was born on February 16, 1959, into a military family in Wiesbaden, West Germany, as the eldest of three sons to Kay and John McEnroe Sr. McEnroe's family relocated to the New York City borough of Queens in 1960, and he grew up mostly in the hamlet of Douglaston, where he excelled in athletics during his childhood.
He later enrolled in Trinity, a prep school in Manhattan, where he continued to prioritise athletics. Patrick, his younger brother, would also go on to become a well-known tennis player.
Early tennis career
After graduating from high school in 1977, a critical series of events in McEnroe's career occurred. He travelled to Europe that year and won the French Juniors Tournament. Initially aiming for the junior crown at Wimbledon, he changed gears and tournaments after qualifying for the men's event.
The 18-year-old then stunned everyone by being the youngest player to reach the Wimbledon semifinals, where he was defeated by Jimmy Connors.
McEnroe returned to the United States after receiving a tennis scholarship to attend Stanford University in Palo Alto, California. In 1978, his College team won the NCAA Championship with McEnroe at the helm. He opted to become a pro after his freshman year. McEnroe was eliminated in the first round of Wimbledon in 1978 but advanced to the fourth round of the US Open.
McEnroe began his long dedication to Davis Cup plays during this time. Tony Trabert, then the United States Davis Cup coach, took a chance on the 19-year-old McEnroe, who handled the pressure admirably, winning his matches against England to help the United States win the Davis Cup for the first time in six years.
McEnroe won four singles titles over the next four months, including a crucial (and foreboding) triumph over Björn Borg in Stockholm, Sweden. In 1978, he was named Newcomer of the Year by the Association of Tennis Professionals (ATP) and ranked fourth in the world. He earned over half a million dollars in his first six months as a pro.
Sublime playing style, volatile personality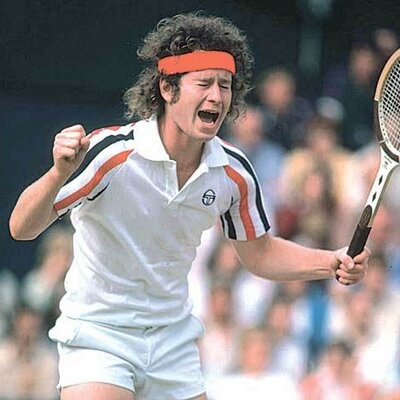 McEnroe's game evolved into a style noted for its delicacy and mobility. His serve was not powerful, but he possessed lightning-fast reflexes and an extraordinary court sense – he seemed to know instinctively where to put his shots. In an interview with Sports Illustrated's Curry Kirkpatrick, late tennis champion Arthur Ashe summarised his style: "Against Connors and Borg, you feel like you're being hit with a sledgehammer, but McEnroe is a stiletto."
His antics became more well-known as his talent grew in popularity. McEnroe developed a reputation for having a caustic, explosive temper, with a string of well-documented tantrums directed at various tennis personnel, including himself. "He is a young man who raised perfectly placed strokes to a high art form, only to resort to tantrums that smear his masterpieces like graffiti." Newsweek's Pete Axthelm observed at one point.
After losing at Wimbledon, McEnroe won the US Open in a match against Vitas Gerulaitis in 1979, becoming the tournament's youngest winner since 1948. Shortly after the victory, he led the US to Davis Cup triumphs over Argentina, Australia, and Italy, allowing the team to retain the title.
Famous match with Borg at Wimbledon
One of tennis' most famous rivalries, between McEnroe and the unflappable Swede, Björn Borg, began in 1980, with the Wimbledon final in July of that year. The fourth set ended in a famous 34-point tiebreaker, and the match lasted four and a half hours. Borg prevailed (1-6, 7-5, 6-3, 6-7, 8-6) in a showdown that would go down in history as one of the most epic tennis matches of all time.
The two met again at the U.S. Open, where McEnroe won the title (7-6, 6-1, 6-7, 5-7, 6-4). The contenders met again in the 1981 Wimbledon final, with Borg relinquishing his five-year title to McEnroe, who won in four sets. He defeated Borg one more at the US Open, becoming the first man since Bill Tilden to win three straight Open titles.
He was unable to add to his Grand Slam collection in 1982, but he was back in great form the following year, demolishing Chris Lewis to win his second Wimbledon (6-2, 6-2, 6-2). McEnroe won 82 of his 85 matches in 1984, including his fourth WCT final, third US Pro Indoor Championship, and second Grand Prix Masters title.
He won his third Wimbledon title, soundly defeating Connors (6-1, 6-1, 6-2), and his fourth US Open victory, defeating Ivan Lendl (6-3, 6-4, 6-1), and concluded the year ranked No. 1 for the fourth time in a row.
Professional decline and retirement
McEnroe won eight solo victories in 1985, although none of them was Grand Slams. He took a six-month sabbatical in 1986 and again for many months after being suspended for an outburst in 1987.
McEnroe remained a very competitive doubles player, winning the US Open in 1989 and Wimbledon in 1992, but he struggled to stay up with the next generation of singles talent. He was also notoriously penalised for misconduct during a match against Mikael Pernfors at the 1990 Australian Open in Melbourne.
McEnroe retired in 1992, having won seven Grand Slam singles titles, nine doubles trophies, and one more in mixed doubles, as well as a slew of Davis Cups. In 1999, he was inducted into the International Tennis Hall of Fame.
Broadcasting and other endeavours
McEnroe established a second career as a television presenter in 1995 and continued to compete on the court for charity, giving a significant amount of time to the Arthur Ashe Foundation for the AIDS Cure.
McEnroe is also a guitarist who has played in bands such as the Package and the Noise Upstairs. He founded the John McEnroe Art Gallery in New York City in 1994 to highlight emerging artists.
In New York, he established the John McEnroe Tennis Academy in 2010.
TV and movies
McEnroe began his eponymous chat programme on CNBC in 2004, after presenting a game show called The Chair in 2002. The show was terminated six months later due to low viewership.
McEnroe has made countless television and film appearances over the years. He appeared in Adam Sandler's Mr Deeds (2002) and Anger Management (2003) films, as well as several episodes of the hit programme 30 Rock.
Shia LeBeouf starred as the temperamental tennis star in the April 2018 film Borg vs. McEnroe, which received critical acclaim. Later that summer, historical footage of McEnroe competing in the 1984 French Open was shown in the documentary John McEnroe: In the Realm of Perfection.
McEnroe made a surprise comeback to the cinema in 2020 as the narrator of Mindy Kaling's coming-of-age series Never Have I Ever.
Wife and children
McEnroe married Oscar-winning actress Tatum O'Neal in 1986. They divorced in 1994 after having three children together. McEnroe married rock singer/songwriter Patty Smyth three years later, with whom he had two more children.
Popular Post:
Mike Tyson Record | Conor mcgregor Record | Khabib Record | Anthony Joshua Record | Floyd Mayweather Record |Ben Askren Record |Darren till Record |Roy Jones Jr Record | Ryan Garcia Record | Israel Adesanya Record | Manny Pacquiao Record | Mayweather Record | Dustin Poirier Record | Francis Ngannou Record |Nate Diaz Record | Anderson Silva Record | Canelo Record | Tony Ferguson Record | Mcgregor Record
Formula 1 Popular Post:
Lewis Hamilton Net Worth | Michael Schumacher Net Worth | Max Verstappen Net Worth | Lando Norris Net Worth | Sebastian Vettel Net Worth | Claire Williams Net Worth | Nico Rosberg Net Worth | Sergio Perez Net Worth | Romain Grosjean Net Worth | Toto Wolff Net Worth | Hamilton Net Worth | Fernando Alonso Net Worth | Frank Williams Net Worth | Niki Lauda Net Worth | Michael Latifi Net Worth | Kimi Raikkonen Net Worth | Ron Dennis Net Worth | Martin Brundle Net Worth | Angela Cullen Net Worth
Read more: John McEnroe net worth: Career, real estate, investments in 2021