Khabib Nurmagomedov is a retired professional mixed martial artist and Russian MMA promoter.
Early life
On September 20, 1988, Khabib Abdulmanapovich Nurmagomedov was born to an Avar family in the village of Sildi in the Tsumadinsky District of the Dagestan ASSR, an autonomous republic within the Russian SFSR, Soviet Union.
His father's family had relocated from Sildi to Kirovaul, where his father had turned the ground floor of their two-story house into a gym. When he saw students training at the gym, he became interested in martial arts. Khabib's childhood training included wrestling a bear when he was nine years old.
He began wrestling under the tutelage of his father, Abdulmanap Nurmagomedov. Abdulmanap, a decorated athlete and veteran of the Soviet Army, had wrestled since he was a child before receiving military training in judo and sambo. Abdulmanap dedicated his life to coaching the youth of Dagestan in the hopes of providing an alternative to the region's prevalent Islamic extremism.
His family relocated to Makhachkala, Dagestan's capital, in 2001, where he began wrestling at the age of 12 and judo at the age of 15. At the age of 17, he resumed combat sambo training with his father.
Career overview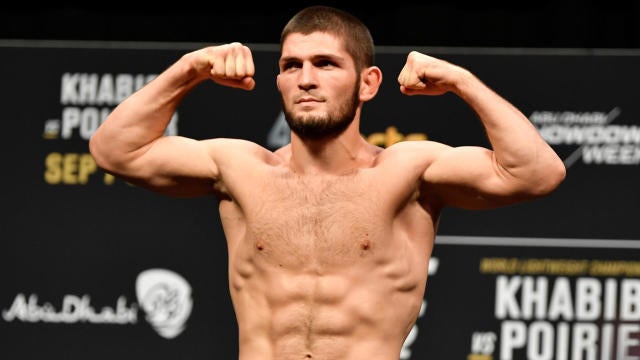 Nurmagomedov is a two-time Combat Sambo World Champion with a background in sambo, judo, and wrestling. His grappling style has made him one of the most dominant athletes in MMA history.
UFC Career
He is best known for competing in the Ultimate Fighting Championship (UFC) lightweight division, where he was the longest-reigning UFC Lightweight Champion, holding the title from April 2018 to March 2021.
At the time of his retirement, Nurmagomedov was ranked first in the UFC's men's pound-for-pound rankings, a position he held until his title vacation in March 2021. According to Fight Matrix, he is the greatest lightweight of all time.
Nurmagomedov, an ethnic Avar from Russia's Republic of Dagestan, is the first Muslim to win a UFC title. With over 29 million followers as of June 2021, he is the most-followed Russian on Instagram.
Record
Professional Record Breakdown
| | | |
| --- | --- | --- |
| 29 matches | 29 wins | 0 losses |
| By knockout | 8 | 0 |
| By submission | 11 | 0 |
| By decision | 10 | 0 |
Personal life
Nurmagomedov married Patimat in June 2013, and the couple has three children: a daughter born on June 1, 2015, a son born on December 30, 2017, and a son born on December 22, 2019. Magomed, Khabib's great-grandfather, was the name given to the first son. Abubakar Nurmagomedov, a fellow UFC fighter, is one of Nurmagomedov's cousins.
Abdulmanap Nurmagomedov, Nurmagomedov's father and long-time trainer, was placed in a medically induced coma in May 2020 after contracting COVID-19 following heart surgery. He died on July 3, 2020, at the age of 57, in a clinic in Moscow.
| | |
| --- | --- |
| Full Name | Khabib Abdulmanapovich Nurmagomedov |
| Commonly known as | Khabib Nurmagomedov |
| Age | 32 |
| Height | 5 ft 10 in |
| Weight | 155 lb |
| Spouse | Patimat Nurmagomedova |
| Children | 3 |
| Nickname | The Eagle |
| Net Worth | $30 million |
Controversies
Bus attack at UFC 223 Media Day
On 3 April 2018, Nurmagomedov and fellow fighter Artem Lobov got into a fight in which Nurmagomedov and his entourage cornered Lobov and slapped him several times. Lobov is known to be friends with Conor McGregor, with whom Nurmagomedov had verbal spats and trash talk exchanges.
McGregor and his entourage were let into the Barclays Center by credentialed members of his promotional team two days later, during promotional appearances for UFC 223. They confronted Nurmagomedov, who was leaving the arena on a bus with other UFC 223 "red corner" fighters, including Rose Namajunas, Al Iaquinta, Karolina Kowalkiewicz, Ray Borg, and Michael Chiesa.
McGregor ran alongside the slowly moving bus, then past it to grab a metal equipment dolly, which he threw at the bus's window before attempting to throw other objects in the area.
The UFC's president, Dana White, stated that a warrant was issued for McGregor's arrest. McGregor later surrendered to police, where he was charged with three counts of assault and one count of criminal mischief.
At his arraignment, he was charged with menacing and reckless endangerment and was released on $50,000 bail until June 14, 2018. McGregor later pleaded no contest to a disorderly conduct charge and was sentenced to five days of community service and anger management classes.
Incident at UFC 229
Following his victory over Conor McGregor at UFC 229 on October 6, 2018, Nurmagomedov jumped over the octagon fence and charged at McGregor's cornerman, Dillon Danis. Danis allegedly yelled insults at Nurmagomedov.
Soon after, McGregor and Khabib's cousin, Abubakar Nurmagomedov, attempted to exit the octagon, but a scuffle erupted after McGregor punched Abubakar, who then punched McGregor back. Two of Nurmagomedov's cornermen, Zubaira Tukhugov and Esed Emiragaev, then attacked McGregor from behind inside the octagon.
The Nevada State Athletic Commission (NSAC) withheld Nurmagomedov's payment for the fight as a result, pending an investigation into his actions. He appeared at the post-fight press conference and apologised to the NSAC, claiming that McGregor's trash talk and the UFC 223 bus incident had provoked him.
The NSAC filed a formal complaint against both Nurmagomedov and McGregor, and on October 24, the NSAC voted to approve a motion to immediately release half of Nurmagomedov's $2 million fight payout. Both Nurmagomedov and McGregor were given indefinite bans pending the outcome of an official hearing into the post-fight brawl.
The NSAC announced a nine-month suspension for Nurmagomedov (retroactive to October 6, 2018) and a $500,000 fine on January 29, 2019. He was able to compete again on July 6, 2019. McGregor was also given a six-month suspension and a $50,000 fine, while Abubakar Nurmagomedov and Zubaira Tukhugov were given 12-month suspensions and $25,000 fines, respectively.
Net worth and assets
Throughout his MMA career, Khabib has amassed a sizable fortune.
Khabib earned a total of $1,540,000 after defeating Connor McGregor later in 2018. This included a $2,000,000 incentive to show up, as well as a $40,000 incentive. Unfortunately, Nurmagomedov was fined $500,000 for a post-fight incident, totaling $1,540,000.
Khabib won $6,090,000 after defeating Poirier in 2019. This included a guaranteed payout of $6 million as well as $90,000 in bonuses.
After defeating Gaethje in 2020, Nurmagomedov earned the same $6.09 million – though some sources claim he earned more than his previous fight and took home a career-high sum before retiring.
Nurmagomedov's estimated net worth is $30 million.
Popular Post:
Mike Tyson Record | Conor mcgregor Record | Khabib Record | Anthony Joshua Record | Floyd Mayweather Record |Ben Askren Record |Darren till Record |Roy Jones Jr Record | Ryan Garcia Record | Israel Adesanya Record | Manny Pacquiao Record | Mayweather Record | Dustin Poirier Record | Francis Ngannou Record |Nate Diaz Record | Anderson Silva Record | Canelo Record | Tony Ferguson Record | Mcgregor Record
Formula 1 Popular Post:
Lewis Hamilton Net Worth | Michael Schumacher Net Worth | Max Verstappen Net Worth | Lando Norris Net Worth | Sebastian Vettel Net Worth | Claire Williams Net Worth | Nico Rosberg Net Worth | Sergio Perez Net Worth | Romain Grosjean Net Worth | Toto Wolff Net Worth | Hamilton Net Worth | Fernando Alonso Net Worth | Frank Williams Net Worth | Niki Lauda Net Worth | Michael Latifi Net Worth | Kimi Raikkonen Net Worth | Ron Dennis Net Worth | Martin Brundle Net Worth | Angela Cullen Net Worth
Read more: Conor McGregor record: Early life, career, records and titles of MMA legend