Klay Thompson is an American professional basketball player. He plays in the National Basketball Association (NBA) for the Golden State Warriors.
Thompson is widely considered to be one of the greatest shooters in all of NBA history. He is also one of the best players the NBA has ever seen.
He has won the NBA Championship three times with the Warriors, and is also a five-time NBA All-Star and a two-time All-NBA Third Team Honoree. His name is also on the NBA All-Defensive Second Team.
Overview
Thompson was ruled out of professional basketball due to an anterior cruciate ligament (ACL) injury. It happened during Game 6 of the 2019 NBA finals. The lethal shooter picked up the injury and limped off hurt. That was the last time we saw Thompson in competitive action.
Thompson's injury recovery was going good, even though it came at the cost of missing the next season completely. Unfortunately, he suffered another injury after tearing his right Achilles during an off-season workout. This ruled him out for the next season as well, meaning it has been two seasons since he played a match of professional basketball. Now, however, he seems to be back, and everyone is eagerly anticipating his return.
The injury that took Thompson from the Golden Warriors
Disaster struck during Game 6 of the prestigious NBA finals of 2019 when Thompson picked up an ACL injury. It sidelined him indefinitely, but nobody expected the wait to be more than a two-year one.
Throughout his NBA career, his team described Thompson as 'no maintenance'. The reason was simple – he simply put the ball into the basket with minimal fuss and no injuries. He played almost every game, and he showed up in most of said games. But the season-ending ACL injury in his left knee ruled him out for the rest of that season. The next year, his luck went from bad to worse as he ruptured his right Achilles tendon. This would mean missing a second season in a row.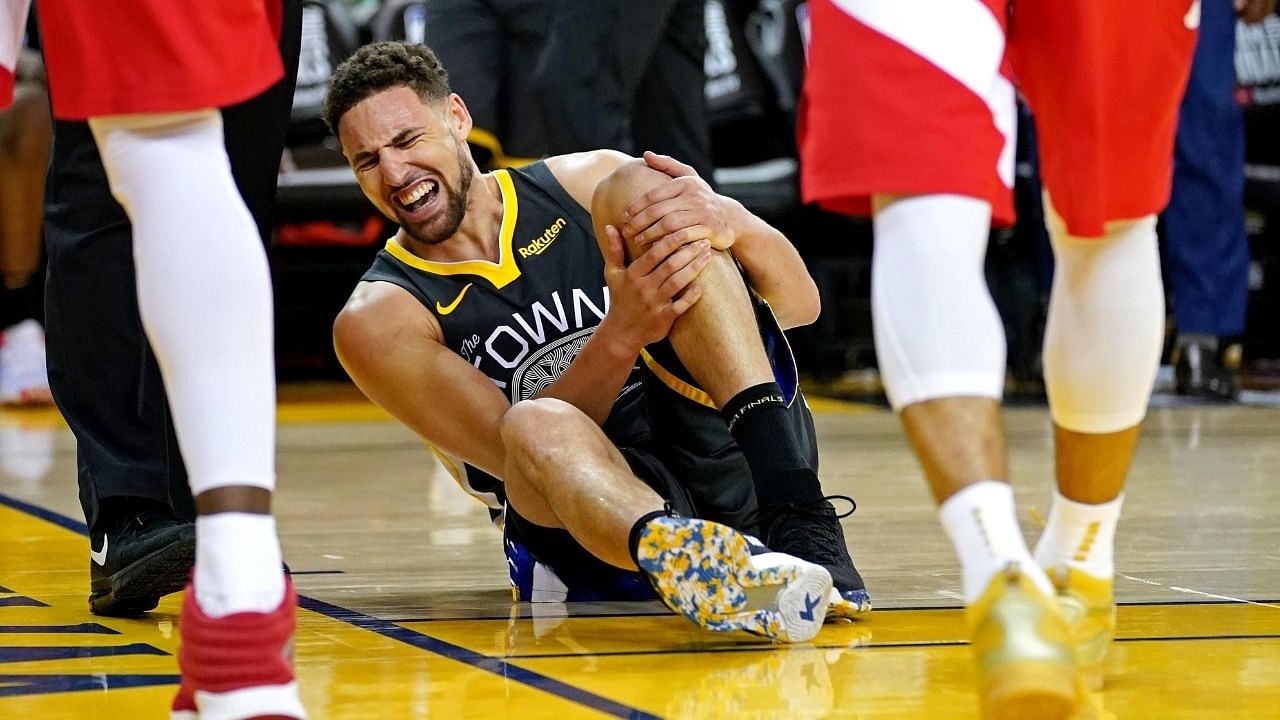 Although the Warriors never specified a return date, medical experts have weighed in on his injury. They suggested that most players of his calibre take a year to improve their rusty skillset, notably strength, jumping and movement.
Dr. Michael G. Ciccotti, director of sports medicine and research at Rothman Orthopaedic Institute and an outside consultant for the Philadelphia Sixers, Eagles and Flyers, spoke about the injury.
"I would be optimistic that he's going to be able to get back and compete at a high level again. But his ability to perform precisely at where he was before? That is something that only time will tell," he said.
Steve Kerr announcing that Klay Thompson will be playing in 2022
Naturally, all anyone wants to know in such a situation is the return date of Klay Thompson. That, or at least a speculative one, has been provided by his team, who announced how his rehab was going and when we might see him return to the court.
On 20 September, the Warriors said in a statement that Thompson has "made good progress during his rehabilitation over the course of the summer and is on pace to return during the 2021-22 season.
The exact time for his return this season will be based on his continued progress. Thompson, who underwent surgery on his right Achilles on Nov. 25, 2020, is expected to participate in various controlled drills during training camp. His return to full practice will be determined at a later date."
Head coach Steve Kerr also announced that Thompson will be playing in 2022. As reported by NBC Sports, Kerr said, "It's going to be a play-it-by-ear thing. The main thing is he's progressing well, he's in a great frame of mind, in a really good place.
"It's exciting just to think about him coming back. All the players and coaches are excited, just to know he's on track is awesome. We'll just see where he is come training camp and trust the training staff to work with him and give us the advice that we need, and we'll go from there."
Kerr also talked about how Thompson will be coming into a team that has changed completely from the team he left back in 2019.
He said, "I think this year's team will offer a much better mix of mentors and veterans to go along with those young guys.
"I think we'll have more continuity this coming season than we've had since our championship teams, and a much clearer sense of who's ready to play and who's not."
The man himself spoke about his return date, saying, "I plan on … hopefully early next season. I mean, the Achilles is like a 12-month recovery phase. But I also have to factor in my left knee because I don't want to come back and be half myself, you know what I'm saying? Recovery is going through. It's slow. The Achilles is tedious."
All signs point to a Thompson return sooner than later. The excitement is palpable, and everyone will be hoping it's all smooth this time around.
What should we expect from the Golden Warriors since Klay is back?
The Warriors haven't quite hit the lofty heights they used to with Thompson in their ranks. It is also a little outlandish to suggest that Thompson coming back will just make them the team they were two years ago. However, with his experience supplementing the young blood in the team, the Warriors look like dangerous prospects for the next season.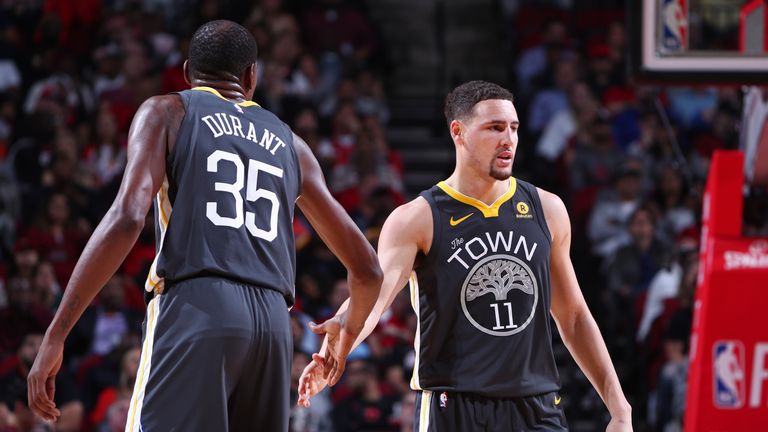 An Achilles injury almost always has permanent impacts on a player's performance levels However, Thompson's former teammate Kevin Durant returned to a level unlike anything we had seen from him before.
This means that although skyrocketed expectations aren't the way to go when Thompson makes his return, fans can hold hopes that he will be the same player that left injured on that fateful day. Time will tell if his comeback will be a fairytale, or a nightmare.
Read more: Who invented basketball and when was it invented?