Lando Norris is a British-Belgian racing driver who currently races for McLaren under the British flag in Formula One.
In 2015, he won the MSA Formula championship, and in 2016, he won the Toyota Racing Series, the Eurocup Formula Renault 2.0, and the Formula Renault 2.0 Northern European Cup. That year, he also received the McLaren Autosport BRDC Award. He went on to win the FIA Formula 3 European Championship in 2017. He was a McLaren Young Driver Programme participant.
Early life
Lando Norris was born on 13 November 1999.
Norris attended Millfield School in Street, Somerset, and dropped out without completing his GCSEs. He had a full-time personal tutor who helped him with physics and mathematics. His family also relocated to Glastonbury so that he could attend day school and pursue his racing career, citing Valentino Rossi as an inspiration.
Career
Early Career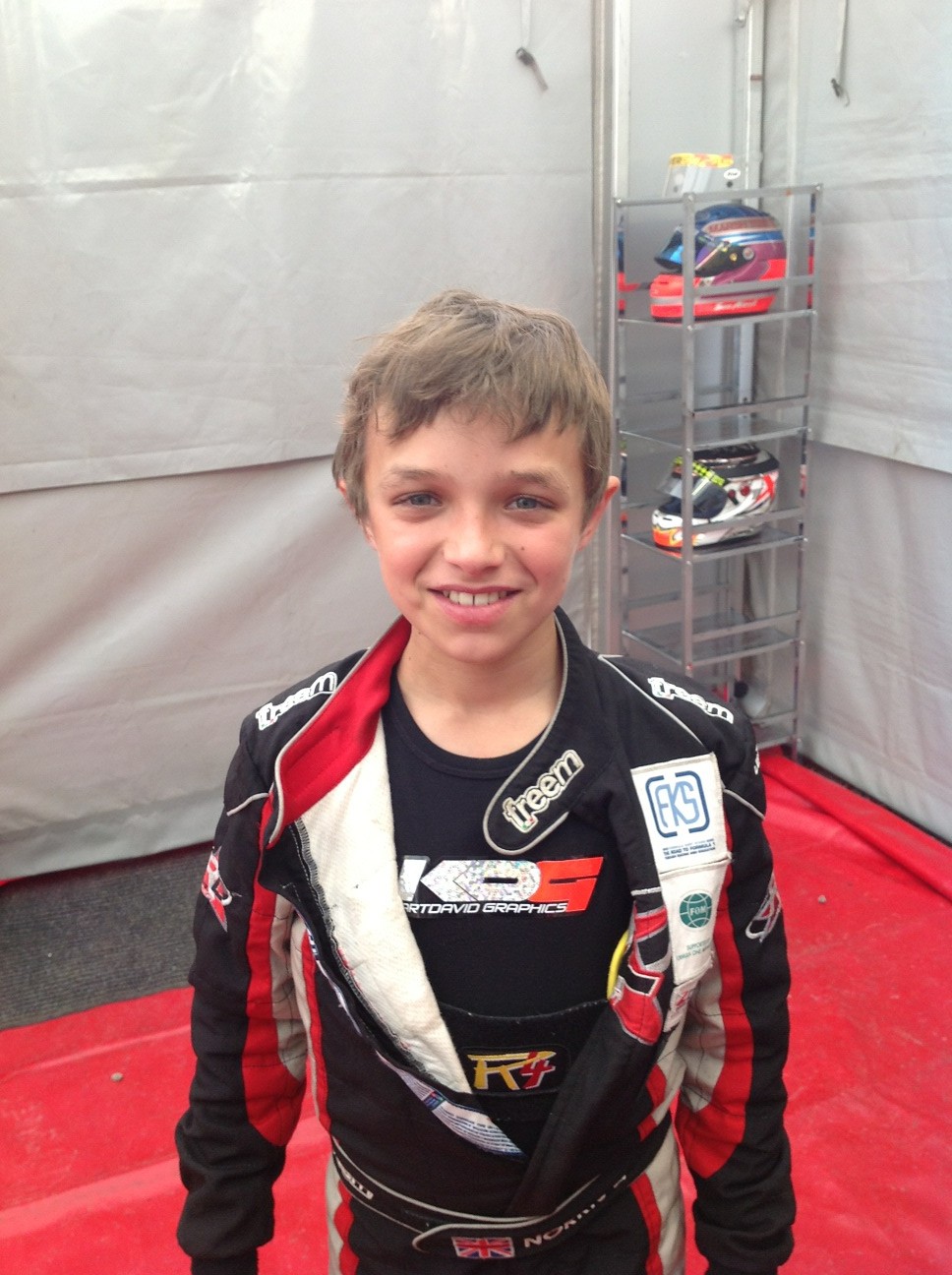 After first becoming interested in motorcycle racing, Norris' focus shifted to four wheels after his father took him and his brother to a round of the Super 1 National Kart Championships at his local kart track.
He began racing at the age of seven, when he won pole position in his first national event. Norris won the World Karting Championships in Bahrain in 2013, as well as the WSK Euro Series and the CIK-FIA European and CIK-FIA Supercup titles.
He also raced in the ADAC Formula 4 Championship and the Italian Formula 4 Championship with Mücke Motorsport, where he had even more success, with six podiums from eight starts in the former and a single podium in the latter.
Norris was announced as a driver for M2 Competition in the Toyota Racing Series in New Zealand for 2016. Norris won six races during the season, including the New Zealand Grand Prix, and won the championship on his first try. Norris raced for Josef Kaufmann Racing in the Formula Renault 2.0 Eurocup and Formula Renault 2.0 NEC series, finishing first in both.
With Carlin, he also competed in the final round of the European Formula 3 Championship and the Macau Grand Prix, finishing eleventh in the latter.
In the 2017 European Formula 3 Championship, Norris raced full-time for Carlin. He won the championship in the first of three races at the Hockenheimring, finishing 53 points ahead of runner-up Joel Eriksson.
He also raced for Carlin in the 2018 FIA Formula 2 Championship, where he came close to winning the championship but finished second to fellow Brit George Russell.
Formula One career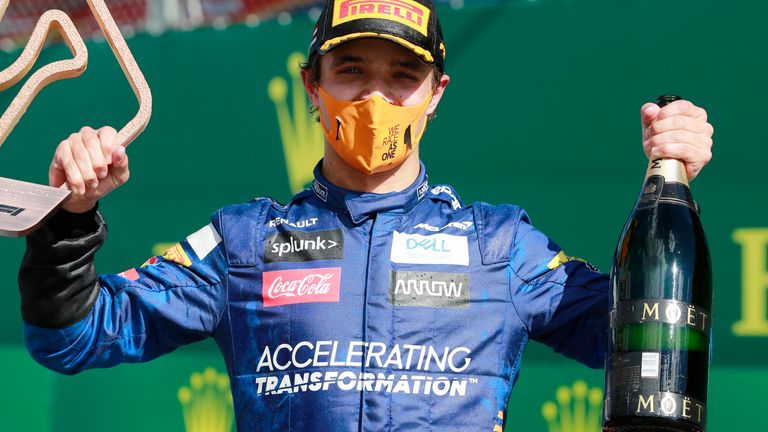 Lando Norris made his Formula One debut in 2019 with McLaren. At McLaren, he was partnered with Spanish driver Carlos Sainz Jr.
Norris finished his first Formula One season in 11th place overall, with 49 points. This was significantly lower than teammate Sainz, but Norris out qualified Sainz 11-10 over the course of the season. During his rookie season, Norris signed a multi-year contract extension with McLaren that kept him with the team through the 2020 season.
Norris finished 10th in the Sakhir Grand Prix in 2020 after a disappointing qualifying resulted in a decision to fit a new engine, resulting in an engine penalty that dropped him to the back of the grid. After qualifying fourth at the Abu Dhabi Grand Prix, 0.25 seconds off pole position, Norris finished fifth, allowing McLaren to finish third in the championship with teammate Sainz finishing sixth.
Norris stayed with McLaren for the 2021 season, with Daniel Ricciardo taking over for Carlos Sainz. Norris qualified in P4 for the eighth round of the 2021 season in Styria, Austria, but Bottas received a three-place grid penalty for an incident earlier in the weekend, so Norris started in P3.
Norris out-qualified his teammate, who failed to qualify for Q3 for the third time in a row. Norris was passed by Pérez and Bottas during the race, and he finished in fifth place, continuing his streak of consecutive points finishes in 2021.
Personal life
Many people are unaware that Lando Norris' father is one of the wealthiest people in the United Kingdom. Adam Norris is a multimillionaire who amassed his wealth through the use of pension funds. Norris' mother, Cisca, is Belgian. Norris has dual British and Belgian citizenship.
He is the second oldest of three siblings, with two younger sisters, Flo and Cisca, and an older brother, Oliver, who was also a competitive kart racer.
In 2020, Norris founded Team Quadrant, an esports team that also focuses on content creation and apparel.
Norris lives in Woking, which is close to McLaren's headquarters.
He keeps a very low profile and little is known about his dating history. Norris has admitted that he prefers to spend time alone.
| | |
| --- | --- |
| Full Name | Lando Norris |
| Date of Birth | 13 November 1999 |
| Age | 21 |
| Weight | 68 kg |
| Height | 1.7 m |
| Current Team | McLaren |
| Girlfriend/ Boyfriend/ Spouse | N/A |
| Children | N/A |
| Net Worth | $1 million |
Controversies
Norris collided with Canadian racer Lance Stroll during the Portuguese Grand Prix on October 25, 2020 in Portimao. Norris missed out on scoring points due to the collision in the early stages of the race.
Norris took to Twitter to apologise for the disparaging remarks he made about the racer, Lance Stroll, with whom he collided. He did not, however, mention any names in the Tweet.
Net worth and endorsements
According to various online reports, Lando Norris's current salary is estimated to be around $2 million while his net worth is around $1 million.
His list of sponsors include McLaren, Bell Helmets, wearegrip, ADD Management, and PAP.
Charity
Norris raised over $10,000 in April 2020 as part of a Twitch charity stream to help those affected by COVID-19. Norris raised over $12,000 and shaved his head (a promise he made if he raised $10,000).
However, the 20-year-old did not stop there. He joined forces with other F1 drivers to organise a charity stream to combat Coronavirus. Norris and five other F1 drivers raised over $70,000 in donations for the charity Race For the World.
Popular Post:
Mike Tyson Record | Conor mcgregor Record | Khabib Record | Anthony Joshua Record | Floyd Mayweather Record |Ben Askren Record |Darren till Record |Roy Jones Jr Record | Ryan Garcia Record | Israel Adesanya Record | Manny Pacquiao Record | Mayweather Record | Dustin Poirier Record | Francis Ngannou Record |Nate Diaz Record | Anderson Silva Record | Canelo Record | Tony Ferguson Record | Mcgregor Record
Formula 1 Popular Post:
Lewis Hamilton Net Worth | Michael Schumacher Net Worth | Max Verstappen Net Worth | Lando Norris Net Worth | Sebastian Vettel Net Worth | Claire Williams Net Worth | Nico Rosberg Net Worth | Sergio Perez Net Worth | Romain Grosjean Net Worth | Toto Wolff Net Worth | Hamilton Net Worth | Fernando Alonso Net Worth | Frank Williams Net Worth | Niki Lauda Net Worth | Michael Latifi Net Worth | Kimi Raikkonen Net Worth | Ron Dennis Net Worth | Martin Brundle Net Worth | Angela Cullen Net Worth
Read more: Adam Norris net worth: How much is Lando Norris' dad worth in 2021?