"Hamilton is going to get a hundred. He came into this race as a gladiator. He finds the chequered flag AS A CENTURION! Lewis Hamilton, it's a hundred race victories. He wins the Russian Grand Prix!"
Overview
Good old Crofty's enthusiasm was on full display at the 2021 Russian Grand Prix, and for good reason. Lewis Hamilton, the seven-time world champion crossed the line in first place for the 100th time. It is an achievement that has never been achieved, and it is a record that will stand for quite some time.
Some drivers never get to win in Formula 1, let alone win a hundred times. That is an extraordinary feat accomplished by the British Knight. Two teams, seven world titles, and countless races later, he is at the top of the F1 mountain, if he wasn't already.
Early career of Lewis Hamilton and his first wins
Hamilton started his karting career in 1993, and quickly established himself as an exciting prospect. At the age of ten, he became the youngest driver to win the British Cadet Karting Championship. He then joined the McLaren driver development programme, with the option of a future F1 seat on the table.
Hamilton graduated to car racing, when he joined with Formula Renault. He then made the jump to F3 after a string of impressive performances, and put in better shifts (pun fully intended). The world started to take notice of the young man, and more so after he came in at Number 24 of Autosport's 'Top 50 drivers of 2005' issue.
GP2 came calling, and Hamilton won the GP2 Championship in his debut season. He went from strength to strength there, and the prospect of an F1 seat was nearing closer every time he sat in the car. Ultimately, his hard work paid off, as Hamilton was chosen by McLaren to partner Fernando Alonso form the 2007 season.
Hamilton took his first win in F1 at the Canadian Grand Prix, on 10 June, 2007. The race was his sixth ever in F1, showing the world that he well and truly meant business. The Circuit Gilles Villeneuve was the first to host a Hamilton win, and from then on. F1 would never be the same again.
Hamilton putting a record in F1 history
Records and Hamilton have been going hand in hand. Since his debut in F1, Hamilton has broken many records, and created many more as well.
At the time of writing, Hamilton holds the record of most wins (100), most pole positions (101) and most podium finishes (176). He is a record eight-time winner of the Hungarian Grand Prix, and a record seven-time winner of his home race at the Silverstone Circuit, the British Grand Prix.
It is Hamilton's remarkable consistency that has seen him achieve so much in his time in F1. He holds the most points in F1 history, with 4024.5 to his name. This is nearly 1000 points higher than the next best driver, Sebastian Vettel (3053).
Hamilton also holds the record of the most consecutive race starts (265). This record could have been way more, and was only snapped because of him getting COVID-19 before the 2020 Sakhir Grand Prix. The Sakhir Grand Prix also ended another streak, and that was Hamilton's record of the most consecutive point-scoring finishes ever (48). Hamilton also has the most races finished in the top 10, with 242 to his name.
Hamilton being a top driver means he also has some pretty sensational records in his hat. He has led the most laps in F1 (5232), driven 22 races leading every lap, achieved the most pole + win combinations (59), and is the only driver in history to have won at least one race in every season he has raced in.
The record of 100 wins is exceptional, and there is every chance it will never be bettered. However, let that not deter you from the fact that it is just one among many feathers in Hamilton's cap, or rather, helmet.
Will Lewis Hamilton continue racing in the future?
Time and tide wait for no man. However great Hamilton is, one day, he will retire from racing. The man is 36 years of age, so that point of his life will come sooner than later.
However, it is safe to say that he will be around for the near future. Hamilton recently signed a two-year contract extension with Mercedes. This means he will be gunning for more world titles in addition to the seven he has. If he wins one this season, the scenario of him taking ten of those isn't a bad shout.
Moreover, as many drivers have shown in F1, age is just a number. The most recent example has been Hamilton's old teammate Alonso himself, who returned for a second stint in F1 with Alpine. Anyone who said he was finished and dusted are eating their words as you read this.
Therefore, a driver like Hamilton will carry on at the highest level for the near future. Even if he retires early, he will continue to be a part of F1 and the community. His association with Mercedes and his off-track activities will be done on the F1 platform.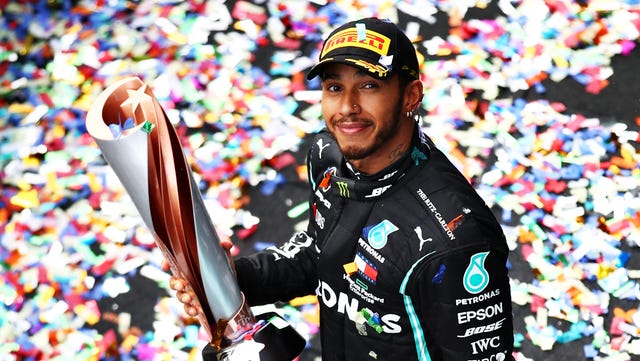 Hamilton is still very much in his prime, and hopefully we can enjoy a few more years of the most decorated driver of all time. Whether you like him or not, the fact that he has been at this level for more than a decade is mighty impressive.
Let's hope he continues to grace the sport with his pace, racecraft and relatability.
Read more: Domenicali gives verdict on Hamilton-Verstappen rivalry – "Will go to the last corner in Abu Dhabi"