Marcus Rashford MBE is a professional football player who plays in the Premier League. He plays for Manchester United and the England national team. He started playing for the first team in 2016, and is considered by many to be one of the top young players in the footballing world today.
Rashford is a decorated footballer, and one of the finest in his age group and in his position. With Manchester United, he has won the FA Cup, the Europa League, and the League Cup. As a player of the Three Lions, he is yet to win any major honours, but has reached the semi-final of the 2018 World Cup, and the final of Euro 2020. His arrival and presence at Old Trafford has seen his brand appeal go from strength to strength, and has earned him many new deals with the club.
How much is Rashford's net worth?
According to Spear, a British magazine, Rashford's net worth is estimated to be around £65 million ($80m). This number is calculated through his earnings and salaries from his footballing career, as well as his endorsements and other ventures.
There is a good possibility given his age and his talent ceiling, he will end up earning way more than what he does now. At this stage, there is no shame in admitting that he is not on the level of a Cristiano Ronaldo or a Lionel Messi. However, there is every chance he may reach that level, and that level of financial stance and position.
Apart from his salary with Manchester United, there is not much information available about his wealth. However, as mentioned earlier, he earns a significant sum through his various endorsements, mainly with Nike. Rashford's association with Nike was lucrative, to say the least, and he endorses their products.
With Manchester United, Rashford's contract nets him £200,000 ($250k) a week. This is a huge step-up from his previous one, which earned him £20,000 a week. The contract runs till 2023, after which a renewal will have to be signed, failing which he will become a free agent. Given his stature at the club, it is unlikely that such an event will occur in the near future.
This puts his yearly earnings to be around £10 million. On top of this, he also earns through bonuses and other incentives, mostly performance and appearance related as per his contract.
Rashford's endorsements
Rashford has been associated with Nike since a long time. He has featured in many of the sportswear company's promotional campaigns, and has endorsed their products.
Rashford is also a 'McDonald's Football Ambassador', and has collaborated with EA Sports to help develop their FIFA video game. He is also involved in real estate and property business, though the details for these ventures of his are not known in full capacity.
Style of play
Rashford usually plays as an inside-forward/winger, coming in from the left. He has also played up top as a striker or centre forward. However, he prefers the former, as he can choose to cut inside and shoot on goal with his favoured right foot. Moreover, when he hugs the touchline, he can take on full-backs and beat them to whip a cross into the box.
Rashford initially wanted to be a central midfielder. However, his attacking intent and willingness to build attacks was noticed by his coaches. As a result, they started playing him as a goalscorer, and eased him off creative duties and build-up. His pace was also a standout trait, enhancing his potential to be an attacker. This helps him in making incisive runs in behind the backline to put himself in 1v1 situations, or to square it to the next attacker.
Although he is primarily a goalscorer, he also possesses other great traits. He is a direct and silky dribbler, using his dribbling skills to beat defenders and leave them for dead. He also possesses good vision and technique, and can ping passes forward during counter-attacks or build-up. He is also a calm and collected finisher, and can score all kinds of goals. From simple tap-ins to absolute screamers, Rashford has scored the lot. He is also an accurate penalty and free-kick taker. He uses the knuckleball technique to take the latter, similar to a certain Cristiano Ronaldo.
Praise from other football personalities
Rashford has received plaudits for his playing ability and achievements. Young players like Mason Greenwood model their game on him, and he is a role model to the youngsters in the academy. Rashford's success from a young age inspires these players to step up like him. The English attacker admitted his focus and dedication stems from him watching and learning from iconic players like Robin van Persie, David Beckham and Paul Scholes. Rashford also credited former teammate Zlatan Ibrahimovic and former manager Jose Mourinho for helping to shape his mentality and development.
Former English midfielder Owen Hargreaves praised Rashford for his leadership skills, saying the player has all the tools required to become a leader and captain. He has also been described by the media as a big game player, for showing up in important games with goals and contributions. Current manager Ole Gunnar Solskjaer has also hailed Rashford for his willingness and determination to play through injury.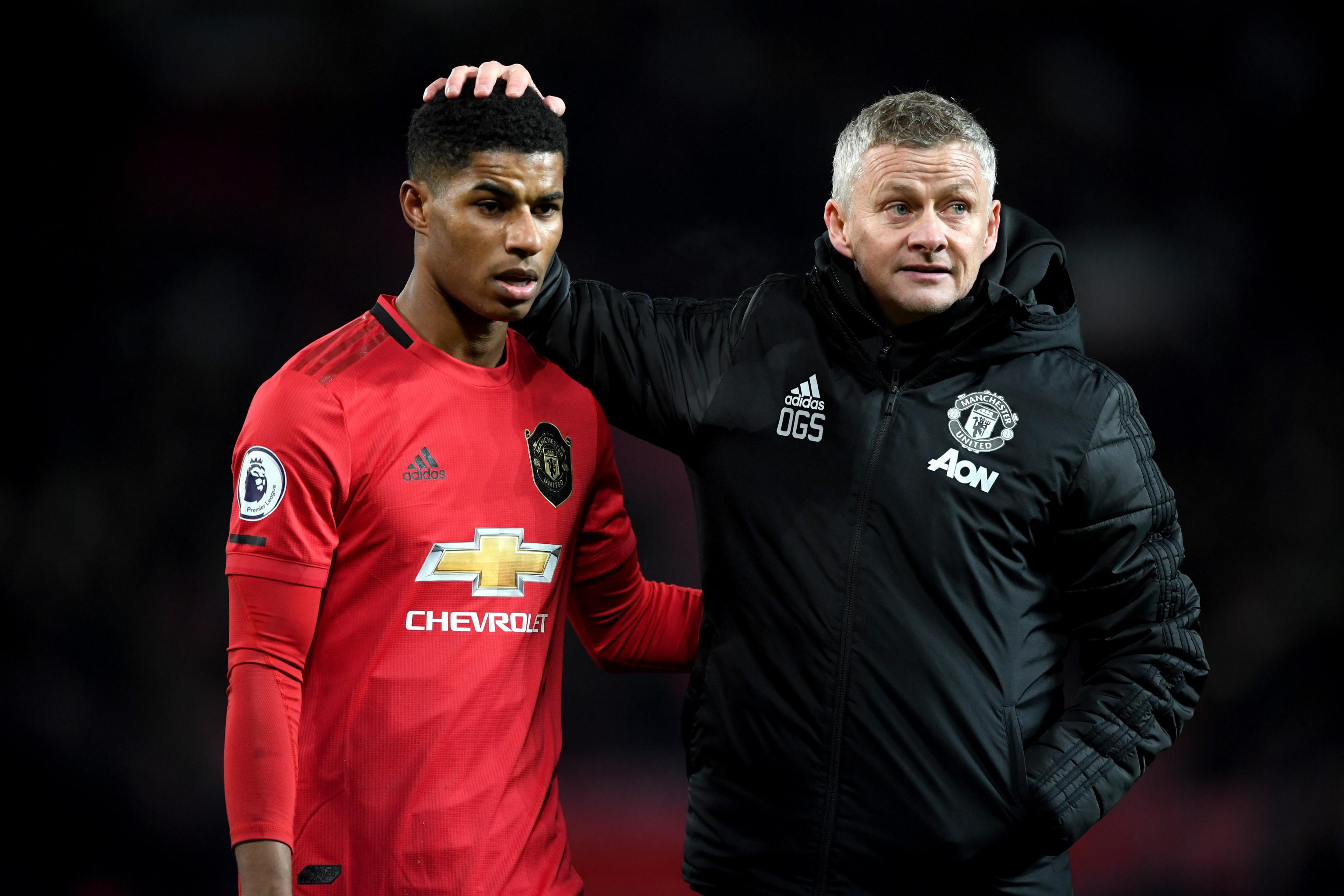 Humanitarian ventures
During COVID-19, the UK government under Boris Johnson imposed a lockdown, which shut down essential services in the country. As a result, there were millions of kids starving without food, and Rashford stepped up when no one else did.
Rashford teamed up with FareShare, a poverty and food waste charity to deliver free meals to people in Greater Manchester. This initiative focused on children who depended on the then-shut community centres and school meal clubs for their food. Rashford's involvement saw over £20 million being raised for the purpose. The initiative promised that children who were of schoolgoing age would receive free meals. It started with a target of supporting 400,000 children, but within a few months, it had provided ten times the meals.
Rashford then wrote an open letter to the government asking them to end child poverty in the country. The government responded by announcing a change to the rules which dealt with free school meals for children. Those in charge singled out Rashford's campaign as a vital milestone in this matter. He earned unanimous praise for his efforts, and was appointed a Member of the Order of the British Empire (MBE).
Even after being conferred the prestigious title, the footballer continued his campaign. After the success of his initial efforts, he started a petition on the UK Parliament petitions website, asking for help to completely end child food poverty. He expressed the need for free school meals programmes and an increment to the value of Healthy Start vouchers. The petition amassed 100,000 signatures in less than 12 hours, crossing the required number of signatures to be debated in Parliament. It hit 200,000 signatures by the end of the first day, and close to 300,000 in the first week.
Speaking of charity, Rashford uses his position to speak about various social issues for the betterment of society.
Honours and achievements
Rashford was awarded the Special Recognition award for his child food poverty campaign at the 2020 Pride of Britain Awards. British African-Carribean newspaper The Voice, which is the only one of its kind in the UK named Rashford on its 'Football Black List', which celebrates eminent black people in football. Furthermore, Akse, a local street artist painted a mural of him in Withington, a town in Manchester.
Rashford was named the Campaigner of the Year during the 2020 GQ Men of the Year Awards. He also won a special award at the BBC Sports Personality of the Year Awards, despite not being on the official shortlist. This footballing award streak continued, with Rashford being announced as the first recipient of the FIFA Foundation Award, and receiving £75,000 to donate to charities. He was also included in the 2020 edition of the Powerlist, as part of the 100 most influential black British people in the world.
The good man continued to win awards in 2021. Rashford was recognised by the Guardian as the Guardian Footballer of the Year, for being "a player who has done something remarkable, whether by overcoming adversity, helping others or setting a sporting example by acting with exceptional honesty." He also won the Football Writers' Association Tribute Award. He then featured on Time Magazine's 100 Next List, under the role of 'advocate', and in Forbes for his "impactful leadership". Rashford also became the youngest person to sit at the top spot of the Sunday Times Giving List, which is the Sunday Times' annual note of people who are financially well-off and spare no effort to display their generosity to make a difference.
We can thus see that Rashford is a top human being on and off the pitch. Not only is he one of the best youngsters at kicking a ball in the world today, but also a man who has moved the goalposts for charitable and humanitarian work. He is an inspiration to many – to be kind, determined and look for nothing but the best in humans and humanity
Read More: Ibracadabra – A look into the decorated career of Zlatan Ibrahimovic