Martin Brundle (born 1 June 1959) is a British former racing driver best known for his time as a Formula One driver and commentator for ITV Sport from 1997 to 2008; the BBC from 2009 to 2011; and Sky Sports since 2012.
Early life
Martin Brundle was born in King's Lynn, Norfolk, England, and began racing on grass tracks as a child. He began Hot Rod racing when he was in his mid-teens, and a few years later, he moved to single-seater racing on the Formula Ford circuit.
In addition, he raced on the BMW touring car circuit. He then advanced to Formula Three racing, where he excelled consistently. After two years of Formula Three racing, he was invited to move up to Formula One racing in 1984.
Career
Brundle took an unusual path to Formula One. He began racing at the age of 12 in the Norfolk village of Pott Row, engaging in grass track racing. In 1975, he transitioned to Hot Rod racing and was awarded 'Star grade' classification. He began single-seater racing in Formula Ford in 1979. During this time, he also raced Tom Walkinshaw's BMW touring cars, finishing second against an international field at Snetterton. In 1980, he won the BMW Championship, and in 1981, he raced alongside Stirling Moss in the TWR-run BP/Audi squad in the British Saloon Car Championship.
In 1982, he moved up to Formula Three, where he won two races and earned five pole positions. He received the Grovewood Award for being the most promising Commonwealth driver. The next year, he raced against Ayrton Senna for the Formula Three championship, which Brundle lost in the last laps of the final race. He was promised a Formula One seat in 1984.
Formula One (1984–1987)
His Formula One career began in 1984 with the Tyrrell Racing Organisation. He drove aggressively and quickly, finishing fifth in his first race in Brazil and then second in Detroit before being disqualified. Brundle shattered both ankles and both feet in a crash during a practice session at the 1984 Dallas Grand Prix, and was forced to miss the remainder of the season as he recovered.
The severity of the damage to Brundle's left ankle initially led surgeons to consider amputating his left foot. Tyrrell was disqualified from the World Championship later that year due to a technical infraction, and Brundle's achievements for that season were erased from the record books.
Sportscars and Brabham (1988–1991)
Brundle sought a new challenge after four years of Formula One racing for underfunded teams, so he took a year off in 1988. He had been affiliated with Jaguar since 1983 when he competed in the European Touring Car Championship in TWR-prepared Jaguar XJS touring cars.
Brundle won two races in his two outings with the Jaguars, the second in collaboration with TWR owner Tom Walkinshaw. When Jaguar opted to rejoin the World Sportscar Championship and the American IMSA championships in collaboration with TWR, Walkinshaw named Brundle as his primary driver.
The squad did successfully in the 1988 World Sportscar Championship season, and Brundle won the championship with a record number of points. The same year, he also won the Daytona 24 Hours. He worked as a test driver for Williams and filled in for Nigel Mansell at the 1988 Belgian Grand Prix after Mansell became unwell with chickenpox.
In 1989, he returned to Formula One full-time, this time with the resurrected Brabham team, which would use the Judd V8 engine. However, while the former champions were initially competitive, with Brundle running third in Monaco until a flat battery forced him to pit for a replacement while his teammate Stefano Modena finished third.
Brabham was unable to recapture their early past success, and Brundle, who had failed to pre-qualify for both the Canadian and French races during the season, opted to return to the sports car. His victory in the 1990 24 Hours of Le Mans revitalised his career, but a top-line race seat in Formula One remained elusive.
Formula One (1992–1996)
Seasoned observers noted Brundle's drives into the points in the uncompetitive Brabham Yamaha squad in 1991, which was the team's final points finish. Brundle was able to secure a 1992 move to Benetton, where he would eventually score a recognised podium finish and consistent points finishes with some tough drives.
He had a great season in 1992, with a strong conclusion to the year. Brundle came near to winning in Canada when he had passed Schumacher and was closing up on leader Gerhard Berger when the transmission failed.
He never over qualified teammate Michael Schumacher, although he made up ground with strong starts (sixth to third at Silverstone), outraced the German at Imola, Montreal, Magny-Cours, and Silverstone, and finished second at Monza.
In 1996, he joined Jordan with Rubens Barrichello and had a strong season, despite a poor start and a stunning crash at Melbourne's inaugural GP, with regular points and top performance of fourth. In his final Formula One race, he finished fifth in the 1996 Japanese Grand Prix.
Brundle won nine podiums and 98 championship points, with a best championship result of sixth in 1992. He excelled on street circuits and similar slow-speed, tight tracks – he scored four points at Monaco, Adelaide, and the Hungaroring.
As a commentator
Brundle became a highly renowned pundit for British television network ITV after primarily retiring from motor racing. He joined ITV when they launched Formula One coverage in 1997, originally alongside Murray Walker, and from 2002 James Allen.
Brundle joined the BBC's commentary crew in 2009, alongside Jonathan Legard, after the BBC regained the rights to transmit Formula One. Before the start of the 2011 season, the BBC announced that Brundle will be promoted to lead commentator, joining fellow former F1 driver David Coulthard.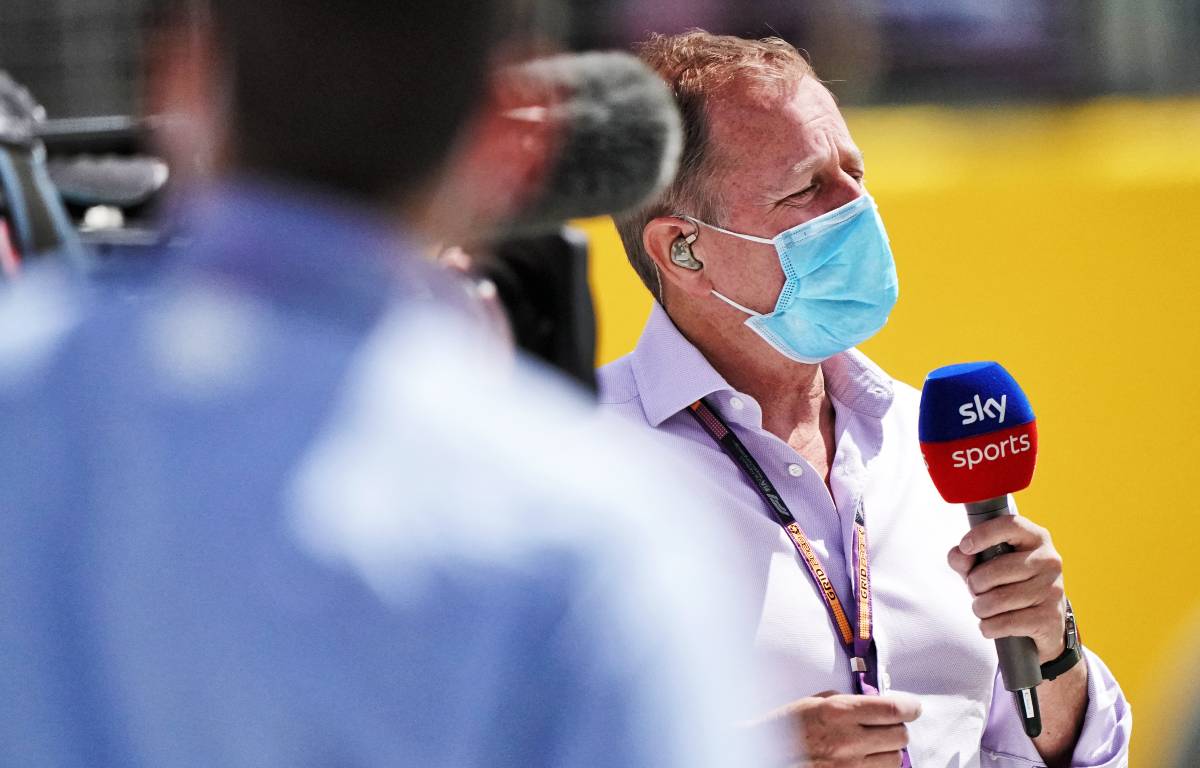 Records
Brundle finished second to Ayrton Senna in the 1983 British Formula Three Championship, and the two advanced to Formula One the following year. Brundle won the 1988 World Sportscar Championship with Silk Cut Jaguar and the 1990 24 Hours of Le Mans race for Jaguar Cars in a Jaguar XJR-12.
Other activities
Brundle has worked in driver management. He co-owned 2MB Sports Management with Mark Blundell until January 2009, when he declared his intention to resign in order to focus on his television duties and his son's career. McLaren test driver Gary Paffett and British Formula 3 champion Mike Conway are among their clientele.
Brundle hosted Great Escapes, a programme on British television in 1998, which exhibited mainly live recordings, and occasionally reconstructions, of situations in which humans managed to survive in the face of various risks or perils. It aired on ITV for one season.
Working the Wheel, his debut novel was published in 2004. The title alludes to his 1996 crash in Melbourne.
Personal life and controversies
Martin Brundle is married to Liz, and they have two children: Charlie, a daughter, and Alex, a son. Alex has followed in his father's footsteps, competing in the 2012 GP3 Series and the FIA World Endurance Championship. Brundle has always resided within a ten-mile radius of King's Lynn and now resides in Gayton, Norfolk.
Brundle revealed in 2017 that he suffered a heart attack while running to give podium interviews for Sky Sports during the 2016 Monaco Grand Prix.
In his Sunday Times column in September 2007, he suggested that McLaren's treatment "had the feel of a witch hunt" Brundle and the Sunday Times got a French summons for libel as a result of these comments from Max Mosley and the FIA. On December 9, 2007, he accused the FIA of double standards, accusing them of issuing the writ while clearing Renault of spying as a warning to other journalists.
Brundle expressed his thoughts on Max Mosley's position in March 2008, following the News of the World's allegation that Mosley had engaged in sexual acts with five prostitutes in a scenario involving Nazi role-playing, saying, "It's not appropriate behaviour for the head of any global body such as the FIA."
| | |
| --- | --- |
| Rеаl Nаmе/Full Nаmе | Martin John Brundle |
| Nісk Nаmе/Сеlеbrаtеd Nаmе | Martin Brundle |
| Віrth Рlасе | King's Lynn, Norfolk, England, UK |
| Dаtе оf Віrth/Віrthdау | 1 June 1959 |
| Аgе/Ноw Оld | 62 уеаrѕ оld |
| Неіght/Ноw Таll | 1,80m |
| Wеіght | 74kg |
| Ѕіblіngѕ | 1 |
| Nаtіоnаlіtу | British |
| Маrіtаl Ѕtаtuѕ | Married |
| Wife | Liz |
| Кіdѕ/Сhіldrеn Nаmе | Charlie and Alex |
| Рrоfеѕѕіоn | Racer, commentator, management |
| Nеt Wоrth | $100 million |
| Lаѕt Uрdаtеd | Јuly 2021 |
Popular Post:
Mike Tyson Record | Conor mcgregor Record | Khabib Record | Anthony Joshua Record | Floyd Mayweather Record |Ben Askren Record |Darren till Record |Roy Jones Jr Record | Ryan Garcia Record | Israel Adesanya Record | Manny Pacquiao Record | Mayweather Record | Dustin Poirier Record | Francis Ngannou Record |Nate Diaz Record | Anderson Silva Record | Canelo Record | Tony Ferguson Record | Mcgregor Record
Formula 1 Popular Post:
Lewis Hamilton Net Worth | Michael Schumacher Net Worth | Max Verstappen Net Worth | Lando Norris Net Worth | Sebastian Vettel Net Worth | Claire Williams Net Worth | Nico Rosberg Net Worth | Sergio Perez Net Worth | Romain Grosjean Net Worth | Toto Wolff Net Worth | Hamilton Net Worth | Fernando Alonso Net Worth | Frank Williams Net Worth | Niki Lauda Net Worth | Michael Latifi Net Worth | Kimi Raikkonen Net Worth | Ron Dennis Net Worth | Martin Brundle Net Worth | Angela Cullen Net Worth
Read more: Martin Brundle net worth: Early life, racing career and earnings of former F1 driver in 2021