Michael Schumacher is a retired German racing driver who competed in Formula One for Jordan, Benetton, Ferrari, and Mercedes.
Early life
Schumacher was born on January 3, 1969, in Hürth, North Rhine-Westphalia, to bricklayer Rolf Schumacher and his wife Elisabeth. Schumacher's father adapted his pedal kart with a little motorbike engine when he was four years old.
After crashing into a lamppost in Kerpen, Schumacher's parents drove him to the Kerpen-Horrem karting circuit, where he became the club's youngest member. Michael Schumacher won his first club championship at the age of six after his father made him a kart out of scrap metal.
In Germany, a driver must be at least 14 years old to obtain a kart licence. To avoid this, Schumacher obtained a driving licence in Luxembourg when he was 12 years old. In 1983, he obtained his German licence a year after winning the German Junior Kart Championship. Beginning in 1984, Schumacher won multiple German and European kart titles.
In 1985, he joined Adolf Neubert's Eurokart dealership, and by 1987, he had won the German and European kart championships. He dropped out of school and went to work as a mechanic. He made his debut in single-seat car racing in 1988, winning the German Formula Ford and Formula König titles.
Career overview
Schumacher holds a joint-record seven World Drivers' Championship titles, and when he retired from the sport in 2012, he held the records for the most wins (91), pole positions (68), and podium finishes (155)—all of which have since been broken by Lewis Hamilton—as well as the fastest laps (and the most races won in a single season (with Sebastian Vettel) (13).
Formula One records
Schumacher holds the following records in Formula One:
| Record | Date first achieved | Current record |
| --- | --- | --- |
| Most Championship titles | 2003 | 7 |
| Most consecutive titles | 2000–2004 | 5 |
| Most races left in the season when becoming World Champion | 2002 | 6 |
| Most wins in a season | 2004 | 13 |
| Most pole positions at the same Grand Prix | Japan 1994–1995, 1998–2002, 2004 | 8 |
| Most wins at the same Grand Prix | France 1994–1995, 1997–1998, 2001–2002, 2004, 2006 | 8 |
| Most seasons with a win | 1992–2006 | 15 |
| Most consecutive seasons with a win | 1992–2006 | 15 |
| Most second places | 2004 Italian Grand Prix | 43 |
| Most consecutive top two finishes | Brazil 2002 – Japan 2002 | 15 |
| Most podium finishes in a season | 2002 | 17 |
| The highest percentage of podium finishes in one season | 2002 | 100% |
| Most consecutive podiums at the same Grand Prix | Canada 2000–2006 | 7 |
| Most consecutive podium finishes | 2001 United States Grand Prix – 2002 Japanese Grand Prix | 19 |
| Most fastest laps | 2001 Australian Grand Prix | 77 |
| Most fastest laps in a season | 2004 | 10 |
| Most hat-tricks (pole, win and fastest lap) | 2002 Japanese Grand Prix | 22 |
| Most hat-tricks in a season | 2004 | 5 |
| Most races with a single constructor | 2005 European Grand Prix | 181 |
Personal life
Ralf Schumacher (nephew), Mick Schumacher (son), and David Schumacher (younger brother) are all racing drivers. Ralf Schumacher raced in Formula One for ten years, from 1997 to the end of 2007.
Their stepbrother, Sebastian Stahl, is also a race car driver. Mick Schumacher became the third Schumacher to participate in Formula One, making his debut in the 2021 season with Haas F1 Team, nine years after his father retired.
In August 1995, Michael married Corinna Betsch. Gina-Marie was born on February 20, 1997, and Mick was born on March 22, 1999.
The family moved to a newly built estate near Gland, Switzerland, in 2007, which had a 650-square-metre (7,000-square-foot) private beach on Lake Geneva and an underground garage with a vintage Shell fuel pump. Schumacher and his wife own horse farms in both Texas and Switzerland.
Age
52 уеаrѕ оld
Marital Status
Маrrіеd
Team
Jordan, Benetton, Ferrari, Mercedes
Nationality
Gеrmаn
Endorsements
Jumbo Supermarkets, Ziggo, G-Star Raw, CarNext.com
Net worth
$650 mіllіоn
Birthday
3 Јаnuаrу 1969
Height
Іn Сеntіmеtrеѕ – 174 сm
Іn Fееt аnd Іnсhеѕ – 5′ 9″
Weight
Іn Кіlоgrаmѕ – 74 Кg
Іn Роundѕ – 165 lbѕ
Championships
7 (1994, 1995, 2000, 2001, 2002, 2003, 2004)
Lаѕt Uрdаtеd
Јunе 2021
Philanthropy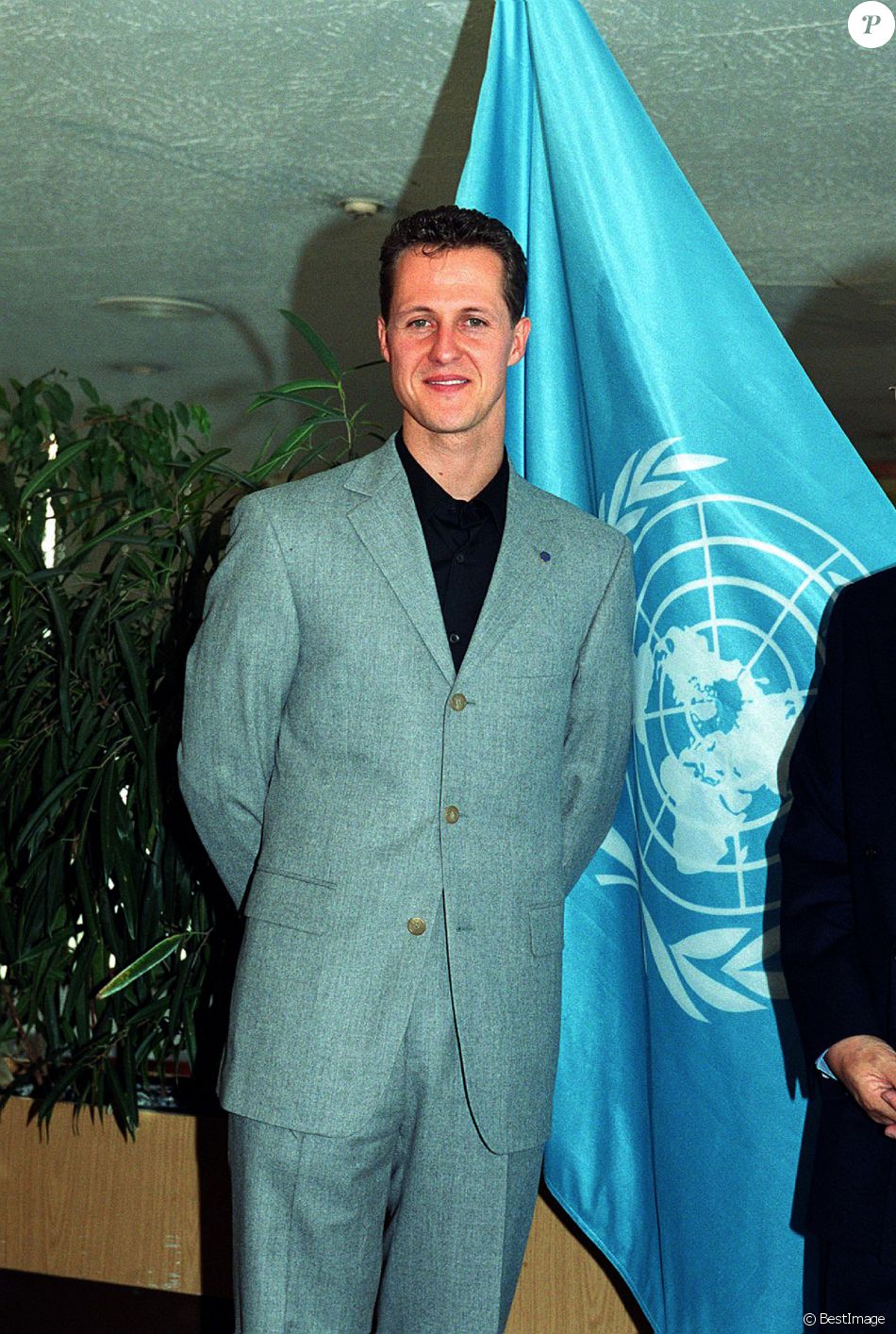 Schumacher was appointed as an Ambassador-at-Large for the Most Serene Republic of San Marino on June 23, 2003. Schumacher has donated 1.5 million euros to UNESCO as a special ambassador. The former racer also paid for the construction of a school for impoverished children and neighbourhood improvements in Dakar, Senegal.
He contributes to a hospital in Sarajevo for child war victims that specialises in care for amputees. Schumacher even had a special truck delivered to Sarajevo for children mutilated by exploding mines. In Lima, Peru, he funded the "Palace for the Poor" a centre that provides education, clothing, food, medical care, and shelter to homeless street children.
European flood catastrophes
He added that his interest in these diverse activities was sparked by his affection for children as well as the reality that these concerns had received little attention. He also reportedly told F1 magazine, "It's great if you can use your fame and the power your fame gives you to draw attention to things that really matter" Schumacher contributed 1 million and 500,000 euros to the European flood catastrophes in 2002 and 2013, respectively.
While an exact figure for the amount of money he has donated throughout his life is unknown, it is known that in his last four years as a driver, he donated at least $50 million. In 2008, it was revealed that he had given between $5 million and $10 million to the Clinton Foundation.
Schumacher has continued to support other campaigns, such as Make Roads Safe, which is led by the FIA Foundation and calls on G8 countries and the UN to recognise global road deaths as a major global health issue, since his participation in an FIA European road safety campaign as part of his punishment after the collision at the 1997 European Grand Prix.
Schumacher was the face of a Bacardi advertising campaign to promote awareness about responsible drinking in 2008, with a focus on transmitting a worldwide message that 'drinking and driving don't mix.' He was featured in a global advertising campaign for television, cinema, and internet media, as well as consumer engagements, public relations, and digital media.
Popular Post:
Mike Tyson Record | Conor mcgregor Record | Khabib Record | Anthony Joshua Record | Floyd Mayweather Record |Ben Askren Record |Darren till Record |Roy Jones Jr Record | Ryan Garcia Record | Israel Adesanya Record | Manny Pacquiao Record | Mayweather Record | Dustin Poirier Record | Francis Ngannou Record |Nate Diaz Record | Anderson Silva Record | Canelo Record | Tony Ferguson Record | Mcgregor Record
Formula 1 Popular Post:
Lewis Hamilton Net Worth | Michael Schumacher Net Worth | Max Verstappen Net Worth | Lando Norris Net Worth | Sebastian Vettel Net Worth | Claire Williams Net Worth | Nico Rosberg Net Worth | Sergio Perez Net Worth | Romain Grosjean Net Worth | Toto Wolff Net Worth | Hamilton Net Worth | Fernando Alonso Net Worth | Frank Williams Net Worth | Niki Lauda Net Worth | Michael Latifi Net Worth | Kimi Raikkonen Net Worth | Ron Dennis Net Worth | Martin Brundle Net Worth | Angela Cullen Net Worth
Read more: Shawn Michaels net worth: How much does the WWE star earn and what is he worth in 2021?