Michael Schumacher is a retired German racing driver who raced for Jordan, Benetton, Ferrari, and Mercedes in Formula One.
Early life
Schumacher was born on January 3, 1969, in Hürth, North Rhine-Westphalia, to bricklayer Rolf Schumacher and his wife Elisabeth. Schumacher's father adapted his pedal kart with a little motorbike engine when he was four years old.
When Schumacher crashed into a lamppost in Kerpen, his parents took him to the Kerpen-Horrem karting track, where he became the club's youngest member. His father quickly constructed a kart for him out of scrap pieces, and at the age of six, Schumacher won his first club championship.
Rolf Schumacher took up a second job renting and repairing karts to help finance his son's racing, while his wife worked at the track's canteen. Nonetheless, when Michael needed a new engine, which cost 800 DM, his parents were unable to finance it; he was able to continue racing thanks to the backing of local business people.
To receive a kart licence in Germany, a driver must be at least 14 years old. To get around this, Schumacher earned a licence in Luxembourg when he was 12 years old. A year after winning the German Junior Kart Championship, he received his German licence in 1983. Schumacher won numerous German and European kart championships beginning in 1984.
In 1985, he joined Eurokart dealer Adolf Neubert, and by 1987, he had won the German and European kart championships. He then dropped out of school and began working as a mechanic. In 1988, he made his debut in single-seat vehicle racing by competing in the German Formula Ford and Formula König championships, which he won.
Career overview
Schumacher has a joint-record seven World Drivers' Championship titles, and when he retired from the sport in 2012, he held the records for the most wins (91), pole positions (68), and podium finishes (155)—all of which have since been broken by Lewis Hamilton—while also holding the records for the fastest laps ( and the most races won in a single season (with Sebastian Vettel) (13).
Formula One career
Jordan (1991)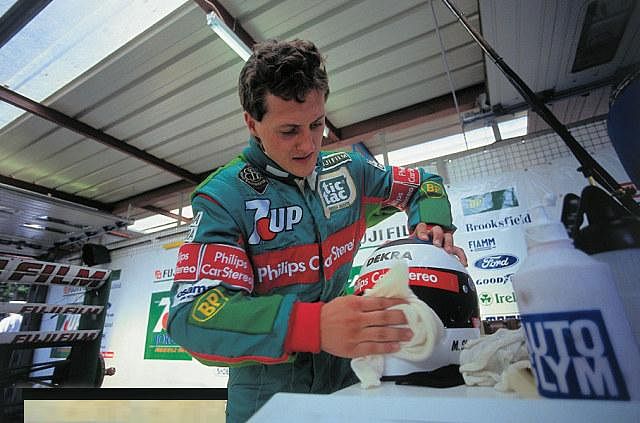 At the 1991 Belgian Grand Prix, Schumacher made his Formula One debut with the Jordan-Ford team, driving car number 32 in place of Bertrand Gachot. Eddie Jordan signed Schumacher, who was still a Mercedes driver after Mercedes paid Jordan $150,000 for his debut.
Belgian Grand Prix debut
During a test drive at Silverstone the week before the race, Schumacher wowed Jordan designer Gary Anderson and team manager Trevor Foster. Willi Weber, Schumacher's manager, told Jordan that Schumacher was familiar with the difficult Spa track, despite the fact that he had only seen it as a spectator.
During the race weekend, teammate Andrea de Cesaris was supposed to show Schumacher the circuit, but contract discussions got in the way. Schumacher next taught himself the track by cycling around it on a fold-up bike he had brought with him.
1994–1995: World Championships
Schumacher won his first Drivers' Championship in 1994. However, the season was marred by the deaths of Ayrton Senna (witnessed by Schumacher, who was directly behind in second place) and Roland Ratzenberger during the San Marino Grand Prix, as well as allegations that several teams, most notably Schumacher's Benetton team, violated the sport's technical regulations.
Schumacher won six of the first seven races and was leading the Spanish Grand Prix when his gearbox failed and he was stranded in fifth gear. Schumacher finished second in the race.
Ferrari transfer (1996–2006)
Schumacher joined Ferrari in 1996, a team that had last won the Drivers' Championship in 1979 and the Constructors' Championship in 1983, for a two-year salary of $60 million.
Schumacher, Ross Brawn, Rory Byrne, and Jean Todt are credited with transforming this once-struggling team into the most successful in Formula One history. Three-time World Champion Jackie Stewart considers Schumacher's greatest achievement to be the revamping of the Ferrari team. Eddie Irvine, who previously played for Jordan, has also joined the team.
During winter testing, Schumacher drove a Ferrari for the first time, a 1995 Ferrari 412 T2, and was two seconds faster than previous regulars Jean Alesi and Gerhard Berger.
2000–2004: World Championships
During this time, Schumacher won more races and championships than any other driver in the sport's history. After a year-long struggle with Häkkinen, Schumacher won his third World Championship in 2000. Schumacher won the season's first three races, as well as five of the first eight.
Midway through the season, three straight non-finishes hurt Schumacher's chances, allowing Häkkinen to reduce the deficit in the standings. Häkkinen went on to win two more races before Schumacher won the Italian Grand Prix. Schumacher burst into tears at the post-race press conference after matching his idol, Ayrton Senna's, win total of 41.
Formula One records
Schumacher holds the following records in Formula One:
| Record | Date first achieved | Current record |
| --- | --- | --- |
| Most Championship titles | 2003 | 7 |
| Most consecutive titles | 2000–2004 | 5 |
| Most races left in the season when becoming World Champion | 2002 | 6 |
| Most wins in a season | 2004 | 13 |
| Most pole positions at the same Grand Prix | Japan 1994–1995, 1998–2002, 2004 | 8 |
| Most wins at the same Grand Prix | France 1994–1995, 1997–1998, 2001–2002, 2004, 2006 | 8 |
| Most seasons with a win | 1992–2006 | 15 |
| Most consecutive seasons with a win | 1992–2006 | 15 |
| Most second places | 2004 Italian Grand Prix | 43 |
| Most consecutive top two finishes | Brazil 2002 – Japan 2002 | 15 |
| Most podium finishes in a season | 2002 | 17 |
| The highest percentage of podium finishes in one season | 2002 | 100% |
| Most consecutive podiums at the same Grand Prix | Canada 2000–2006 | 7 |
| Most consecutive podium finishes | 2001 United States Grand Prix – 2002 Japanese Grand Prix | 19 |
| Most fastest laps | 2001 Australian Grand Prix | 77 |
| Most fastest laps in a season | 2004 | 10 |
| Most hat-tricks (pole, win and fastest lap) | 2002 Japanese Grand Prix | 22 |
| Most hat-tricks in a season | 2004 | 5 |
| Most races with a single constructor | 2005 European Grand Prix | 181 |
Personal life
Ralf Schumacher (younger brother), Mick Schumacher (son), and David Schumacher (nephew) are all racing drivers. Ralf Schumacher was a Formula One driver for ten years, from 1997 to the conclusion of 2007.
Sebastian Stahl, their stepbrother, is also a race car driver. Mick Schumacher became the third Schumacher to compete in Formula One, making his debut with Haas F1 Team in the 2021 season, nine years after his father retired.
Michael married Corinna Betsch in August 1995. They have two children: Gina-Marie, born on February 20, 1997, and Mick, born on March 22, 1999.
In 2007, the family relocated to a newly built estate near Gland, Switzerland, with a 650-square-metre (7,000-square-foot) private beach on Lake Geneva and an underground garage with a vintage Shell fuel pump. Schumacher and his wife own horse farms in Texas and Switzerland, respectively.
Popular Post:
Popular Post:
Mike Tyson Record | Conor mcgregor Record | Khabib Record | Anthony Joshua Record | Floyd Mayweather Record |Ben Askren Record |Darren till Record |Roy Jones Jr Record | Ryan Garcia Record | Israel Adesanya Record | Manny Pacquiao Record | Mayweather Record | Dustin Poirier Record | Francis Ngannou Record |Nate Diaz Record | Anderson Silva Record | Canelo Record | Tony Ferguson Record | Mcgregor Record
Formula 1 Popular Post:
Lewis Hamilton Net Worth | Michael Schumacher Net Worth | Max Verstappen Net Worth | Lando Norris Net Worth | Sebastian Vettel Net Worth | Claire Williams Net Worth | Nico Rosberg Net Worth | Sergio Perez Net Worth | Romain Grosjean Net Worth | Toto Wolff Net Worth | Hamilton Net Worth | Fernando Alonso Net Worth | Frank Williams Net Worth | Niki Lauda Net Worth | Michael Latifi Net Worth | Kimi Raikkonen Net Worth | Ron Dennis Net Worth | Martin Brundle Net Worth | Angela Cullen Net Worth
Read more: Michael Schumacher net worth: What sort of money does the F1 legend draw through endorsements