Nikita Mazepin (born March 2, 1999) is a Russian racing driver who currently competes for the Haas F1 Team in the 2021 Formula One World Championship under the Russian Automobile Federation's neutral flag. He previously raced for Hitech Racing in the FIA Formula 2 Championship.
The Hitech Grand Prix selected him in 2020. Luca Ghiotto was his teammate. In comparison to his last season in the F2 championship, Mazepin's 2020 season was fairly successful.
Prior to winning his maiden F2 race in Britain, he finished second at the Hungaroring. Mazepin dominated the race at Mugello as well.
Overview
Nikita Mazepin, the son of rich Russian tycoon Dmitry Mazepin, joined the Haas F1 Team in 2021 as half of an all-rookie line-up after graduating from Formula 2.
Mazepin began his international racing career in the Trofeo Andrea Margutti in 2011 and quickly rose up the ranks, competing in the CIK-FIA Karting European Championship in the KF3 class in only his second year.
In 2013, he finished fourth in the WSK Super Master Series' KFJ-category, and in 2014, his final year of karting, he finished second to Lando Norris in the Karting World Championship.
With three podium results in 2017, he advanced to tenth in the standings. In 2018, the Russian driver was promoted to GP3 and had a successful season. Mazepin won four races that season, more than any other competitor in the series. He came in second to Anthoine Hubert in the championship.
Mazepin made the step up to Formula 2 with ART Grand Prix in 2019, but it was a difficult season for him. Mazepin finished 18th in the championship standings with no wins and 11 points, while teammate Nyck de Vries won the title.
Mazepin switched to Hitech GP for the 2020 season and had a much more competitive season, winning two races and finishing sixth overall. As he accumulated penalty points for transgressions throughout the year, his racecraft drew criticism on several occasions.
In the last round, he received two-time penalties for forcing another driver off the track, giving him 11 of the maximum 12 penalty points.
Nikita Mazepin early life and career
He then switched to ETEC Motorsport to race in the Toyota Racing Series, where he finished 18th in the drivers' standings. Following that, the Russian competed in the Formula Renault Northern European Cup for Josef Kaufmann Racing alongside Louis Delétraz, Kevin Jörg, and fellow rookie Dries Vanthoor.
Mazepin finished the championship in twelfth place, with a third-place result at the Red Bull Ring.
Mazepin raced for Hitech Grand Prix in the 2016 FIA Formula 3 European Championship. He finished 20th in the championship, last of the full-time competitors, with four points-scoring finishes.
Mazepin got into an argument with the other driver after being impeded during a session by Callum Ilott, during which Mazepin punched Ilott in the face, resulting in a ban from the Hungaroring meeting's opening race.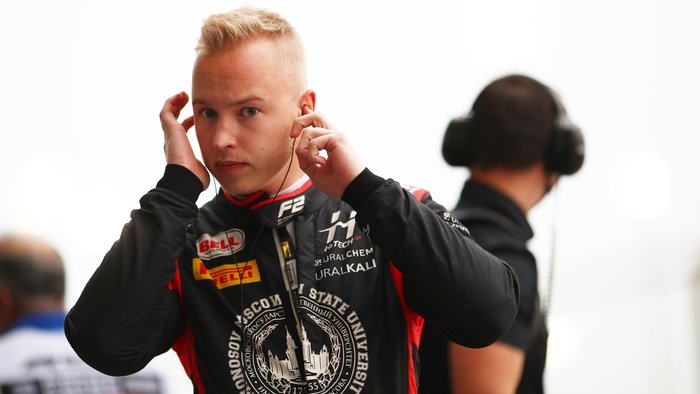 Mazepin joined ART Grand Prix in 2018 to race with Callum Ilott, Jake Hughes, and eventual champion Anthoine Hubert in GP3. He won four races that year, the most of any driver, and was only 16 points behind Hubert in the championship. In addition, he assisted his side in winning the team championship.
Mazepin signed a multi-year deal with Haas F1 Team in 2021, partnering Mick Schumacher. He chose the number 9 as his racing number for life. After the Court of Arbitration for Sport upheld a World Anti-Doping Agency ban on Russia competing at World Championships in December 2020 due to state-sponsored doping of Russian athletes, Mazepin will compete under a neutral flag for the Russian Automobile Federation in the 2021 and 2022 Formula One World Championships.
Mazepin crashed out on the opening lap of his inaugural race after losing control on the kerb at turn three. Mazepin was docked 5 seconds during the 2021 Portuguese Grand Prix for disobeying blue flags and impeding Sergio Pérez.
Mazepin set the fastest lap of the race on the second lap of the 2021 Belgian Grand Prix in Spa-Francorchamps, which was only two laps behind the Safety Car due to heavy rain; however, because the race was suspended permanently after that, the official results were taken from the end of the race's first full lap, and Mazepin's fastest lap award was rescinded.
Mazepin criticism in F1
Many Nikita Mazepin statistics from his rookie Formula One season's first four races might be considered to fit the bill when it comes to the title of this article. This one, though, stands out, and it has nothing to do with the fact that he has already spun out 11 times.
Haas was expected to be the slowest team on the grid heading into the 2021 season, and they have shown to be correct. Despite Alfa Romeo and Williams joining them as teams who have basically abandoned 2021 in favour of next season, the sport's lone American team has been by far the weakest of the lot.
While rookie Mick Schumacher has performed admirably, notably finishing ahead of Williams' Nicholas Latifi at Portimao, Mazepin hasn't contributed much.
That, in turn, contributes to the following awful statistic, which the 22-year-old Russian has amassed after four starts. Read it carefully; you may need to read it again to properly comprehend it: Mazepin has finished behind more drivers who have not finished than he has finished ahead of drivers who have completed in each of the three races he has completed.
So far this season, the only drivers Mazepin has managed to finish ahead of are those who have been forced to retire from races. This season, he has failed to finish ahead of anyone on the track, and he hasn't even come close.
Despite this, he has managed to finish second to a driver who has failed to complete a race. In Imola, a total of 16 drivers competed, with Mazepin finishing 17th. Sebastian Vettel of Aston Martin finished 15th despite retiring his car late in the race.
Even though Schumacher finished second to Vettel in this race, he was still more than a minute clear of Mazepin. He has finished ahead of Mazepin in every race this season, plus Latifi in Portimao, thus even in the VF-21, he has regularly surpassed his competitors.
How much is Mazepin worth
Nikita Mazepin is a Russian driver who competes in motorsport. In the 2021 Formula One World Championship, he competes for the Haas F1 Team. The Russian drives under the Russian Automobile Federation's neutral flag. He recently competed for Hitech Racing in the FIA Formula 2 Championship.
This 21-year-old Russian driver has only recently begun his career as a member of the Haas F1 Team. He has, however, already begun to amass a sizable sum of money. His estimated net worth is $1.3 million.
Will Mazepin be in F1 in 2022?
Gunther Steiner has announced that Nikita Mazepin has already "signed" to stay with Haas in 2022.
He was speaking to the German-language Motorsport-Total amid reports that another 2021 rookie, Mick Schumacher, maybe on his way out of the small Ferrari-linked American squad.
The issue, according to Steiner, stems from the fact that the young German's contract is a three-way deal including Schumacher, Haas, and a spot in the Ferrari driver academy.
Read More: Nikita Mazepin almost matching Mick Schumacher for pace