Phil Jackson is a former professional basketball player, coach, and NBA executive from the United States (NBA).
Early life
Philip Douglas Jackson was born on September 17, 1945, in Deer Lodge, Montana. Charles and Elisabeth Funk Jackson, his parents, were both Assemblies of God ministers. Before joining the Assemblies of God, Elisabeth came from a long line of German Mennonites.
Jackson's father usually preached on Sunday mornings and his mother on Sunday evenings in the churches where they served. His father eventually rose to the position of ministerial supervisor.
Phil, his two brothers, and his half-sister grew up in a remote area of Montana in an austere environment where there was no dancing or television. Jackson did not see his first movie until he was a senior in high school. He did not attend a dance until he was in college.
He always imagined himself as a minister as a child.
Career
Jackson, a power forward, played in the NBA for 12 seasons, winning two NBA championships with the New York Knicks in 1970 and 1973. From 1989 to 1998, Jackson was the head coach of the Chicago Bulls, leading them to six NBA championships.
Jackson then coached the Los Angeles Lakers from 1999 to 2004 and again from 2005 to 2011. During his tenure, the team won five league championships. Jackson's 11 NBA championships as a coach broke Red Auerbach's previous record of nine. He also holds the NBA record for the most combined championships, having won 13 as both a player and a coach.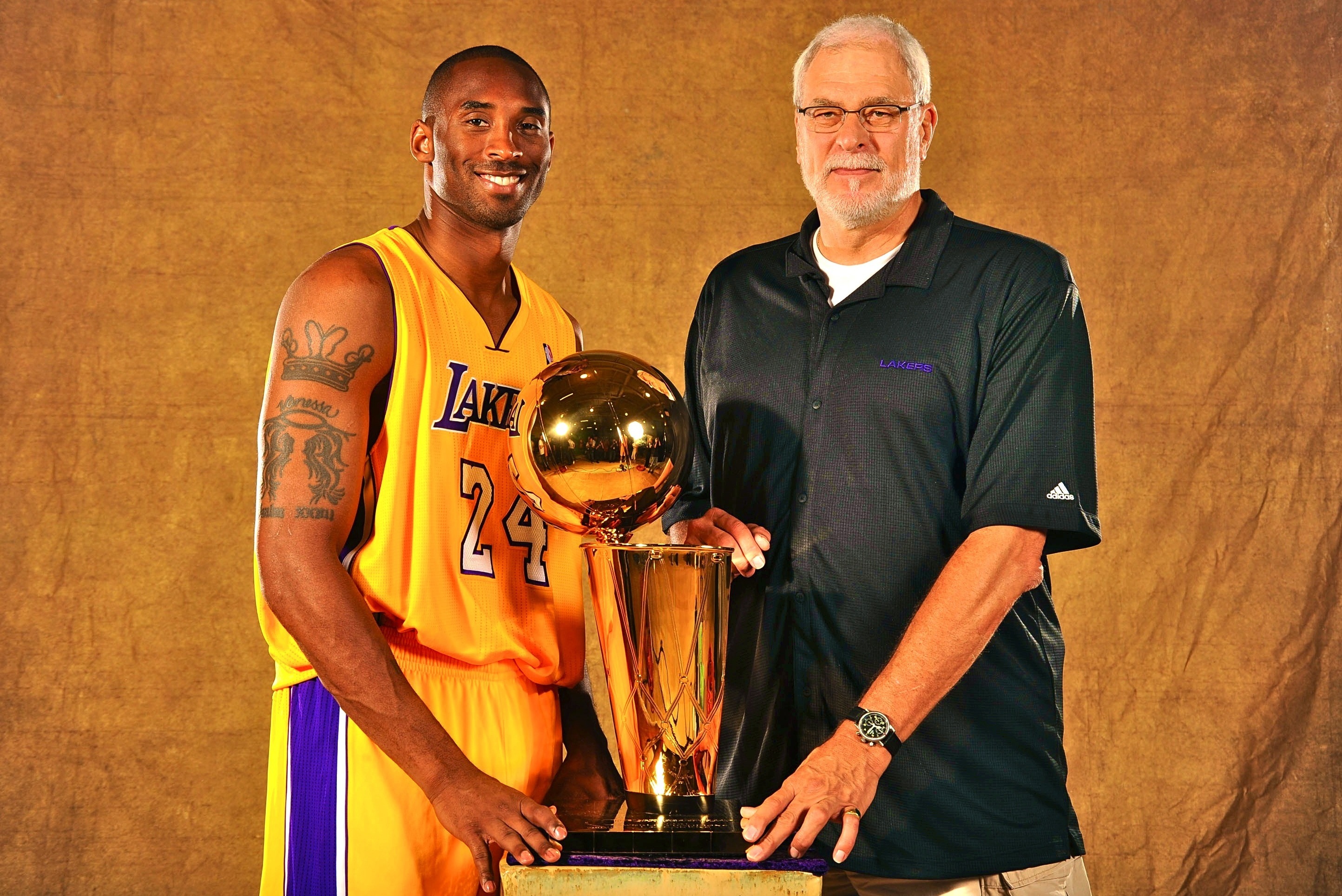 Jackson earned the moniker "Zen Master" for his use of Tex Winter's triangle offence as well as a holistic approach to coaching that was influenced by Eastern philosophy. One of the major guiding forces in Jackson's life, he said, was Robert Pirsig's book Zen and the Art of Motorcycle Maintenance.
As documented in his book Sacred Hoops, he also used Native American spiritual practices. He has written several candid books about his teams and basketball strategies. Jackson was inducted into the Basketball Hall of Fame in 2007. Jackson was named one of the ten greatest coaches in league history in 1996, as part of the National Basketball Association's 50th-anniversary celebrations.
Jackson retired from coaching in 2011 and was hired as an executive by the Knicks in March 2014. He still attends Lakers games and believes in what the team has accomplished. On June 28, 2017, he was fired as the Knicks' team president.
Awards
Jackson was named NBA Coach of the Year in 1996. In the same year, he was voted one of the top ten NBA coaches of all time in an unranked poll. He was in his eighth year of coaching at the time; in the previous seven years, he had coached 574 games and won 414, with only 160 losses, and had a win-loss percentage of 72.1 percent – the highest of any coach on the list at the time.
He continued his success in his later career. In terms of cumulative careers, he has the highest win-loss percentage of any coach on this list, at 70.4 percent (1155 wins, 485 losses). Jackson received the Amos Alonzo Stagg Coaching Award from the United States Sports Academy in 2002 and 2010. Jackson has received the Roughrider Award from the state of North Dakota.
Jackson has won every year he has been a head coach. He currently has the highest winning percentage of any Hall of Fame coach, as well as the highest of any NBA coach who has coached 500 games or more.
He is the only coach to win at least ten championships in any of North America's major professional sports, in addition to his NBA-record 11 titles.
Jackson had the fifth-most wins of any NBA coach at the end of the 2010 season and was one of only six coaches to have over 1,000 wins. He was the only one of the six who hadn't coached more than 1,900 games, and the only one who wasn't in the top ten in terms of total games coached.
Personal life
Jackson is the father of five children and the grandfather of eight grandchildren. In 1967, he married his first wife, Maxine. In 1972, they divorced. In 1974, he married his second wife, June, but they divorced in 2000. He was in a relationship with Jeanie Buss, the daughter of Lakers owner Jerry Buss, whom he met in 1999.
In 2013, the two got engaged. In a joint statement on Twitter on December 27, 2016, they announced the end of their engagement. Jackson has residences in Playa del Rey, Los Angeles, and Lakeside, Montana.
Jackson lived in Bannockburn while coaching the Chicago Bulls. He has 26 hours of graduate psychology study. Jackson has previously admitted to using marijuana and LSD.
In 2010, he stated that he did not believe prisons should be overcrowded with marijuana offenders, but he criticised California's Proposition 19, which would have legalised marijuana, as poorly written. Jackson is also a Deadhead, a Grateful Dead fan who attended some of their concerts in the 1970s and 1990s.
In a 1990 interview with the Chicago Tribune, Jackson stated that he disliked preachers who browbeat the audience and described his religious beliefs as "I've always liked the idea of God being beyond what the human mind can comprehend. For Americans, I believe there is a pantheistic-deistic-American Indian combination religion out there. That resonates with me."
In March 2011, Jackson was diagnosed with prostate cancer. He told the Lakers players this in May 2011, during their second-round playoff series against the Mavericks. Jackson chose to postpone his surgery until after the playoffs.
He appeared in the documentary miniseries The Last Dance in 2020, alongside Michael Jordan, Scottie Pippen, Steve Kerr, and Dennis Rodman.
Rеаl Nаmе/Full Nаmе
Philip Douglas Jackson
Nісk Nаmе/Сеlеbrаtеd Nаmе
Phil Jackson
Віrth Рlасе
Deer Lodge, Montana
Dаtе оf Віrth/Віrthdау
17 September 1945
Аgе/Ноw Оld
75 уеаrѕ оld
Неіght/Ноw Таll
Іn Сеntіmеtеrѕ – 203 cm
Іn Fееt аnd Іnсhеѕ – 6′ 8″
Wеіght
Іn Кіlоgrаmѕ – 100 Kg
Іn Роundѕ – 220 lbs
Раrеntѕ Nаmе
Fаthеr – Charles Jackson
Моthеr – Elisabeth Funk Jackson
Ѕіblіngѕ
N/A
Nаtіоnаlіtу
American
Маrіtаl Ѕtаtuѕ

Divorced
Wife/ Spouse
Maxine (m. 1967, div. 1972)
June (m.1974, div. 2000)
Кіdѕ/Сhіldrеn Nаmе
Elizabeth, Chelsea, Brooke, Ben, and Charlie Jackson
Рrоfеѕѕіоn
Former basketball player, coach, and executive
Nеt Wоrth
$80 million
Lаѕt Uрdаtеd
Јuly 2021
Popular Post:
Mike Tyson Record | Conor mcgregor Record | Khabib Record | Anthony Joshua Record | Floyd Mayweather Record |Ben Askren Record |Darren till Record |Roy Jones Jr Record | Ryan Garcia Record | Israel Adesanya Record | Manny Pacquiao Record | Mayweather Record | Dustin Poirier Record | Francis Ngannou Record |Nate Diaz Record | Anderson Silva Record | Canelo Record | Tony Ferguson Record | Mcgregor Record
Formula 1 Popular Post:
Lewis Hamilton Net Worth | Michael Schumacher Net Worth | Max Verstappen Net Worth | Lando Norris Net Worth | Sebastian Vettel Net Worth | Claire Williams Net Worth | Nico Rosberg Net Worth | Sergio Perez Net Worth | Romain Grosjean Net Worth | Toto Wolff Net Worth | Hamilton Net Worth | Fernando Alonso Net Worth | Frank Williams Net Worth | Niki Lauda Net Worth | Michael Latifi Net Worth | Kimi Raikkonen Net Worth | Ron Dennis Net Worth | Martin Brundle Net Worth | Angela Cullen Net Worth
Read more: Steve Kerr: Age, weight, height, wife, early life, career, retirement, records of the basketball coach