Phil Mickelson, also known as Lefty, is a professional golfer from the United States.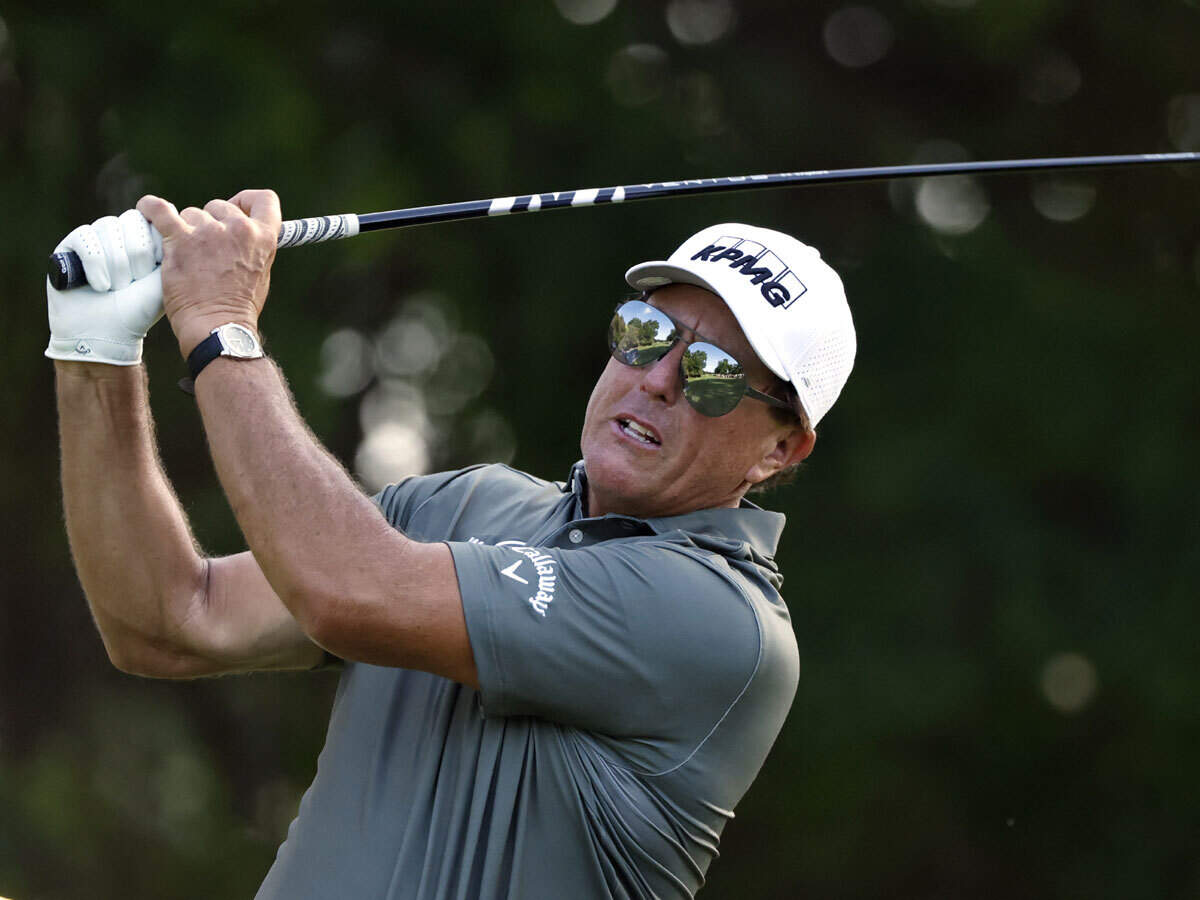 Early life
Philip Alfred Mickelson was born in San Diego, California, on June 16, 1970, to parents Philip Mickelson, an airline pilot and former Navy aviator, and Mary Santos. He grew up there as well as in Scottsdale, Arizona. Mickelson is descended from Portuguese, Swedish, and Sicilian ancestors.
Alfred Santos (also Mickelson's middle name) was a caddie at Pebble Beach Golf Links and took Phil golfing when he was a boy. Despite being right-handed, he played golf left-handed because he learnt by watching his right-handed father swing and mimicking his style. Before attending school, Mickelson began golfing under the tutelage of his father.
Phil Srcommercial .'s pilot schedule allowed them to play together many times a week, and young Phil refined his inventive short game on an extensive practise field in their San Diego backyard. In 1988, Mickelson graduated from the University of San Diego High School.
Professional career
Phil Mickelson's first professional triumph came in 1993 at Torrey Pines, and over the next decade, "Lefty" cemented his place among the sport's elite. In 1996, he won the Byron Nelson Golf Classic and the World Series of Golf; in 1998, he won the AT&T Pebble Beach National Pro-Am; and in 2000, he won the Colonial National Invitation.
That same year, he won the Buick Invitational, upsetting Tiger Woods and breaking the golf legend's string of consecutive event triumphs.
Despite consistently good play, Mickelson was unable to breakthrough in the sport's biggest tournaments, earning him the unofficial title of "best player to never win a major" But the big moment came in 2004, when the 33-year-old birdied five of the final seven holes, including No. 18, to win by one stroke over Ernie Els. "It's hard for me to explain how it feels," the overjoyed golfer stated afterwards. "It's almost make-believe."
Major titles
Phil Mickelson didn't have to wait nearly as long to return to the winner's circle in major tournaments, as he won the 2005 PGA Championship and a second Masters title in 2006. Forbes projected his earnings for the year at $42 million in 2007, making him one of the highest-paid golfers.
Lefty added to his trophy cabinet with victories at the 2007 Players Championship and the 2009 Tour Championship. He made a strong push on the back nine of the third round of the 2010 Masters before breaking away on the final day to win his third green jacket. He was inducted into the World Golf Hall of Fame two years later.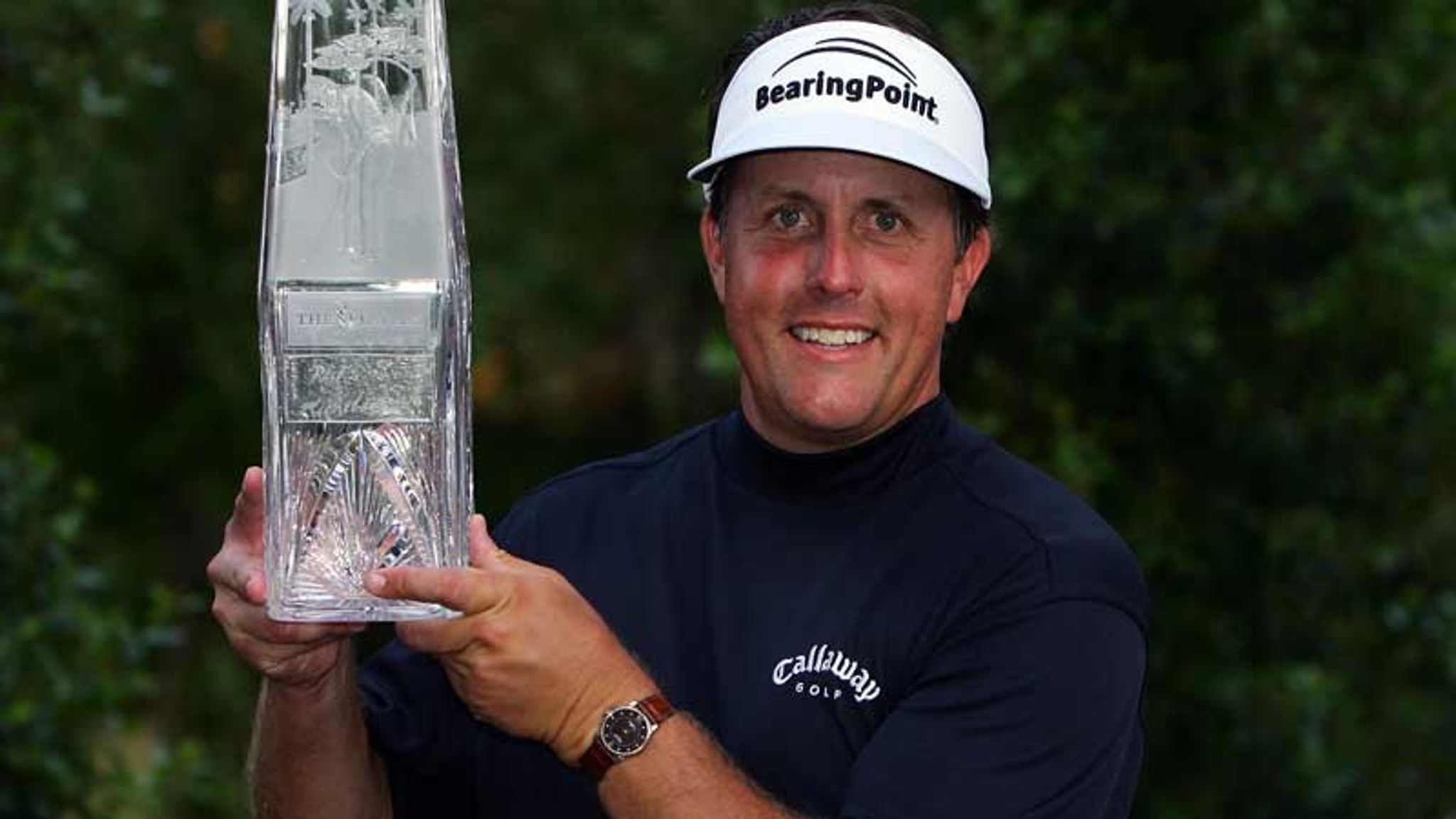 Phil Mickelson stumbled toward the conclusion of the 2013 U.S. Open, leaving him with his sixth runner-up result in the event. The seasoned champion, on the other hand, was unstoppable in the final round of the British Open the following month, when he birdied four of the last six holes to win.
"I've had some of the best golf I've ever played today," he said afterwards to ESPN. "It will be one of the most memorable rounds of golf I've ever played."
Mickelson made history in May 2021 when he won the PGA title at the age of 50, becoming the oldest winner of a major golf championship in history.
Dry Spell
Following a winless 2014, Mickelson finished second in the 2015 Masters, his tenth top-ten finish in a major. Adding to his career total of 42 PGA titles, though, would prove to be one of his most difficult feats.
Phil Mickelson began training with a new swing coach late in 2015, and his efforts paid off with a second-place performance at the AT&T Pebble Beach Pro-Am and a third-place finish at the British Open in 2016. His progress was hampered, though, when he underwent surgery for a sports hernia twice late in the year.
In March 2018, he finally ended his drought by defeating Justin Thomas in a playoff to win the WGC-Mexico Championship. "This is a very meaningful win," he stated afterwards. "I can't really put it into words given the tough times over the last four years and the struggle to get back here."
Eleven months later, Lefty tasted triumph again with a final-round 65 at the 2019 AT&T Pebble Beach Pro-Am. It was his fifth career victory in the event, tying Mark O'Meara's record.
Matches against Woods
In August 2018, it was revealed that Mickelson and his longstanding nemesis, Tiger Woods, would face off in a televised one-on-one match on November 23 in Las Vegas. Phil Mickelson said they were considering adding several in-match challenges such as longest drive, closest to the hole, longest putt, and closest out of a bunker to the $9 million winner-take-all matches.
"It's an opportunity for us to bring golf to the masses in prime time during a period where we don't have much going on in the world of golf," Mickelson said, adding that they planned to wear microphones so fans could hear their banter.
The banter didn't quite happen as planned, with both players focused on their strokes, but Mickelson won the prize money and bragging rights by making a birdie on the 22nd and last hole.
Phil Mickelson and Woods met again in "The Match: Champions for Charity" in May 2020, along with NFL legends Tom Brady and Peyton Manning. This time, Mickelson and Brady were defeated by Woods and Manning, but the event was a huge success, raising $20 million for coronavirus relief operations.
Records
He has 45 PGA Tour victories, including three Masters titles (2004, 2006, and 2010), two PGA Championships (2005, 2021), and one Open Championship (2013). Mickelson became the oldest major tournament winner in history when he won the 2021 PGA Championship at the age of 50 years, 11 months, and 7 days.
Phil Mickelson is one of only 17 golfers in history to have won at least three of the four majors. He has won every major except the U.S. Open, where he has finished runner-up six times in a row.
| Tournament | Wins | 2nd | 3rd | Top-5 | Top-10 | Top-25 | Events | Cuts made |
| --- | --- | --- | --- | --- | --- | --- | --- | --- |
| Masters Tournament | 3 | 1 | 5 | 11 | 15 | 20 | 29 | 26 |
| PGA Championship | 2 | 2 | 1 | 5 | 10 | 15 | 29 | 26 |
| U.S. Open | 0 | 6 | 0 | 8 | 10 | 12 | 30 | 26 |
| The Open Championship | 1 | 2 | 1 | 4 | 4 | 11 | 26 | 20 |
| Totals | 6 | 11 | 7 | 28 | 39 | 58 | 114 | 98 |
Summary
Personal life
Mickelson married Amy McBride, an ASU alumna and cheerleader for the NBA's Phoenix Suns, in 1996. The couple had three children: Amanda, Sophia, and Evan. Amy was diagnosed with breast cancer in 2009, but she recovered well enough from therapy to attend Mickelson's 2010 Masters victory.
Rеаl Nаmе/Full Nаmе
Philip Alfred Mickelson
Nісk Nаmе/Сеlеbrаtеd Nаmе
Phil Mickelson, Lefty
Віrth Рlасе
San Diego, California, USA
Dаtе оf Віrth/Віrthdау
16 June 1970
Аgе/Ноw Оld
51 years old
Неіght/Ноw Таll
In Centimeters – 191 cm
In Feet and Inches – 6′ 3″
Wеіght
In Kilograms – 91 Kg
In Pounds – 200 lbs
Раrеntѕ Nаmе
Father – Philip Mickelson
Mother – Mary Mickelson
Ѕіblіngѕ
2
Nаtіоnаlіtу
American
Маrіtаl Ѕtаtuѕ
Married
Wife
Amy McBride
Кіdѕ/Сhіldrеn Nаmе
Amanda Brynn, Sophia Isabel, Evan
Рrоfеѕѕіоn
Golfer
Nеt Wоrth
$450 million
Lаѕt Uрdаtеd
July 2021
Popular Post:
Mike Tyson Record | Conor mcgregor Record | Khabib Record | Anthony Joshua Record | Floyd Mayweather Record |Ben Askren Record |Darren till Record |Roy Jones Jr Record | Ryan Garcia Record | Israel Adesanya Record | Manny Pacquiao Record | Mayweather Record | Dustin Poirier Record | Francis Ngannou Record |Nate Diaz Record | Anderson Silva Record | Canelo Record | Tony Ferguson Record | Mcgregor Record
Formula 1 Popular Post:
Lewis Hamilton Net Worth | Michael Schumacher Net Worth | Max Verstappen Net Worth | Lando Norris Net Worth | Sebastian Vettel Net Worth | Claire Williams Net Worth | Nico Rosberg Net Worth | Sergio Perez Net Worth | Romain Grosjean Net Worth | Toto Wolff Net Worth | Hamilton Net Worth | Fernando Alonso Net Worth | Frank Williams Net Worth | Niki Lauda Net Worth | Michael Latifi Net Worth | Kimi Raikkonen Net Worth | Ron Dennis Net Worth | Martin Brundle Net Worth | Angela Cullen Net Worth
Read more: Phil Mickelson net worth: How much does the golfer earn and what is he worth in 2021?