Randy Orton is a professional wrestler and actor from the United States.
Early life
Randal Keith Orton was born on April 1, 1980, in Knoxville, Tennessee, to nurse Elaine and professional wrestler Bob Orton Jr. He is the grandson of professional wrestlers Bob Orton and Barry Orton. He has a stand-up comedian younger brother named Nathan and a younger sister named Rebecca.
Orton attended Hazelwood Central High School, where he wrestled as an amateur. He joined the Marines after graduating from high school in 1998. He received a bad-conduct discharge at the base in 1999 after going AWOL twice and disobeying a commanding officer's order.
Orton was tried and convicted in a special court-martial under the Uniform Code of Military Justice. He spent 38 days in the brig at Camp Pendleton.
Career
Orton is currently signed to WWE, where he performs on the Raw brand. He is widely regarded as one of the greatest professional wrestlers of all time.
He trained and wrestled for the Mid-Missouri Wrestling Association and the Southern Illinois Conference Wrestling before being signed by the World Wrestling Federation (WWF, now WWE). The WWF then signed him and sent him to Ohio Valley Wrestling (OVW), where Orton held the OVW Hardcore Championship twice.
After winning the World Heavyweight Championship at the age of 24, Orton became the WWE's youngest world champion in history. With this victory, he left Evolution and began a feud with his former stablemates. In 2006, Orton formed a tag team with Edge called Rated-RKO. They shared the World Tag Team Championship.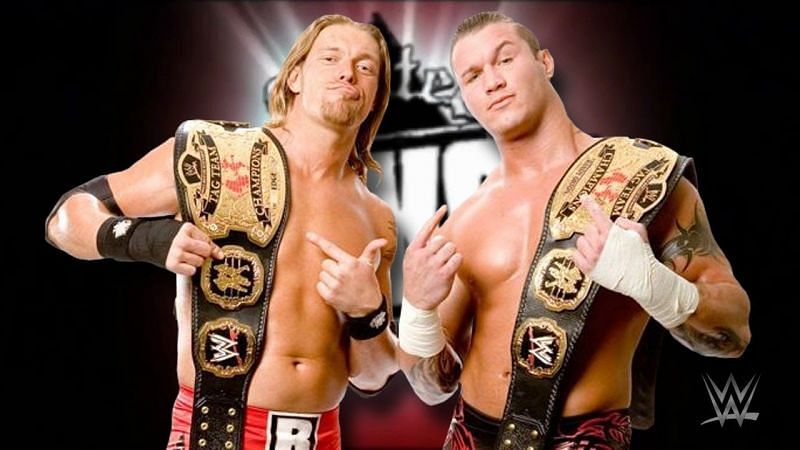 After Rated-RKO disbanded in mid-2007, Orton won two WWE Championships in a single night, making him the second-youngest two-time WWE Champion at the age of 27. In 2008, he co-founded The Legacy with Cody Rhodes and Ted DiBiase Jr. They split up in 2010, and Orton went back to singles competition.
Orton joined The Wyatt Family in 2016, winning the SmackDown Tag Team Championship with Bray Wyatt and Luke Harper before betraying them in 2017.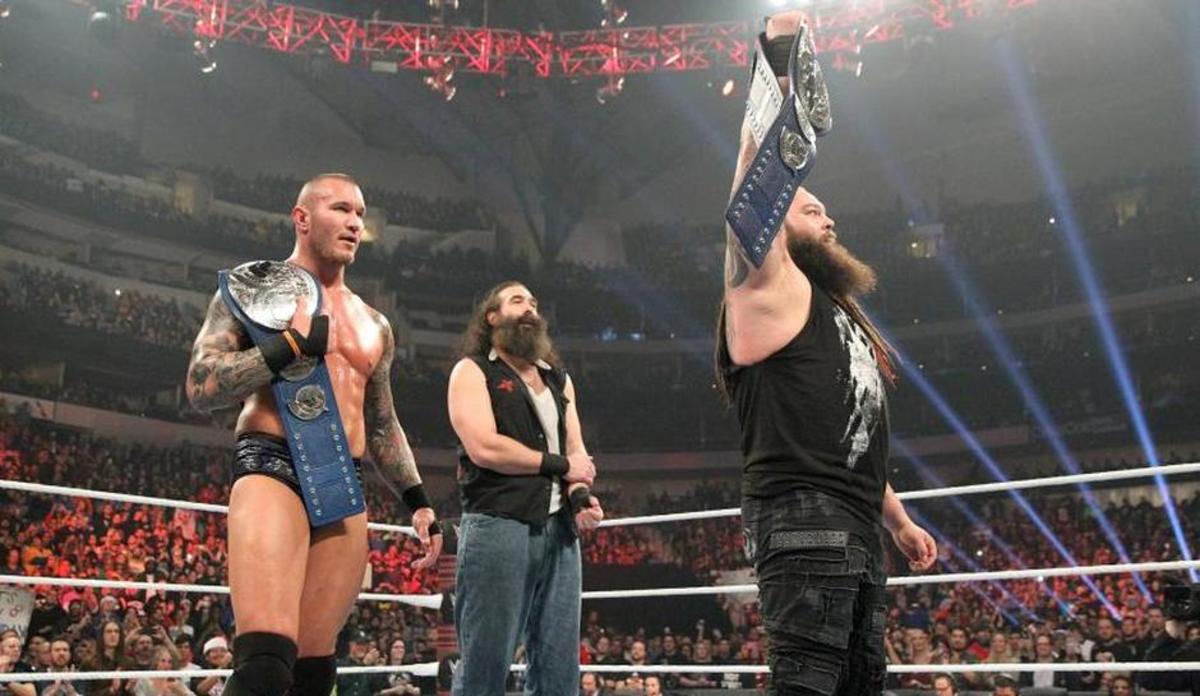 He won his first US Championship in 2018, becoming the 18th Grand Slam Champion overall after already being the 17th Triple Crown Champion.
Orton's feud with fellow wrestler John Cena is widely regarded as one of the longest and most bitter in WWE history. Orton is a ten-time winner of the WWE Championship and a four-time winner of the WWE World Heavyweight Championship.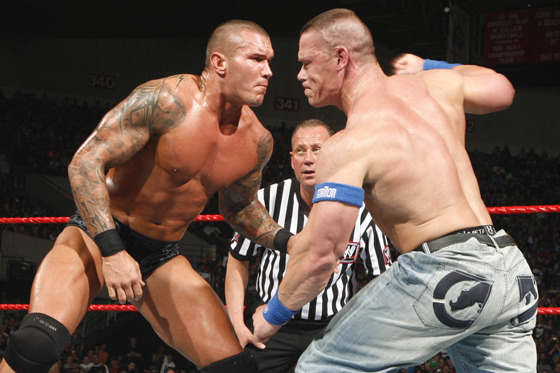 Orton was the final holder of the World Heavyweight Championship, which he unified with the WWE Championship in 2013 to become the WWE World Heavyweight Champion at TLC: Tables, Ladders, and Chairs. WWE recognises Orton as having the third-most world championship victories in history, with 14, trailing only John Cena and Ric Flair (both of whom have 16), and tying with Triple H. (also at 14).
Orton won the Money in the Bank ladder match in 2013, as well as the Royal Rumble matches in 2009 and 2017, and has headlined multiple WWE pay-per-view events, including WrestleMania 25 and WrestleMania XXX.
Personal life
On September 21, 2007, Orton married Samantha Speno. On July 12, 2008, their only child, a daughter named Alanna Marie Orton, was born. They divorced in June 2013 after splitting in late 2012.
Orton married Kimberly Kessler, a former member of his fan club, on November 14, 2015. Brooklyn Rose Orton, their first child together (Kessler's fourth and Orton's second), was born on November 22, 2016. They live in the Missouri town of St. Charles.
Orton has been open about his substance abuse issues, including an overdose in 2006. He has also struggled with anger and has taken anger management classes. He had a tattoo of the United States Marine Corps on his left arm, but he covered it up after his bad conduct discharge.
His hypermobility in both shoulders has been a constant source of injuries throughout his career, keeping him out of the ring for incidents ranging from pounding the ring mat too hard while performing one of his signature taunts to relatively harmless things like taking out the trash at home.
Rеаl Nаmе/Full Nаmе
Randal Keith Orton
Commonly known as
Randy Orton
Віrth Рlасе
Knoxville, Tennessee
Dаtе оf Віrth/Віrthdау
April 1, 1980
Аgе/Ноw Оld
40 уеаrѕ оld
Неіght/Ноw Таll
Іn Сеntіmеtеrѕ – 196 сm
Іn Fееt аnd Іnсhеѕ – 6′ 5″
Wеіght
Іn Кіlоgrаmѕ – 110 Кg
Іn Роundѕ -243 lbѕ.
Раrеntѕ Nаmе
Fаthеr – Bob Orton Jr
Моthеr – Elaine Orton
Ѕіblіngѕ
Nate Orton, Rebecca Orton
Nаtіоnаlіtу
American
Маrіtаl Ѕtаtuѕ
Married
Wife
Kim Marie Kessler ( since 2015), Samantha Speno( 2007-2013)
Кіdѕ/Сhіldrеn Nаmе
Alanna Marie Orton, Brooklyn Rose Orton
Рrоfеѕѕіоn
Wrestler, actor
Nеt Wоrth
$7 milliom
Lаѕt Uрdаtеd
Јuly 2021
Controversies
Sports Illustrated published an article on its website in March 2007 as part of a continuing series investigating a steroid and growth hormone ring used by a number of professional athletes across multiple sports.
The article mentioned several current and former WWE wrestlers, including Orton, who was accused of obtaining nandrolone, oxandrolone, stanozolol, and testosterone, as well as anastrozole and clomiphene citrate as ancillary drugs. WWE simply stated that the allegations occurred prior to the launch of their Talent Wellness Program in February 2006.
WWE investigated Orton for sexual harassment in August 2018 after it was claimed that he had exposed himself to new members of the company's writing staff during his early career, but the investigation was closed.
In 2018, Take-Two Interactive Software and 2K Games were sued for using Orton's likeness in their WWE 2K Game Series, which included copyrighted tattoos on Orton's body by artist Catherine Alexander. Alexander has claimed that copying the tattoos infringed on her rights as the licensed creator.
A trial is set to begin in September 2020. Orton was chastised in October 2019 for saying "nigga" while playing a Call of Duty game on a live Twitch stream.
Popular Post:
Mike Tyson Record | Conor mcgregor Record | Khabib Record | Anthony Joshua Record | Floyd Mayweather Record |Ben Askren Record |Darren till Record |Roy Jones Jr Record | Ryan Garcia Record | Israel Adesanya Record | Manny Pacquiao Record | Mayweather Record | Dustin Poirier Record | Francis Ngannou Record |Nate Diaz Record | Anderson Silva Record | Canelo Record | Tony Ferguson Record | Mcgregor Record
Formula 1 Popular Post:
Lewis Hamilton Net Worth | Michael Schumacher Net Worth | Max Verstappen Net Worth | Lando Norris Net Worth | Sebastian Vettel Net Worth | Claire Williams Net Worth | Nico Rosberg Net Worth | Sergio Perez Net Worth | Romain Grosjean Net Worth | Toto Wolff Net Worth | Hamilton Net Worth | Fernando Alonso Net Worth | Frank Williams Net Worth | Niki Lauda Net Worth | Michael Latifi Net Worth | Kimi Raikkonen Net Worth | Ron Dennis Net Worth | Martin Brundle Net Worth | Angela Cullen Net Worth
Read more: Undertaker: Age, height, weight, family, early life, career, net worth of the iconic WWE wrestler