Roy Jones Jr. is an American former professional boxer, boxing commentator, boxing trainer, rapper, and actor who holds dual citizenship in the United States and Russia.
Early life
Roy Levesta Jones Jr. was born in Pensacola, Florida on January 16, 1969. His mother, Carol, was friendly and laid-back, whereas his father, Roy Sr., was more like a Marine Drill Instructor when it came to his son. Roy Jr. lived in constant fear of his father's verbal and physical abuse.
Roy Sr. ran his own boxing gym, to which he devoted all of his available time and money. He provided guidance to many young people and kept many of them out of trouble. Roy Sr. did everything he could to expand the programme and assist more children. But he was cruel to his own son, driving Roy Jr. to exhaustion, screaming at him in front of all the other fighters, and assaulting him.
Roy Jones Jr. talked about his childhood in a piece he wrote for Sports Illustrated. He wrote, "I spent all my life in my dad's cage. I could never be 100 percent of who I am until I left it. But because of him, nothing bothers me. I'll never face anything stronger and harder than what I already have."
He also wrote, "After a while I didn't care about gettin' hurt or dyin' anymore. I was in pain all day, every day, I was so scared of my father. He'd pull up in his truck and start lookin' for something I'd done wrong. There was no escape, no excuse, no way out of nothin'. … Getting' hurt or dyin' might've been better than the life I was livin'. … Used to think about killin' myself anyway."
Career
As an amateur, he represented the United States at the 1988 Summer Olympics, winning a silver medal in the light middleweight division following one of boxing's most contentious decisions.
Jones is widely regarded as one of the best boxers of all time, pound for pound, and made history when he won the WBA heavyweight title in 2003, becoming the first former middleweight champion to do so in 106 years.
By unifying the WBA, WBC, and IBF titles in 1999, he became the undisputed light heavyweight champion. Jones was known for his exceptional hand speed, athleticism, movement, and reflexes during his prime.
Jones holds the record for the most wins in unified light heavyweight title bouts in boxing history, with twelve, as of February 2018. BoxRec ranks him as the 17th greatest pound-for-pound fighter of all time. Jones was named Fighter of the Year by Ring magazine in 1994, and the World Boxing Hall of Fame named him Fighter of the Year in 2003.
Jones retired after 75 professional fights spanning 29 years, with 66 victories, 47 of which came inside the distance, and 9 defeats.
Notable Matches
Roy Jones vs. John Ruiz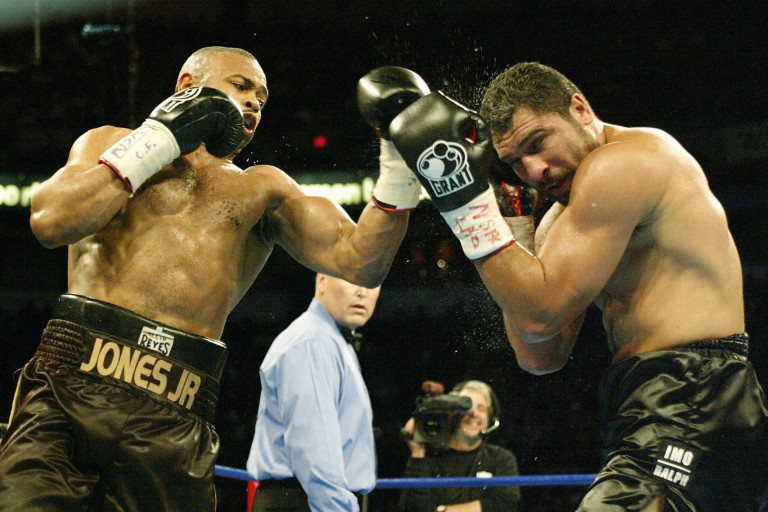 Jones defeated 40 opponents in November 1996 at the Ice Palace in Tampa, Florida. – Jones defeated John Ruiz for the WBA Heavyweight title on March 1, 2003, in front of 15,300 fans at the Thomas & Mack Center in Las Vegas. Jones weighed 193 lb, while Ruiz weighed 226 lb.
Jones became the first former middleweight title holder in 106 years to win a Heavyweight title. Jones was also the first fighter to begin his career as a light middleweight and win a heavyweight title, and the second reigning light heavyweight champion after Michael Spinks in 1985 to move up in weight and win a major heavyweight title in his first fight in the division.
Roy Jones vs. Montell Griffin
Jones suffered his first professional defeat in 1997, a disqualification loss to Montell Griffin (26-0, 18 KOs) at the Taj Majal Hotel & Casino in Atlantic City, New Jersey. Griffin took an early lead over Jones, but by round 9, Jones had a one-point lead on the scorecards and had Griffin on the canvas early in round nine.
Griffin, however, took a knee on the canvas to avoid further punishment, and Jones hit him twice. Jones was disqualified and lost his title as a result. Jones was ahead on two of the judges' scorecards at the time of disqualification (75-76, 77-75, 76-75).
Jones sought an immediate rematch five months later at Foxwoods Resort in Connecticut, USA, and easily regained the World Light Heavyweight title, knocking Griffin down within the first 20 seconds of the fight, then knocking Griffin out with a leaping left hand shot two minutes and 31 seconds later.
Roy Jones vs. Scott Sigmon
Jones has named Scott Sigmon (30-11-1, 16 KOs) as his opponent in the ten-round fight. Jones finished his boxing career by defeating Sigmon in a one-sided ten-round unanimous decision, also winning the vacant World Boxing Union cruiserweight title. Jones won the fight 98-92 on all three judges' scores.
Roy Jones vs. Mike Tyson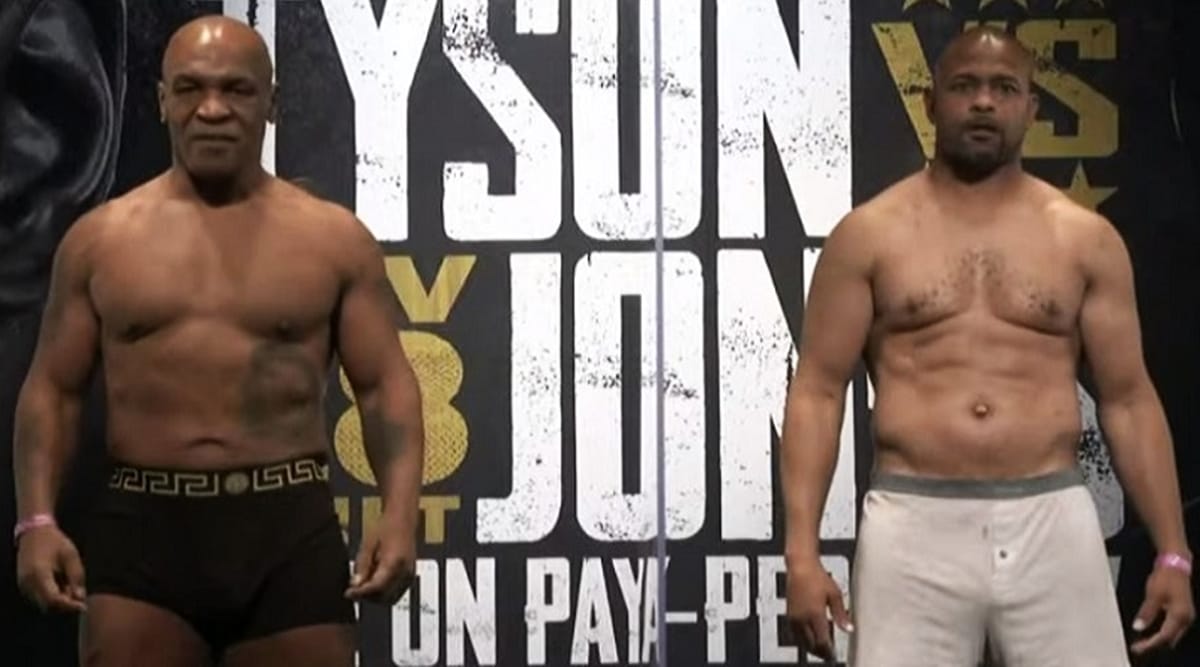 Jones signed a contract in July 2020 to face former undisputed heavyweight champion, Mike Tyson, in an eight-round exhibition fight. The California State Athletic Commission officially sanctioned the fight. The fight went on for full eight rounds and ended in a draw.
Records
Professional record summary
| | | |
| --- | --- | --- |
| 75 fights | 66 wins | 9 losses |
| By knockout | 47 | 5 |
| By decision | 19 | 3 |
| By disqualification | 0 | 1 |
Personal life
Jones Jr. met his wife at a young age, and the two began dating in 2000. Natlyn was in law school at the time. However, after marrying, she gave up her dream of becoming a lawyer and has been with the World Champion in multiple divisions.
The exact date of their marriage is unknown, but according to reports, they married in Florida at a private party attended only by close friends and family. Jones Jr. also has three sons: Roy Jones, DeShaun Jones, and DeAndre Jones.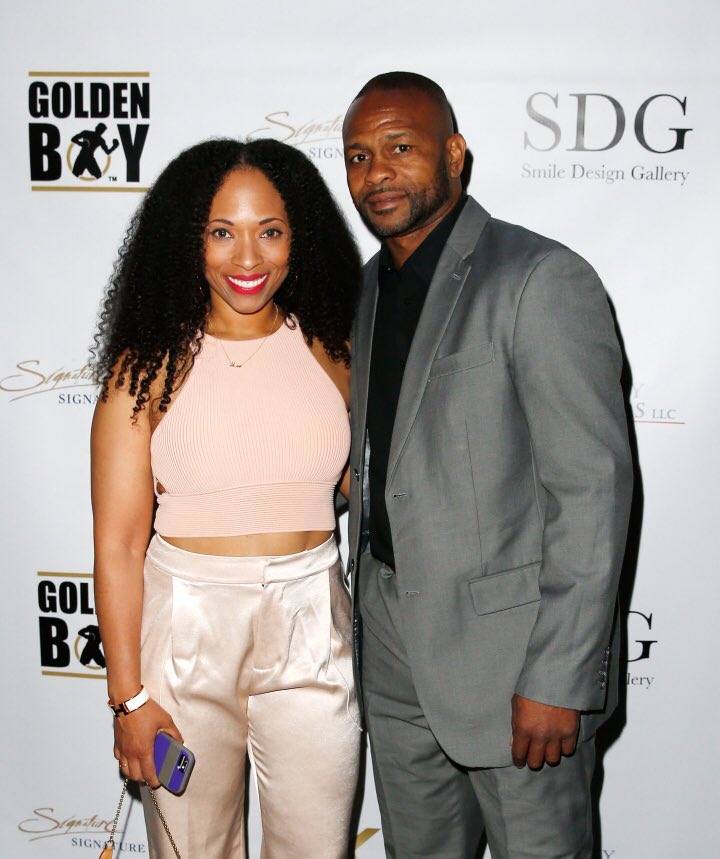 Roy Jones Jr. met with Vladimir Putin in Sevastopol, Crimea, on August 19, 2015, to request dual Russian-American citizenship. Jones stated that he frequently travelled to Russia on business and that having a passport would save him from inconvenient rides. On September 12, Jones was granted Russian citizenship. He was barred from entering Ukraine as a result of this.
| | |
| --- | --- |
| Real name | Roy Levesta Jones Jr. |
| Nickname(s) | Junior , Superman , RJ , Captain Hook |
| Weight(s) | Middleweight ,Super middleweight , Light heavyweight , Cruiserweight , Heavyweight |
| Height | 5 ft 11 in (180 cm) |
| Reach | 74 in (188 cm) |
| Nationality | American, Russian |
| Born | January 16, 1969 |
| Age | 52 |
| Birth Place | Pensacola, Florida, U.S. |
| Spouse/ Partner | Natlyn Jones |
| Children | Roy Jones III , DeShaun Jones, and DeAndre Jones |
| Net Worth | $45 million |
| Last Updated | July 2021 |
Controversies
Park Si-hun of South Korea "beat" Jones in a 3-2 decision to win the light-middleweight gold medal at the 1988 Summer Olympics in Seoul, South Korea.
The scandal was widely regarded as one of the most egregious instances of match-fixing in Olympic history. The judges were accused of being corrupt. Park Si-hun himself admitted at that time that he did not win the fight.
The International Boxing Association (AIBA) attempted to mitigate the damage by awarding Jones the Val Barker Cup, which is given to the best boxer at the Olympics. The United States Boxing Association was dissatisfied. It appealed the decision, but after an investigation, AIBI refused to overturn it, ruling that the appeal had not been filed in a timely manner.
AIBA suspended the three referees who had Park ahead for two years, and two of them were eventually barred from amateur boxing for life.
Popular Post:
Mike Tyson Record | Conor mcgregor Record | Khabib Record | Anthony Joshua Record | Floyd Mayweather Record |Ben Askren Record |Darren till Record |Roy Jones Jr Record | Ryan Garcia Record | Israel Adesanya Record | Manny Pacquiao Record | Mayweather Record | Dustin Poirier Record | Francis Ngannou Record |Nate Diaz Record | Anderson Silva Record | Canelo Record | Tony Ferguson Record | Mcgregor Record
Formula 1 Popular Post:
Lewis Hamilton Net Worth | Michael Schumacher Net Worth | Max Verstappen Net Worth | Lando Norris Net Worth | Sebastian Vettel Net Worth | Claire Williams Net Worth | Nico Rosberg Net Worth | Sergio Perez Net Worth | Romain Grosjean Net Worth | Toto Wolff Net Worth | Hamilton Net Worth | Fernando Alonso Net Worth | Frank Williams Net Worth | Niki Lauda Net Worth | Michael Latifi Net Worth | Kimi Raikkonen Net Worth | Ron Dennis Net Worth | Martin Brundle Net Worth | Angela Cullen Net Worth
Read more: Lennox Lewis: Height, age, girlfriend, weight, and controversies of professional boxer