Russell Wilson, who was born in Cincinnati, Ohio, was a high school multi-sport star. Despite a great NCAA career at NC State and Wisconsin, many NFL organisations thought the 5'11" quarterback was too short. Despite this, Wilson swiftly rose to prominence as a pro quarterback, leading the Seattle Seahawks to a Super Bowl triumph in only his second season.
Early years
Russell Carrington Wilson was born in Cincinnati, Ohio on November 29, 1988, and grew up in Richmond, Virginia. Wilson, the second of three children born to Harrison III, a former NFL hopeful turned lawyer, and Tammy, a legal nurse consultant, refined his athletic abilities by competing against his older brother, Harry.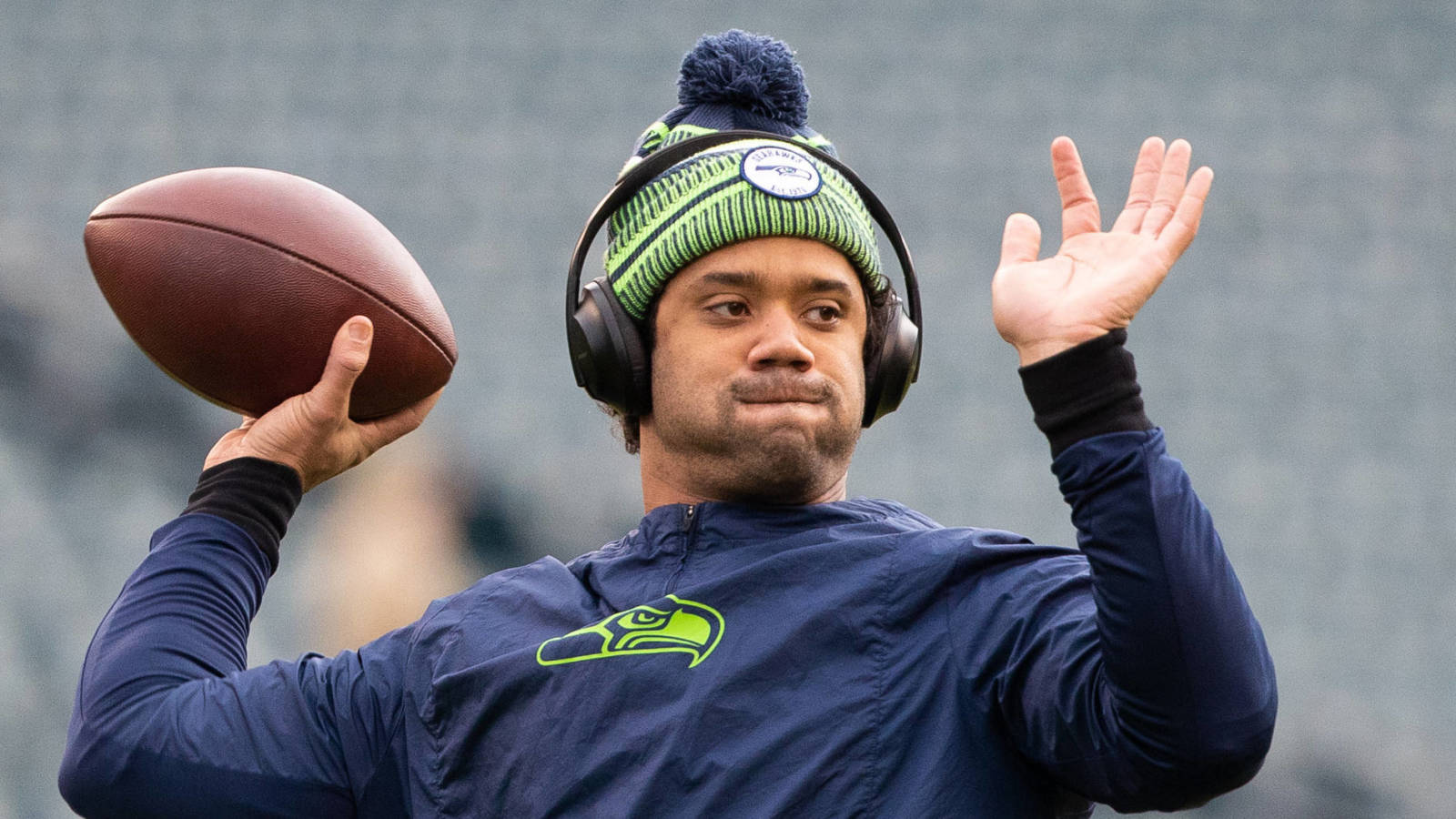 Wilson was a standout on Richmond's Collegiate School's baseball, basketball, and football teams. As a senior quarterback, he was selected conference player of the year after finishing the season by passing a pair of touchdowns and rushing for 223 yards and three more scores in the state title game victory.
Career
College and NFL Draft
Wilson became North Carolina State University's first freshman quarterback to achieve All-ACC first-team honours, but his desire to continue playing baseball placed him at differences with coach Tom O'Brien. Wilson clashed with O'Brien after being picked by the Colorado Rockies in 2010, over his choice to join spring training with the Rockies in 2011. For his final year of undergraduate eligibility, the quarterback decided to transfer to the University of Wisconsin-Madison.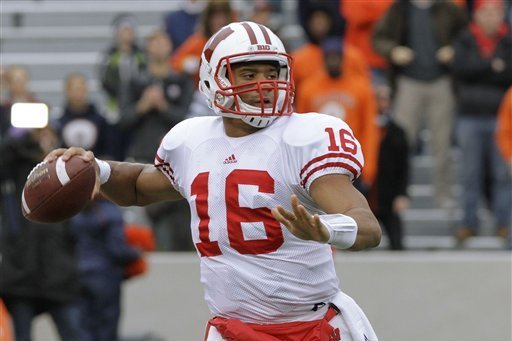 Wilson had a spectacular senior year, guiding the Badgers to the Big Ten title and breaking an NCAA record for passing efficiency. Despite his successes and obvious athletic talent, many thought the 5'11" Wilson was too short for the NFL. The Seattle Seahawks selected him with the 75th overall choice in the 2012 NFL Draft, after five other quarterbacks.
Pro Football Stardom
Despite the fact that the Seahawks already had veteran quarterbacks in Matt Flynn and Tarvaris Jackson, Wilson wowed coach Pete Carroll with his maturity and won the starting job. Wilson ran for three touchdowns in Week 14 and passed for four more the following week as Seattle finished the season on a five-game winning run. He set a rookie record with 26 touchdown passes and was named NFL.com Rookie of the Year.
Wilson led the Seahawks to 11 wins in their first 12 games and the NFC West title the following season. The 25-year-old then threw two touchdown passes in a blowout 43-8 victory over the Denver Broncos in Super Bowl XLVIII, becoming only the fourth quarterback in history to accomplish so in his second season.
"Sometimes I think I'm made for these situations. I just try to do be prepared for us. When you're prepared, you're never scared. You just go. You trust your teammates, you trust the guys you have around you, you trust the preparation, you trust that the ball's going to bounce your way."
The Seahawks were 3-3 following Week 7 of the 2014 season, but the ever-steady quarterback ignited a six-game win streak that helped the team capture its second consecutive NFC West title. Wilson subsequently had an unexpectedly slow start in the NFC championship game against the Green Bay Packers, but he helped erase a 12-point deficit with less than two minutes to go and threw the game-winning touchdown in overtime.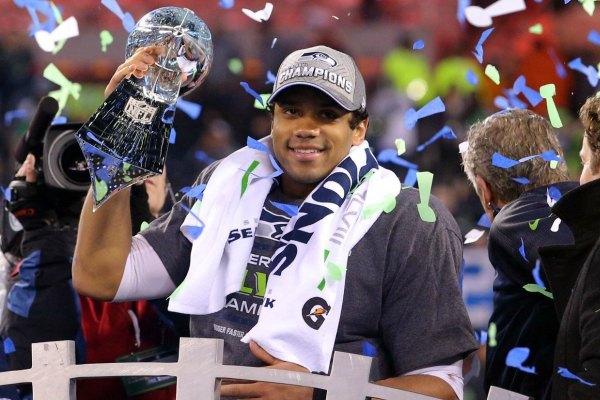 Wilson, the only quarterback to start two Super Bowls in his first three seasons, fell just short of a second championship in Super Bowl XLIX, losing to the New England Patriots.
New contracts and continued success
Wilson, who had already established himself as one of the game's top young players, agreed to a four-year contract worth an estimated $87.6 million before the start of the 2015 NFL season.
He lived up to the hype, throwing for a career-high 34 touchdowns and led the NFL with a passer rating of 110.1 in 2015, despite the Seahawks' playoff loss to the Carolina Panthers. The following season had a similar conclusion, with the quarterback recording a career-high 4,219 passing yards before the team was eliminated in the second weekend of the playoffs.
Seattle missed the playoffs entirely in 2017, and the rebuilding team was not anticipated to fare much better in 2018. However, the Seahawks won 10 games and returned to the playoffs owing to Wilson's outstanding play, who set personal bests with 35 touchdown passes and a 110.9 passer rating.
Seattle then rewarded its franchise quarterback with a four-year, $140 million contract deal, making him the highest-paid player in the NFL at the time. In 2019, he had another outstanding season, completing moreover 66 per cent of his passes and throwing 31 touchdowns against only five interceptions, earning him his first AP All-Pro selection.
Records
| Team | Wilson's regular-season record | Wilson's postseason record |
| --- | --- | --- |
| | | |
| --- | --- | --- |
| Arizona Cardinals | 10-7-1 | N/A |
| Atlanta Falcons | 4-1 | 0-2 |
| Baltimore Ravens | 1-1 | N/A |
| Buffalo Bills | 2-1 | N/A |
| Carolina Panthers | 6-1 | 1-1 |
| Chicago Bears | 2-1 | N/A |
| Cincinnati Bengals | 1-1 | N/A |
| Cleveland Browns | 2-0 | N/A |
| Dallas Cowboys | 5-1 | 0-1 |
| Denver Broncos | 1-1 | 1-0 |
| Detroit Lions | 2-1 | 1-0 |
| Green Bay Packers | 3-3 | 1-1 |
| Houston Texans | 2-0 | N/A |
| Indianapolis Colts | 1-1 | N/A |
| Jacksonville Jaguars | 1-1 | N/A |
| Kansas City Chiefs | 1-1 | N/A |
| Las Vegas Raiders | 2-0 | N/A |
| Los Angeles Chargers | 0-2 | N/A |
| Los Angeles Rams | 8-10 | 0-1 |
| Miami Dolphins | 2-1 | N/A |
| Minnesota Vikings | 6-0 | 1-0 |
| New England Patriots | 3-0 | 0-1 |
| New Orleans Saints | 1-2 | 1-0 |
| New York Giants | 3-1 | N/A |
| New York Jets | 3-0 | N/A |
| Philadelphia Eagles | 5-0 | 1-0 |
| Pittsburgh Steelers | 2-0 | N/A |
| San Francisco 49ers | 14-4 | 1-0 |
| Seattle Seahawks | N/A | N/A |
| Tampa Bay Buccaneers | 2-1 | N/A |
| Tennessee Titans | 1-1 | N/A |
| Washington Football Team | 2-1 | 1-0 |
Russell Wilson's record against every NFL team
Personal life
Russell Wilson married his high school girlfriend, Ashton Meem, in 2012, but the couple divorced in 2014. The football player then began dating singer Ciara, with whom he married on July 6, 2016. Sienna Princess Wilson, their daughter, was born on April 28, 2017. Win Harrison Wilson, the son, was born on July 23, 2020. Ciara also has a son from a previous relationship, Future Zahir Wilburn.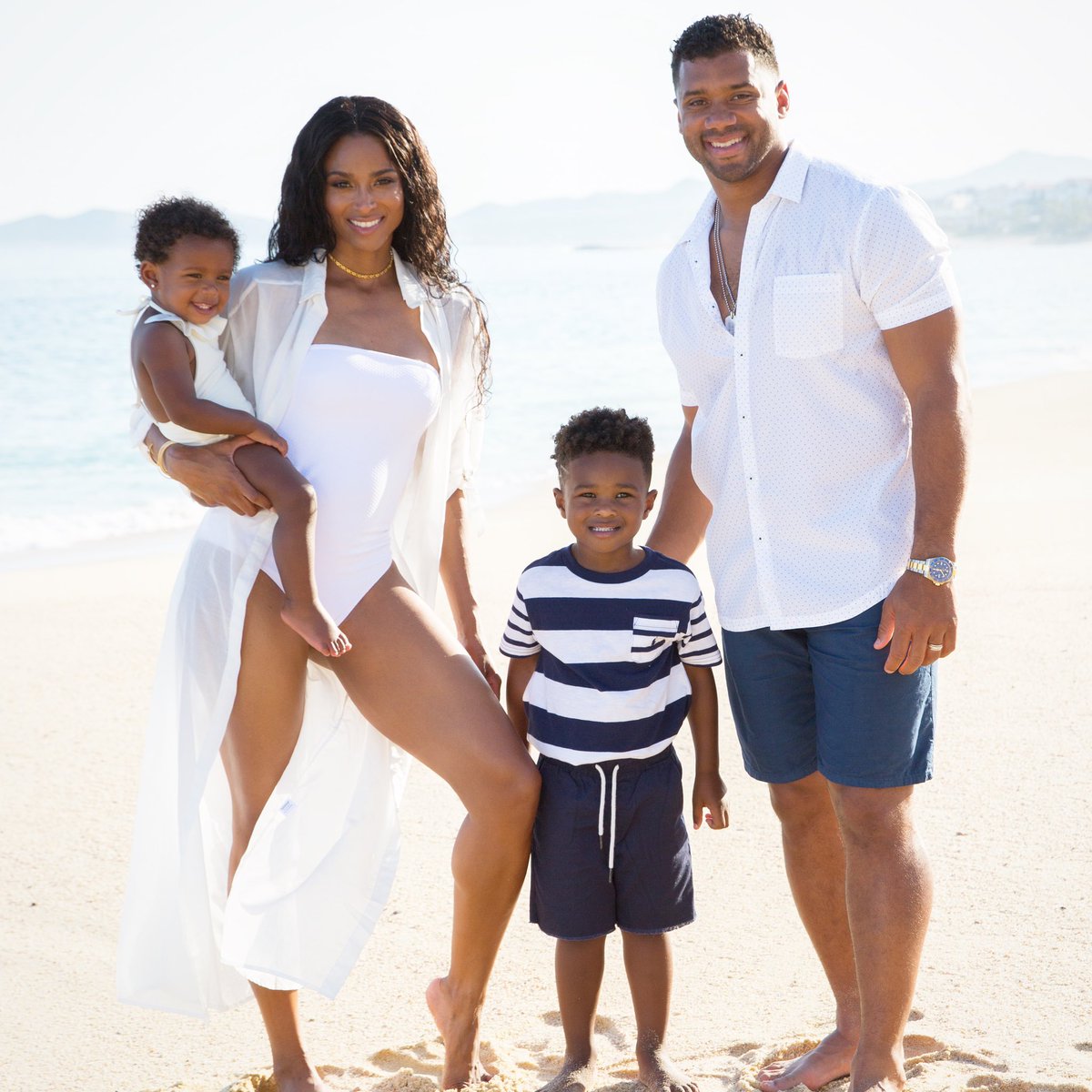 Rеаl Nаmе/Full Nаmе
Russell Carrington Wilson
Nісk Nаmе/Сеlеbrаtеd Nаmе
Russell Wilson
Віrth Рlасе
Cincinnati, Ohio, United States
Dаtе оf Віrth/Віrthdау
29 November 1988
Аgе/Ноw Оld
32 years old
Неіght/Ноw Таll
In Centimetres – 181 cm
In Feet and Inches – 5′ 9″
Wеіght
In Kilograms – 93 Kg
In Pounds – 210 lbs
Раrеntѕ Nаmе
Father – Harrison Wilson, III
Mother –Tammy T. Wilson
Ѕіblіngѕ
Yes(2)
Nаtіоnаlіtу
American
Маrіtаl Ѕtаtuѕ
Married
Wife Name
Ciara
Кіdѕ/Сhіldrеn Nаmе
Yes(2)- Win Wilson, Sienna Wilson
Рrоfеѕѕіоn
Athlete
Nеt Wоrth
$150 Million
Lаѕt Uрdаtеd
Јuly 2021
Popular Post:
Mike Tyson Record | Conor mcgregor Record | Khabib Record | Anthony Joshua Record | Floyd Mayweather Record |Ben Askren Record |Darren till Record |Roy Jones Jr Record | Ryan Garcia Record | Israel Adesanya Record | Manny Pacquiao Record | Mayweather Record | Dustin Poirier Record | Francis Ngannou Record |Nate Diaz Record | Anderson Silva Record | Canelo Record | Tony Ferguson Record | Mcgregor Record
Formula 1 Popular Post:
Lewis Hamilton Net Worth | Michael Schumacher Net Worth | Max Verstappen Net Worth | Lando Norris Net Worth | Sebastian Vettel Net Worth | Claire Williams Net Worth | Nico Rosberg Net Worth | Sergio Perez Net Worth | Romain Grosjean Net Worth | Toto Wolff Net Worth | Hamilton Net Worth | Fernando Alonso Net Worth | Frank Williams Net Worth | Niki Lauda Net Worth | Michael Latifi Net Worth | Kimi Raikkonen Net Worth | Ron Dennis Net Worth | Martin Brundle Net Worth | Angela Cullen Net Worth
Read more: Russell Wilson net worth: How much is the Seattle Seahawks quarterback worth in 2021?