Sir Alex Ferguson CBE is a Scottish former football manager and player best known for his tenure as manager of Manchester United between 1986 and 2013.
Early life
Alexander Chapman Ferguson was born on December 31, 1941, at his grandmother's house on Shieldhall Road in Govan, a Glasgow suburb, but grew up in a tenement at 667 Govan Road (which has since been demolished), where he lived with his parents and younger brother Martin.
Ferguson went to Broomloan Road Primary School and then to Govan High School. He began his football career at Govan's Harmony Row Boys Club before moving on to Drumchapel Amateurs, a youth club with a strong reputation for producing senior footballers. He also worked as a toolmaker at a factory in Hillington, where he was appointed a union shop steward.
Career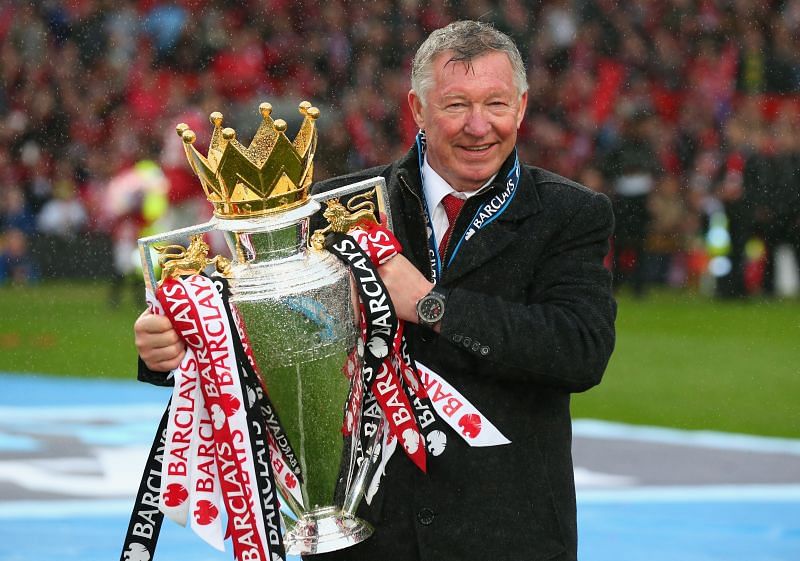 Ferguson was a forward for Dunfermline Athletic and Rangers, among other Scottish clubs. In the 1965–66 season, while playing for Dunfermline, he was the top goalscorer in the Scottish league. He worked as a coach near the end of his playing career before moving on to manage East Stirlingshire and St Mirren.
Ferguson went on to win three Scottish league championships, four Scottish Cups, and the UEFA Cup Winners' Cup in 1983 as manager of Aberdeen. Following the death of Jock Stein, he briefly managed Scotland, leading them to the 1986 World Cup.
Ferguson became Manchester United's manager in November 1986. He won 38 trophies during his 26-year career with Manchester United, including 13 Premier League titles, five FA Cups, and two UEFA Champions League titles.
He stepped down as manager at the end of the 2012–13 season, after winning the Premier League in his final season.
Personal life
Cathy Ferguson is Ferguson's wife. They were married in 1966 and they have three sons.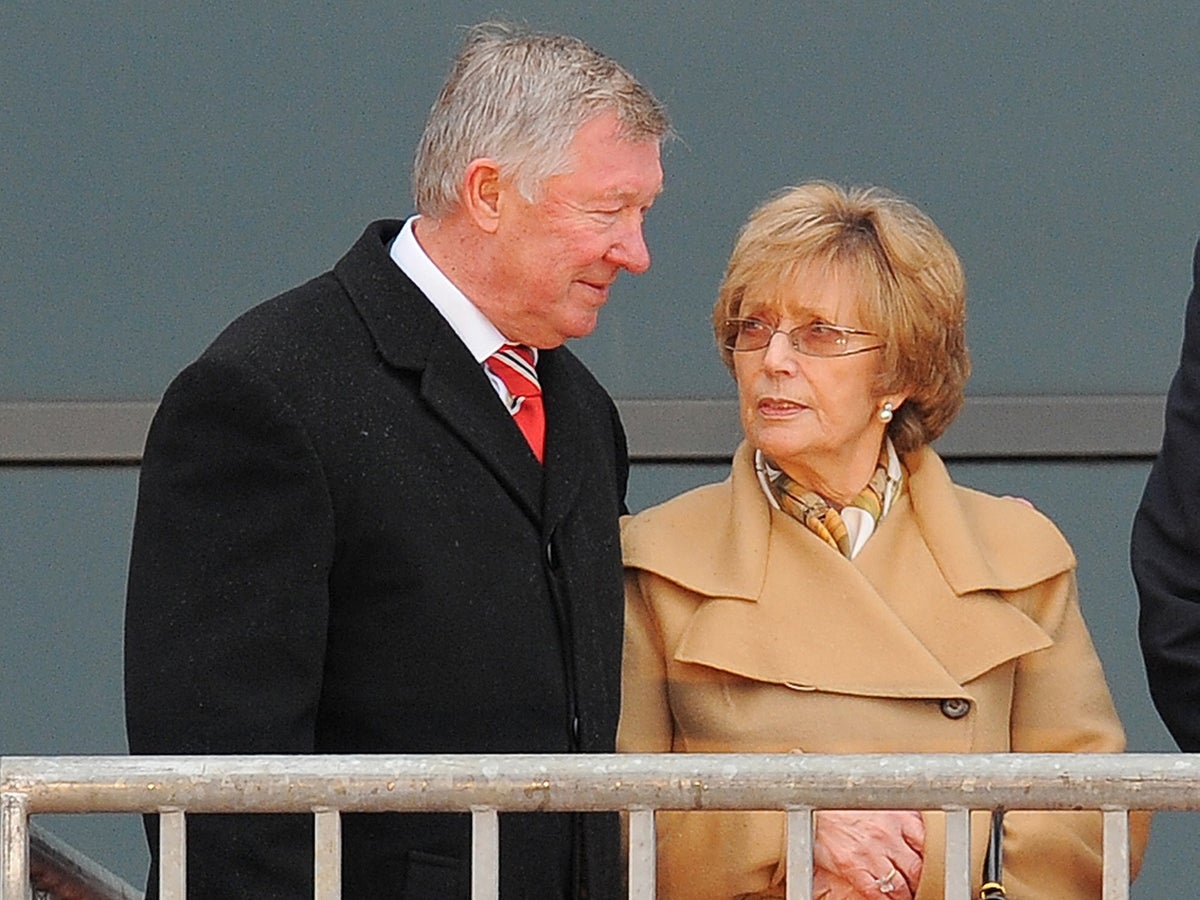 Ferguson was named in a list of the Labour Party's top private financial donors in 1998. He describes himself as a socialist.
Ferguson was awarded an honorary doctorate in business administration by Manchester Metropolitan University in 2009.
Ferguson voted in favour of Scotland remaining a part of the United Kingdom in the 2014 Scottish independence referendum. He chastised the Scottish Government and First Minister Alex Salmond for denying Scots living in the UK but outside Scotland the right to vote.
He also objected to the Yes Scotland campaign's self-imposed rule against accepting donations of more than £500 from people living outside Scotland, which they urged the No campaign to adopt as well.
Ferguson underwent emergency surgery on May 5, 2018, following a brain hemorrhage. He recovered from surgery and attended his first game at Old Trafford since then on September 22, 2018.
Full Nаmе
Alexander Chapman Ferguson
Nісk Nаmе/Сеlеbrаtеd Nаmе
Alex Ferguson
Віrth Рlасе
Shieldhall Road, Glasgow suburb
Dаtе оf Віrth/Віrthdау
December 31, 1941
Аgе/Ноw Оld
79 уеаrѕ оld
Неіght/Ноw Таll
Іn Сеntіmеtеrѕ – 180 cm
Іn Fееt аnd Іnсhеѕ – 5′ 9″
Wеіght
Іn Кіlоgrаmѕ – 80 Кg
Іn Роundѕ -176.4 lbѕ.
Раrеntѕ Nаmе
Fаthеr – Alexander Beaton Ferguson
Моthеr – Elizabeth Ferguson
Ѕіblіngѕ
Martin Ferguson
Nаtіоnаlіtу
British, Scottish
Маrіtаl Ѕtаtuѕ
Married
Wife
Cathy Ferguson
Кіdѕ/Сhіldrеn Nаmе
Darren Ferguson, Mark Ferguson, Jason Ferguson
Рrоfеѕѕіоn
Football coach, football player, author
Nеt Wоrth
$70 million
Lаѕt Uрdаtеd
Јuly 2021
Controversies
Ferguson was involved in a dressing room brawl with Manchester United player David Beckham in February 2003. Ferguson allegedly kicked a football boot in frustration, striking Beckham in the face and inflicting a minor injury. Ferguson apologised to Beckham, who was later transferred to Real Madrid.
Ferguson filed a lawsuit against John Magnier, a major Manchester United shareholder at the time, over stud rights to the racehorse Rock of Gibraltar in 2003. Magnier filed a "Motion to Comply" against Ferguson, requiring him to substantiate his claim for half of Rock of Gibraltar's stud fees.
Magnier demanded that Ferguson's transfer dealings, as well as those of Jaap Stam, Juan Sebastián Verón, Tim Howard, David Bellion, Cristiano Ronaldo, and Kléberson, be answered in "99 Questions." The case was ultimately settled out of court.
Ferguson refused to give interviews to the BBC following the broadcast of a documentary called Fergie and Son on BBC Three on May 27, 2004. According to an article in The Independent, the documentary "portrayed his agent son, Jason, as someone who exploited his father's influence and position in the transfer market to his own ends."
Subsequent interviews on BBC shows like Match of the Day were conducted by his assistants, most recently Mike Phelan.
Ferguson was required to end his BBC boycott under new Premier League rules for the 2010–11 season.
However, he refused to call an end to his boycott, and Manchester United announced that they would pay the resulting fines. As the BBC hoped to settle the dispute, no fines were ever imposed.
Ferguson met with BBC director-general Mark Thompson and BBC North director Peter Salmon on August 25, 2011, and agreed to end his seven-year boycott.
Following his son Darren's dismissal by Preston North End in 2010, Ferguson immediately recalled loaned players Ritchie De Laet, Joshua King, and Matty James from Preston under the club's new managerial system. Ferguson later stated that it was the players' request not to return to Preston following the manager change.
Soon after, Stoke City manager Tony Pulis recalled two former Manchester United players from Preston, citing the need for the players to supplement his team's intensive schedule. Preston were relegated at the season's end.
Gordon Strachan was a key player for Ferguson at Aberdeen, but their relationship soured when Strachan signed a contract with the German club FC Köln without informing Ferguson. Ferguson stated that "there was a cunning streak in Strachan, but I never imagined he could pull such a stroke on me."
Their relationship remained strained as Strachan rose through the ranks. Ferguson stated in his 1999 autobiography that Strachan "could not be trusted an inch – I would not want to expose my back to him in a hurry."
Strachan's reaction to the attack was "surprised and disappointed," according to his autobiography, My Life in Football, though he suspected Ferguson had helped relegate Strachan's Coventry City in 2001 by fielding a weakened Manchester United team in a match against Derby County.
Popular Post:
Mike Tyson Record | Conor mcgregor Record | Khabib Record | Anthony Joshua Record | Floyd Mayweather Record |Ben Askren Record |Darren till Record |Roy Jones Jr Record | Ryan Garcia Record | Israel Adesanya Record | Manny Pacquiao Record | Mayweather Record | Dustin Poirier Record | Francis Ngannou Record |Nate Diaz Record | Anderson Silva Record | Canelo Record | Tony Ferguson Record | Mcgregor Record
Formula 1 Popular Post:
Lewis Hamilton Net Worth | Michael Schumacher Net Worth | Max Verstappen Net Worth | Lando Norris Net Worth | Sebastian Vettel Net Worth | Claire Williams Net Worth | Nico Rosberg Net Worth | Sergio Perez Net Worth | Romain Grosjean Net Worth | Toto Wolff Net Worth | Hamilton Net Worth | Fernando Alonso Net Worth | Frank Williams Net Worth | Niki Lauda Net Worth | Michael Latifi Net Worth | Kimi Raikkonen Net Worth | Ron Dennis Net Worth | Martin Brundle Net Worth | Angela Cullen Net Worth
Read more: Jose Mourinho: Age, height, weight, wife, career, controversies of the celebrated football coach