Charlotte Sefton is the Public Relations manager of McLaren driver Lando Norris. She helps the driver with his day-to-day affairs, and ensures that everything off-track is immaculate and hassle-free. As a PR executive, she assists with press conferences and media interviews. She is often found next to the young Englishman, guiding him from one spotlight to the next.
Younger years and education
Sefton attended Queen Mary's from 1998 to 2005, where she did A-levels of Spanish, English and Japanese. She graduated with four A*s and three As.
She also attended Kansai Gaidai University, where she had to go as part of her compulsory year to be studied abroad. This happened during the penultimate year of her degree. Over there, she passed modules like Asian Studies, Japanese Media, Anthropology and Advertising and International Marketing Communications.
She then joined the University of Newcastle-upon-Tyne, for a B.A (Hons) in Modern Languages, where she focused on Spanish and Japanese. She attended this course for four years, between 2005 and 2009. She completed modules like Spanish politics and current affairs and Latin American studies.
Sefton is a part of the F1 community, and she has repeatedly stated that she was a massive fan of the sport growing up.
"My first memories of F1 are from the age of about seven when Grand Prix meant loads of noise on the TV after Sunday lunch," she said.
"Before long I was hooked, my dad and I ardently supporting different teams and shouting at the TV. It took over my life, and from then on I knew I wanted to pursue a career in F1."
Career and path to F1
Sefton ventured into the working class by taking up the job of a corporate English language teacher at Vaughan Systems. She worked here for a year. She took English classes for senior managers and executives who did not know the language. These were either one-to-one classes, or held in small groups.
Sefton then broke into the world of public relations, joining Chameleon PR in December of 2010. She worked here for nine months, and was involved in PR campaigns with prominent brands like Siemens, Citrix and Motorola. Her job was to pitch ideas to the media and monitor any available PR opportunities and execute them. The turning point of her career came when she joined Automotive PR, which marked her entry into the automobile industry. She handles media relations and press office activities for many top automotive manufacturers, like Ferrari, Jaguar and Land Rover, Vauxhall and Chevrolet. She also played a key role in product and machinery launches, which included engines and even the entire vehicle.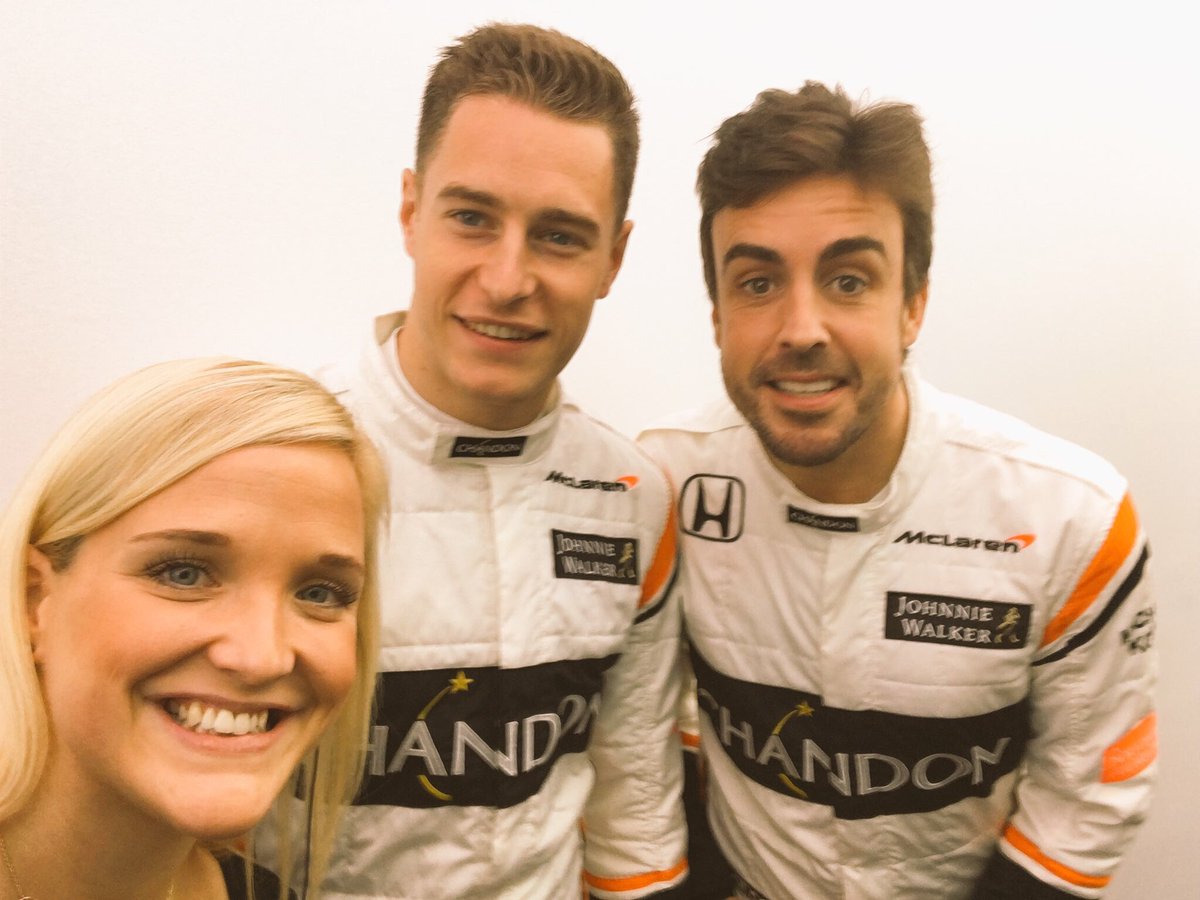 Within a year, she made the switch to HPS Jardine Group, landing the role of a senior account executive. This was her first connection with F1, given the company being founded by Sky F1 pundit Tony Jardine. With the company, she oversaw media relations, press release creation and event management. She was also involved in content writing, interview hosting with drivers and judges, and budget reconciliation for the programme with large groups of media and market representatives from ten European territories.
In 2014, she joined McLaren as a PR officer. Her stellar work and performances saw her rise up the ranks in the Woking-based company. She was promoted to Assistant Media Manager, before being PR and Media Manager and then a Senior Communications Manager. At the beginning of 2021, she became F1 Communications Manager, and was paired with Norris for his F1 endeavours.
F1 association
Norris is regarded as one of the funniest and most relatable drivers on the grid. As such, it becomes imperative for a PR manager to help him maintain those traits under the media lights and wherever else he goes. Sefton is involved in these affairs, and helps him be himself, but also one that everyone respects. His image is of paramount importance in a world where every move of a celebrity is closely watched and discussed. As such, Sefton's role in Norris' life cannot be understated.
Even though she is associated with F1, Sefton is also responsible for other things. She is involved in McLaren car launches. She is also a spokesperson for the team, and is one of the more noteworthy figures in the Papaya team today.
During her time at McLaren, she has had warm relationships with everyone involved, and not just with Norris. For example, she was also close to former McLaren driver Carlos Sainz. She was also featured in the critically-acclaimed F1 documentary Drive to Survive, produced by Netflix. In it, she was seen anxiously waiting on any news regarding Sainz's podium at the 2019 Brazilian Grand Prix.
Sefton has been doing an exceptional job at McLaren. Norris has often hailed her, and she in turn keeps his hair and outfit sharp. In fact, Norris told the interviewer in Austria that Sefton was his personal stylist as well. She also makes sure if his mask is on the right way or not. Typical Lando, and Sefton is a part of his successful career at such a young age.
Read More: Lando Norris calls Lewis Hamilton "error-prone" despite receiving praise from F1 champion