Carlos Sainz has talked about Ferrari's pessimism during the Russian GP, saying their hopes for him differed from his.
Sainz qualified P2 for the race, his best ever result in qualifying. He got off to a dream start when he overtook Lando Norris to lead the race. However, Norris overtook him back and the laps after saw Sainz fall back a bit.
At one point in the race, Ferrari called Sainz on radio and told the Spaniard that were he to carry on with his pace, he would finish fifth. Sainz was surprised with Ferrari's predictions for him, and he replied, "Only fifth?"
Sainz talked about Ferrari's pessimism during the Russian GP, saying that he had different targets and was glad he met them.
"Just obviously to finish P3 after leading a race, it doesn't taste as good," Sainz said, as quoted by the Race.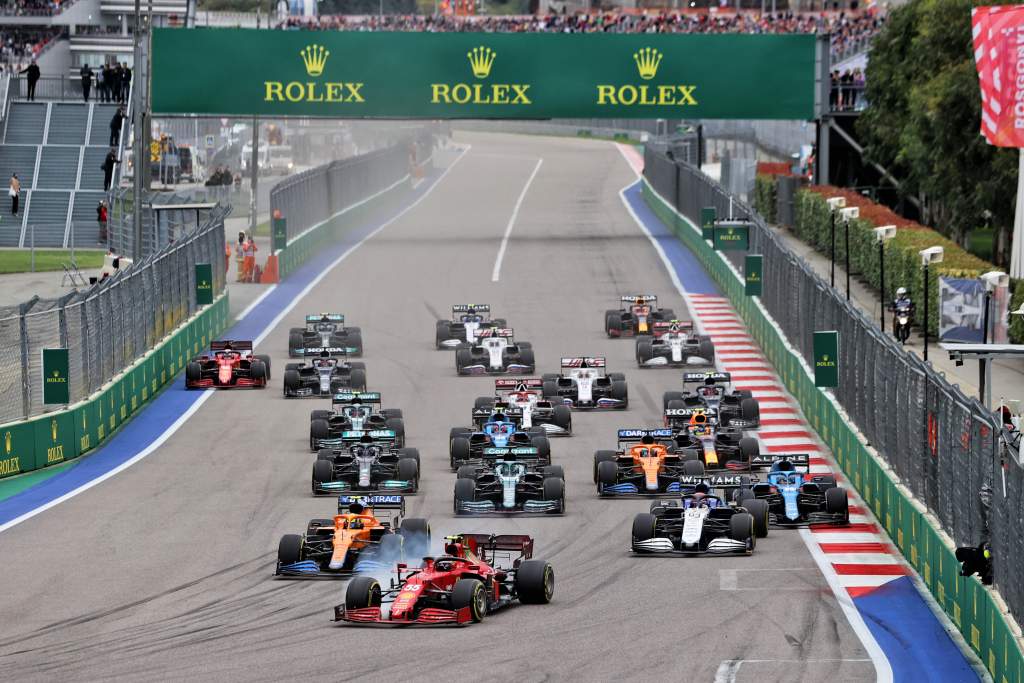 "It (Ferrari's radio message) came as a bit of a surprise. Obviously as after leading the race, you are at least confident that you are in the fight for the podium.
"I didn't exactly know where the others were at that point on-track, I knew I had done a pitstop, and I knew that I was not getting overcut by anyone. So the pace was decent. Maybe our simulations suggested that because everyone was going to put the medium at the end, we were going to be an easy prey for them."
Improvements needed
Sainz was frustrated with how he was overtaken after taking the lead, and promised that the team would work on that aspect of their race pace.
"As a team, we just need to keep analysing and seeing what we can do better, with tyres, fuel, with a bit more top speed, to make sure the next time a Ferrari is leading a grand prix, we don't get overtaken so easily as happened today," Sainz said.
"We were on course for a reasonably comfortable P3 before the rain came and made everything a lot trickier. We made exactly the right decision at the right time," he concluded.
Read more: Carlos Sainz lashes out at comments on McLaren – "No, I do not miss them at all"